("Skewed Priorities," photo by Bob Prosser)
COVID-19 has upended all of our lives in multiple ways. More people work from home. Self-isolation has become customary. Masks are everywhere. The anxiety and fear of infection have spread as widely as the virus itself. To reflect these and other changes, the Sidney and Gertrude Zack Gallery invited Jewish community members – not professional artists but lay people – to share their experiences, thoughts and emotions in both visual and oral formats. The results can be found in the gallery's current show, What We See: Stories & Moments from the COVID-19 Pandemic.
The exhibit, which opened Sept. 10, consists of 15 entries. Each entry, submitted by one person, includes a few photos depicting that person's new reality and a short essay, in which the participant wrote what has touched them most profoundly. As the deadline for the submissions was early July, everything in the show is about the first few months of the pandemic, before we all got more used to it and the new rules of social interaction became the norm.
Participant Sandra Collet presents her impressions through a poem on the meaning of the current crisis: "… A time of loneliness / A time of LIFE … A time of sadness / A time of hope." Its last line, "Together apart," encapsulates one of the most significant changes wrought by the pandemic.
Bob Prosser has written about his "ordinary experiences" and contemplates the days ahead: "… my wife sewed masks, we're growing herbs and vegetables, we have learned to bake bread.… I'm hopeful but pessimistic about the post-COVID future." One of the most memorable photographs of the whole show is his: the stockpile of toilet paper in his house.
For Derry Lubell, the hardest aspect of social distancing is her inability to be with her family, to interact with her grandchildren. Her short essay is almost a lament. She writes, "… one afternoon, I went to their house and stood on the sidewalk. They all came out onto their front porch.… I took these shots of our separation."
Micah Groberman encountered a different challenge. Before the pandemic, his business was focused on tourism and, like most every other business connected to tourism, it fizzled out due to the global travel and gathering bans. He writes, "… before COVID, I would walk my sons – Evan, 8, and Jonas, 5 – to school and then begin my workday, but suddenly, I became my boys' teacher." He admits that he is not too good at math, so he decided to teach his sons about what he knew, instead: photography and nature. His older son's photographs of wild birds, taken under Groberman's tutelage and included in the show, prove the father's talent for teaching. The images are outstanding.
Paul Steinbok's photos capture simple, everyday images. In his essay, he expresses sympathy and compassion for those who have suffered from COVID. His own feelings have become more acute, more attuned to the life surrounding him. "This year," he writes, "I have observed more closely and photographed the ever-changing colours and textures of spring. In addition, I have photographed some situations that have resulted from the COVID restrictions, such as messages of hope, COVID-style birthday parties and exercise classes."
Tybie Lipetz, the mother of a 4-year-old daughter, writes about the disappointments young children have faced, the school closures and birthday party cancellations. "Life was turned upside down for the kids," she notes.
Despite the drawbacks and dangers of COVID, many entries emphasize the authors' hope and joy. For example, Fran Goldberg, who belongs to the especially vulnerable age group of 70-plus, has found positivity from her family and her dog. She and her children stay in touch by phone daily. "Instead of talking about what I couldn't do, we started to focus on what I could," she writes. "For one thing, I could Zoom with my family.… I have a dog.… She is 13 years old and, on our walks, she still takes the time to 'smell the roses.' She and my family have taught me to slow down and appreciate the beauty I see around me."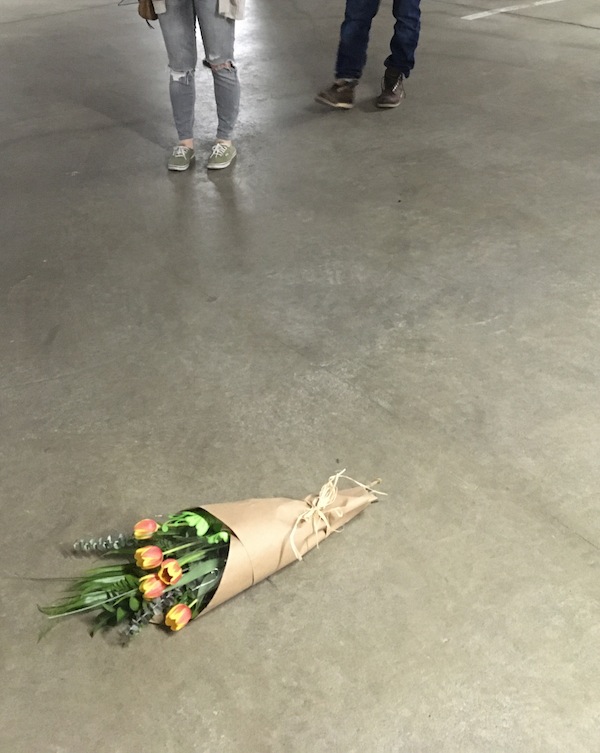 Kathy Bilinsky also recognizes the beauty around her, however unexpected, and has captured it with her camera. In her essay, she mentions walking around Granville Island, which she did countless times before the pandemic, and notes how, at the pandemic's onset, everything looked different, abandoned: "… no vendors, no shoppers, no tourists. It felt surreal…. So many doors that we can't enter, nor do we want to."
In her photos of the closed doors of Granville Island, the familiar noisy streets are almost unrecognizable. Who had ever seen those doors in broad daylight without a crowd in front of them?
Another of Bilinsky's photographs is a bouquet on the asphalt, a gift from her children on Mother's Day: "… flowers received 'socially distanced,' awkwardly tossed on the parking lot floor.… We all just stood and stared at them."
The 15 participants in this unique show offer stories and moments ranging from eerie to prosaic, from heartwarming to poignant, all contributing to this combined slice of memory of the first few months of the pandemic in Vancouver.
What We See: Stories & Moments from the COVID-19 Pandemic runs until Nov. 10. You can visit the Zack Gallery by appointment or view the show's digital book at jccgv.com/art-and-culture/gallery.
Olga Livshin is a Vancouver freelance writer. She can be reached at [email protected].