Israeli actor Shira Haas was the featured guest at the Canadian Associates of Ben Gurion University of the Negev's virtual gala July 7. (photo by Shula Klinger)
On July 7, the Canadian Associates of Ben Gurion University of the Negev held their second virtual fundraising gala. More than 1,200 participants logged on to the An "Unorthodox" National Virtual Gala event, which raised $850,000 for brain research at BGU's Zlotowski Centre for Neuroscience.
The Zlotowski Centre is a group of researchers dedicated to finding cures and management tools for neurodegenerative diseases including Parkinson's, Alzheimer's, ALS and epilepsy.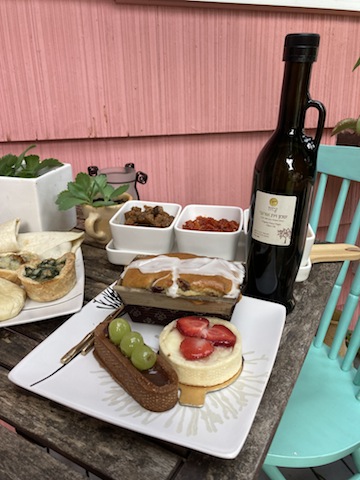 Months in the making, the virtual gala was the work of a countrywide team of BGU staffers and numerous volunteers. Every participating household in Metro Vancouver received sweet and savoury kosher treats from Café 41. The accompanying gift box also brought olive oil from the Negev, a copy of Deborah Feldman's memoir, Unorthodox: The Scandalous Rejection of My Hasidic Roots (Simon & Schuster, 2012), appetizer dishes and a commemorative cutting board.
Danny Chamovitz, BGU's president, spoke about the work of BGU's academics in general, in disciplines ranging from public health to brain research. Canadian Senator Linda Frum conducted the feature interview – with multiple-award-winning actor Shira Haas.
Describing herself as "very, very shy" as a young person, Haas said she had considered psychology or graphic design as professions, until a casting director approached her on Facebook. Sixteen years old at the time, she said, with respect to that first project, "I understood that this is what I want to do, it was like the door to Narnia."
Haas does not take her success or popularity for granted. "It was always a dream to work internationally, in different languages, for different audiences, but I never imagined it," she said. "It was always about the work. I am very, very lucky to be in this position." She added, "My parents deserve to be talked about! They are the most supportive and amazing parents."
Known for taking on demanding roles, Haas approaches acting in a scholarly fashion. She studied musculoskeletal diseases to play a terminally ill woman in the film Asia, and researched Russian, Yiddish and Charedi culture for the series Shtisel and Unorthodox. She said she finds beauty in hard work, explaining that Asia was "challenging in the most beautiful way. It was a lot of physical and emotional work, and very personal for me."
When playing a part, Haas said she is motivated by two things. First, she must be passionate about the role because "that's what brings everything alive." About Shtisel, she said, "I fell in love with it immediately."
Her second principle is to portray "subjects that matter to me."
Haas's idealism was evident in the way she spoke about Asia. "It's not really about death," she said. "It's about relationships, about appreciating the time we have and what we do with it. The highest form of art is to bring light to the darkness."
About Unorthodox, she said, "It didn't occur to me that it is about the Orthodox world. It was just a story about people who want to be loved, their doubts, desires and failures."
And Shtisel, she noted, had a huge impact on people all over the world. The show helped change people's view of Orthodox communities, she said: "It's universal."
Of her forthcoming portrayal of Golda Meir in her early years, Haas described a woman with "a very interesting life. She was very passionate, with many dreams and desires."
Since David Ben-Gurion and Golda Meir were friends, she laughed, "this event was meant to be!"
Haas spoke of her personal connection to BGU. Her sister studied at the university and a close friend is there now. Haas wanted to participate in the gala for several reasons, including, she said, "I am Jewish, I am an Israeli. I want to keep on doing events like this! I am even more proud to do it for Ben-Gurion."
As for the brain research being conducted at BGU, which the gala funds will support, there has already been groundbreaking progress. Claude Broski's group has identified a protein that can slow down the degeneration brought on by Parkinson's. The social robots developed by Shelley Levy-Tzedek and her team will have an impact on stroke patient recovery – the robots offer motivation, feedback and performance-tracking during the rehabilitation phase. Epilepsy researchers are developing wearable hardware and software that could alert patients to an oncoming seizure, an hour before it happens. And Deborah Toiber's Alzheimer's team is exploring questions about brain aging, such as, Why does the disease affect so many of us, when only 5% of cases are genetic?
David Berson, executive director of CABGU, British Columbia and Alberta, said, "It has been very gratifying to see how the Metro Vancouver community has embraced BGU students and faculty in recent years. Many new supporters have stepped forward during the last year to engage with us. We are especially grateful to our community partners, who helped us promote this Unorthodox event."
Among the many contributors to the gala were board members Jay Eidelman and Si Brown. Rachelle Delaney helped Berson with the goodie boxes at the crack of dawn on July 7, while volunteer drivers delivered the boxes. Adrian Cantwell and I were co-chairs for the Metro Vancouver team.
Shula Klinger is an author and journalist living in North Vancouver. She was Metro Vancouver co-chair of the CABGU gala with Adrian Cantwell.