Left to right, Vancouver Mayor Kennedy Stewart,  MP Taleeb Noormohamed and MLA George Heyman light the chanukiyah. (photo by Jocelyne Hallé)
The Jewish Community Centre of Greater Vancouver (JCCGV), the Centre for Israel and Jewish Affairs (CIJA), and the Canadian Jewish Political Affairs Committee (CJPAC) welcomed elected officials representing all levels of government and political parties, as well as other distinguished guests, to light a candle on the first night of Chanukah, Nov. 28.
Member of Parliament Taleeb Noormohamed (Vancouver-Granville) spoke on behalf of the Government of Canada. Member of the Legislative Assembly George Heyman (Vancouver-Fairview) and MLA Melanie Mark (Vancouver-Mount Pleasant) were joined by MLA David Eby (Vancouver-Point Grey), and they presented remarks from the government of British Columbia, while MLA Michael Lee (Vancouver-Langara) spoke on behalf of the Official Opposition. Vancouver Mayor Kennedy Stewart also said a few words.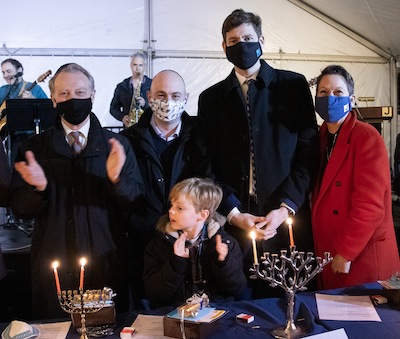 JCCGV board chair Alvin Wasserman led the ceremony, with Rabbi Stephen Berger and two students from King David High School guiding the candlelighting. Vancouver klezmer band Tzimmes performed classic Chanukah music, with people of all ages singing and clapping along.
The celebration took place under one of the tents of the JCCGV Chanukah Market. A highlight was singing the blessings with each of the guests, many of whom were lighting a chanukiyah for the first time.
The evening was geared around sharing the Chanukah experience with neighbours, bringing light to darkness and sharing Jewish customs. It was also a way to join together with others at the JCCGV, as it continues to plan for its redevelopment. Many of the leaders lighting candles with the Jewish community on Nov. 28 – both at the JCCGV and at the Lubavitch BC chanukiyah lighting in downtown Vancouver – share in the work and support of this community project.
Debbie Setton Tabenkin and the JCCGV programming and leadership teams created the Chanukah Market's festive space and the JCCGV's Chanukah programs were financially supported by a Canada Heritage grant. Many volunteers helped CIJA and CJPAC organize the candlelighting ceremony.
For more information, visit cija.ca, cjpac.ca and jccgv.com.
– Courtesy CIJA, CJPAC and JCCGV