Marie Henry, left, and Barbara Halparin (photo by Barbara Halparin)
Don't yearn to push your pedals to the max up the Sea to Sky Highway among thousands of lean, spandexed superbodies? Then do I have a fondo for you: the Grannyfondo, aka Solidarity Cycle 2023.
On Sunday, Sept. 10, Grandparents Day, a team of 30-plus grandmothers and their grand-others will conquer 100 kilometres of dike trails and farmlands in the Fraser Valley, all in the service of the Stephen Lewis Foundation Grandmothers to Grandmothers Campaign.
Among the cyclists will be grandparents Darcy and Marty Billinkoff and Marie Henry, as well as myself. We're all members of Tikun Olam Gogos, one of 18 Gogos groups in the Lower Mainland. Gogo is an African term for grandmother (or the oft-used "granny"), and the Hebrew phrase tikkun olam means repairing the world. We are grandmothers and grand-others aiming to alleviate the scourge of HIV/AIDS that continues to ravage Africa.
We ride in solidarity with our African partners, the millions of grandmothers in 15 sub-Saharan nations who are raising their grandchildren, orphaned by a disease that continues to overwhelm, despite the progress that has been made worldwide in the areas of treatment, prevention and education.
Inspired by these intrepid women, we ride with hearts full of the knowledge that we are a part of a life-changing movement in which aging women who feel increasingly powerful in their lives are moving the world forward.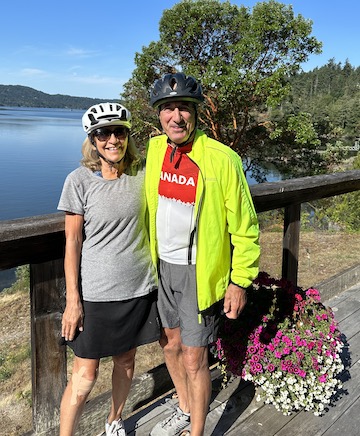 Darcy Billinkoff, an avid cyclist, and Janine Reid of Royal City Gogos, conceived the idea for the Solidarity Cycle after learning of similar events in Victoria and Ottawa. Reflecting local inclinations, they envisioned an experience that would be challenging yet doable: a one-day, 100-kilometre ride with a 50-kilometre option. Cyclists are fully supported with nourishing meals and treats, insurance, route maps, GPS, first aid, a service vehicle, a photographer and, of course, a Solidarity Cycle T-shirt. To date, Solidarity Cycle, now in its seventh consecutive year, has raised more than $308,000 for the Grandmothers Campaign.
If you love to cycle, we would love to have you along for this fun-and-fund-raiser, whether or not you are a member of a grandmothers group. If you wish to support the team with your donation, we would love that too! To register or donate, go to solidaritycycle.weebly.com.
To sponsor the Billinkoffs ("the B Team"), go to slf.akaraisin.com/ui/grandmotherscampaign2023/p/bteam. To sponsor Henry, go to slf.akaraisin.com/ui/grandmotherscampaign2023/p/mariehenry. And to sponsor me, go to slf.akaraisin.com/grandmotherscampaign2023/halparin.
Time for this granny to saddle up. See you Sept. 10, 2023!