Members of the Tikun Olam Gogos show off some of the paddles being auctioned, until Oct. 10. (photo by Paula Simson)
Last fall, Sue Hyde, dragon boat master and member of Tikun Olam Gogos (which loosely translates as Grandmothers Repairing the World), walked into a board meeting with a hand-painted paddle she had decorated herself. Her idea was to sell paddles like it to raise money for the Stephen Lewis Foundation's Grandmothers to Grandmothers Campaign, which supports grandmothers in Africa who are raising children orphaned by AIDS.
Tikun Olam Gogos is a Jewish charitable organization, sponsored by the Sisterhood of Temple Sholom, and it is dedicated to fundraising for Grandmothers to Grandmothers. The board was in favour of Hyde's idea – and one of the board members bought the paddle on the spot. Paddles for African Grandmothers was born.
Hyde had access to more than 30 vintage paddles and the Tikun Olam Gogos asked various artists to paint them. The resulting paddles are being auctioned off until Oct. 10 at tikunolamgogos.org/on-line-auction.
"The paddles were done by a selection of different artists, including one stand-up paddle done by a Syrian refugee," Tikun Olam Gogos member Sunny Rothschild told the Independent. "The rest are meant to hang on the wall. The paddles are amazing, intricately carved as well as painted. Some are two-sided and some aren't."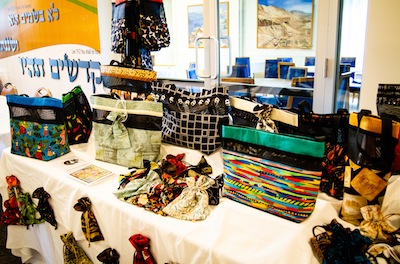 The fundraiser will culminate with an evening concert on Saturday, Oct. 13, featuring the City Soul Choir and a meet-and-greet with the artists. Winning bidders can pick up their paddles then.
Marie Henry, the founder of Tikun Olam Gogos, also spoke with the Independent. The Tikun Olam Gogos are part of the Greater Vancouver Gogos, which includes more than 25 groups.
"I was visiting in-laws in Kelowna, and I went to a public market and saw a stall where women were selling beautiful tote bags. I found out they were supporting the Stephen Lewis Foundation," she explained. "I came back and joined the group in Vancouver, but the only problem was I was the only Jew in the group and events kept conflicting with the Jewish calendar. 'This is crazy,' I thought, 'I'm going to form my own group.'"
Henry did just that, in 2011. Today, the group, which is named after the Jewish concept of repairing the world (tikkun olam) and the Zulu word for grandmother (gogo) has Jewish and non-Jewish members. Henry said that only some of the members are actual grandmothers, with the rest being "grand others."
There are a few hundred Grandmothers to Grandmothers groups across Canada, as well as organizations in the United Kingdom, Australia and the United States. Tikun Olam Gogos has sold more than 2,000 tote bags, with all profits going to the Stephen Lewis Foundation. That's some $200,000 in donations from tote bags, said Rothschild.
"The admin costs are 11% of all the monies raised, one of the lowest rates of all charities in Canada," Henry added.
While Henry takes care of notes and minutes and other administrative details for the group, she said, "We have a lot of really talented women in the group, like Sunny, who takes responsibility for part of the group and helps run it."
Rothschild joined Tikun Olam Gogos almost four years ago, when she was slowing down her career as a lawyer and had more time for volunteer work. She is active in sewing the group's signature tote bags, as well as taking turns selling them at local craft fairs, where the Gogos get a chance to tell people about their work and the Stephen Lewis Foundation. "That's the best part," she said.
"I have a Post-it up in my house – 'May my life be for a blessing,'" said Rothschild. "This is one of the things that I do because I want my life to be meaningful and to have mattered."
"The reason that I started this group when I found out what they are doing," said Henry, "is to help these grandmothers raise up to 15 grandchildren. My grandchildren live a life of privilege and I feel so horribly guilty that these women in their senior years have to suffer so horribly badly. Doing this, I feel useful. In the final analysis, we are performing tikkun olam."
"I don't think that the governments in Sub-Saharan Africa understand the revolution that is going to take place because of these women becoming empowered," said Rothschild. "There are amazing stories of what women are doing, standing up for their rights. It's really quite amazing what's happening."
"The support that we give them helps them to do that," added Henry. "I see this as the same to the way that suffragettes in North America stood up for their rights, and here it's happening in a similar way nearly a hundred years later."
For now, Henry and Rothschild are hoping the community will come out to support Paddles for African Grandmothers at the Many Rivers to Cross concert.
"We'll be selling tote bags," said Rothschild. "People can buy a glass of wine, there will be food too – it will be a lovely event."
Tickets for the Oct. 13, 7 p.m., show at Temple Sholom can be purchased via tikunolamgogos.org/events.
Matthew Gindin is a freelance journalist, writer and lecturer. He is Pacific correspondent for the CJN, writes regularly for the Forward, Tricycle and the Wisdom Daily, and has been published in Sojourners, Religion Dispatches and elsewhere. He can be found on Medium and Twitter.