This colour image was obtained by NASA's Galileo spacecraft early Dec. 12, 1990, when the spacecraft was about 1.6 million miles from the earth. (photo from NASA/JPL)
It's been 50 years since Neil Armstrong became the first human to walk on the moon, on July 20, 1969. But there was another "first" six months earlier – in January 1969, the first Jew journeyed into space, Soviet cosmonaut Boris Volynov.
Since then, there have been 14 Jewish space-bound astronauts, including arguably the most famous, Israeli Ilan Ramon, who died in the explosion of the Columbia Space Shuttle, with six colleagues, in February 2003.
Like many before him, and many since, Ramon's mission was infused with his Jewish heritage. For the voyage, he packed a pocket-sized Torah smuggled in (and out) of Bergen-Belsen, the Nazi death camp, and brought "Moon Landscape," drawn by Petr Ginz, a 14-year-old inmate of Auschwitz. He also requested kosher food on the shuttle and NASA contacted Illinois-based My Own Meals, which makes kosher "thermo-stabilized" sealed pouches for campers. Reports say that Ramon also asked Rabbi Zvi Konikov of Satellite Beach, Fla., about keeping Shabbat in space – depending on the shuttle's position, sunrise can happen 16 times a day.
To mark the 50-year milestone of the moon landing, the Jewish Independent interviewed three Jewish astronauts: Jeffrey Hoffman (the first Jewish male astronaut in space), David Wolf and Mark Polansky.
* * *
Hoffman was sent on five missions, the first in 1985; the last in 1996. In 1993, he repaired the Hubble Space Telescope. He logged more than 1,000 hours (the first to do so) and 21.5 million miles in space.
JI: Did you always want to be an astronaut?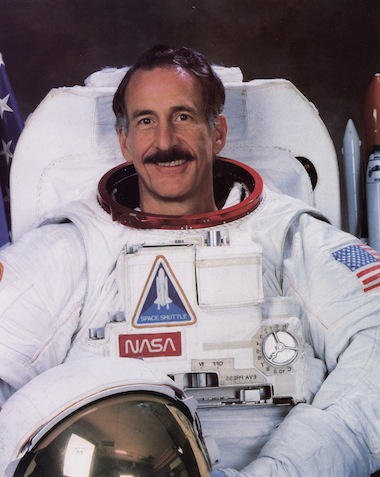 JH: Well, if you asked in 1962 … any red-blooded young American boy, or probably Russian boys, for that matter, what they wanted to be when they grew up, 90% would say astronauts. I recognized that all of the early astronauts were military test pilots, and it was not a career I was interested in. I never considered it a realistic career prospect, but it was something I was always fascinated by.
In the late '70s, NASA was developing what was then the brand new Space Shuttle, which had a crew of up to seven and they only needed two pilots. So, when they put out the first call for shuttle astronauts, all of sudden there were two types of astronauts now they were looking for. They were looking for the pilots, who were the traditional test pilot astronauts just like it had always been in the program, but they were also looking for scientists, engineers, medical doctors…. I all put in an application, and I was lucky enough to get selected.
JI: What was a highlight in space?
JH: The first highlight was riding a rocket into space, which fulfilled a childhood dream. But, the most memorable was, for every shuttle flight, two crew members were trained to use the space suits, just in case something happened. We weren't planning on doing one on our flight, but one of our satellites malfunctioned and they sent me and my partner out to do what was, for NASA, the very first ever unplanned spacewalk. That was just an extraordinary experience.
JI: How did you get the idea to spin a dreidel in space?
JH: Before my first flight, my rabbi (Shaul Osadchey) asked me if I was interested in taking Jewish artifacts up. There were several dreidels I took up, one from the synagogue. I also took a mezuzah (donated to the Jewish Museum in New York), a Torah, both tallits from my two sons from their bar mitzvah, and a menorah, which is still at the front door of the science museum in Jerusalem. While I was in Jerusalem, I met a couple of Jewish artists who had read about me, a Jewish astronaut who took Jewish things into space. I had planned on being in space during Chanukah and one thing led to another and they presented me with a dreidel and a traveling menorah. It is a beautiful dreidel. It simply would not stop spinning!
JI: What did you do with the other Jewish stuff?
JH: There are only bunks for half the crew, with little places where you would sleep at night, and so we would share those with someone on the other crew. Well, I had a mezuzah with me. Of course, you can't nail a mezuzah to the door when you are in a spacecraft; you have to use Velcro. So, I put it on the inside of my little sleep compartment and I would remove it every morning, because I figured this was for me and I didn't want to impose on someone else who might not know what it is about. Fourth day of the mission, the guy who had been using my bunk at night said, "Hey, Jeff, that's a nice idea putting the mezuzah in there!" I slapped my forehead…. It was Scott Horowitz, another Jewish astronaut. So, after that, we just left the mezuzah Velcroed to the wall for the both of us.
JI: Did you know Ilan Ramon?
JH: I knew Ilan, and had numerous contacts with his wife, Rona, since Ilan's death. Although he was a payload specialist astronaut – a non-professional astronaut, on a crew for a special reason, for only one flight – he was totally accepted into the astronaut office culture. A large part of this is because his heroism as an Israeli Air Force pilot impressed the pilot astronauts, and another large part was because he was a genuinely likable person.
* * *
Wolf had four missions from 1993 to 2009, with more than 4,000 hours in space, 168 days in orbit on the space station Mir and seven spacewalks. He was the chief engineer for the orbital medical facility and chief scientist for the International Space Station (ISS) National Laboratory bioreactor (tissue-engineering) program. He conducted a number of experiments and studies, including advanced microgravity tissue-engineering techniques.
JI: How did you become an astronaut?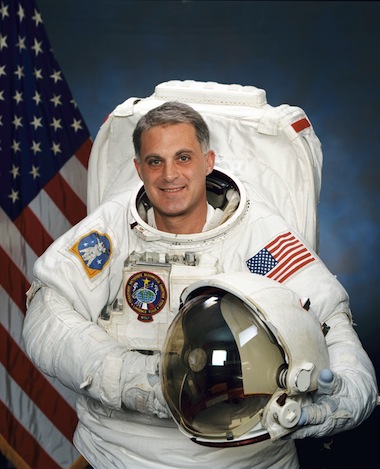 DW: I'd been flying in the F4 Phantom in the international guard for many years and had that air force background; I had this mix of medicine, engineering and flying. I wound up in a very unique situation as an astronaut because I had been at NASA for nine years already, building instruments for the shuttle and the space station. Interestingly enough, I went to NASA as a bioengineer and a flight surgeon initially. I was the chief engineer for what became the health medical facility on the space station.
JI: What was terrifying about being in space?
DW: I was trapped outside the airlock on a spacewalk in a Russian space suit in a Russian spacecraft. The airlock was never recovered. It wouldn't repressurize, so we had to ditch into another module. [It] took like 14 hours; we were [brought in] at the last second. I have had three total power failures of a spacecraft.
JI: Now tell me about the Jewish aspects.
DW: We Jewish astronauts do consider ourselves as representing the Jewish community. We take it seriously. I carried a mezuzah and it's on my door now. I also carried a yad, a Torah pointer, and gave it to my synagogue in Indianapolis. I had a small menorah up there. I have the world-record dreidel spin.
JI: You might want to ask Hoffman about that.
DW: Hoffman and I are having a running battle, a running argument, on who has the longest dreidel spin. But I know mine went for like an hour and a half until it got sucked into an air intake. It was just floating there spinning.
JI: Did you know Ilan Ramon?
DW: We were good friends, and his office was right down the hall, a few doors down. He was one of the very finest that we ever saw come through. And Israel should be totally proud of providing that kind of quality to the astronaut office.
* * *
Polansky was sent on three missions – in 2001, 2006 and 2009 – all of which contributed to assembly of the ISS. He has logged nearly a thousand hours in space, and served as director of operations at the Gagarin Cosmonaut Training Centre in Star City, Russia. His initial flight was notable for several firsts: the first shuttle to dock with the ISS, the first time that a total of 13 crew members lived and worked onboard the ISS at the same time, and the first time that an astronaut/cosmonaut from every ISS partner agency was in orbit together.
JI: When did you decide to become an astronaut?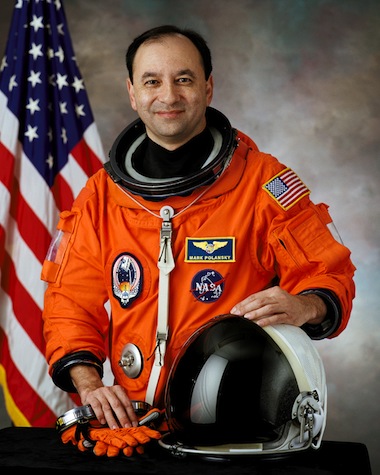 MP: I was 13 when we landed on the moon and I got inspired and thought about becoming an astronaut. I'm old enough to remember that everything came to a screeching halt. The teacher would roll in a rickety old black-and-white TV on a stand and plug it in, and pull out rabbit ears….
I was a freshman in college in '74 and I was living in a dormitory at Purdue University with, of all people, David Wolf, and Gene Cernan came to campus to give a talk. Imagine yourself as a freshman in college being about five feet away from a man who walked on the moon – I still have goosebumps about that. And that led me down a road which went to the air force and beyond to eventually get where I got.
JI: What was a highlight of being in space?
MP: You go over places, especially when you orbit around the Middle East, and you know what goes on, on the ground, and the horrible things humans can do to each other, and the suffering. You see none of that from there. You get this feeling of, it's almost both hope and sadness. It gives you hope that we as a species can get past this.
JI: Given past disasters, were you afraid?
MP: Flying high-performance aircraft, being a fighter pilot, a test pilot, unfortunately, there are times when there are going to be aviation mishaps, and it's usually very unforgiving. You realize that, as much as you would like to make things so safe, there is no such thing as absolute safety, where you never get hurt. You don't want to get hurt in an aviation accident? Well, don't fly airplanes. I always knew there was a lot of risk to it.
I got to meet a lot of the people who were working on the hardware. This was a calling for them. They could have made a lot more money working in another industry, but they were there because they just lived and breathed working on Space Shuttles, doing everything they could to make sure those Space Shuttles were as safe as they possibly could be.
JI: Did you know Ilan Ramon?
MP: I knew Ilan Ramon and, when he came over, he was flying with a couple of classmates of mine. After that tragedy, I spoke on behalf of the agency at a reception they had in Los Angeles, about Ilan. He was just a normal, great guy, and a man of peace.
** *
Other Jewish astronauts:
Jerome Apt: Four missions, 1991 to 1996. Author of Orbit: NASA Astronauts Photograph the Earth (National Geographic Society). Received the NASA Distinguished Service Medal in 1997. In 2012, the International Astronomical Union approved the name "Jeromeapt" for the main-belt asteroid 116903.
Martin Fettman: 1993 mission. Has published more than 100 articles in refereed scientific journals.
Scott J. Horowitz: three missions, 1996-2001. Four Space Shuttle flights. A retired U.S. air force colonel.
Garrett Reisman: 2008 and 2010 missions. Joined SpaceX in 2011 as a senior engineer working on astronaut safety.
Gregory Chamitoff: 2008 and 2011 missions. The Lawrence Hargrave Professor of Aeronautical Engineering at the University of Sydney, Australia; professor of engineering practice in aerospace engineering at Texas A&M University.
Ellen Louise Shulman Baker: three missions, 1989-1995, the last of which was the first Space Shuttle mission to dock with the Russian space station Mir, and involved an exchange of crews. Logged almost 700 hours in space.
Marsha Ivins: five missions, 1990-2001. Spent 55 days in orbit, on missions devoted to such diverse tasks as deploying satellites, conducting scientific research, and docking with Mir and the ISS.
John M. Grunsfeld: five missions, 1995-2002. In January 2012, returned to NASA and served as associate administrator of NASA's Science Mission Directorate.
Judith Resnik: first Jewish American and the first Jewish woman in space. Died on Challenger, January 1986.
Dave Gordon is a Toronto-based freelance writer whose work has appeared in more than 100 publications around the world.