The finished scarves, each individually packaged, and including a warm message. (photo from Legacy Senior Living) 
Last month, residents of Legacy Senior Living (the Leo Wertman Residence) gave a gift of warmth to residents of New Beginnings, a temporary housing complex for Indigenous individuals. On Oct. 7, nearly 100 hand-knitted scarves, each with an uplifting message – such as "Warm Wishes," "Smile" and "Enjoy!" – were delivered from the independent living retirement home in Vancouver's Oakridge area to the housing complex, which is located at Heather and 33rd.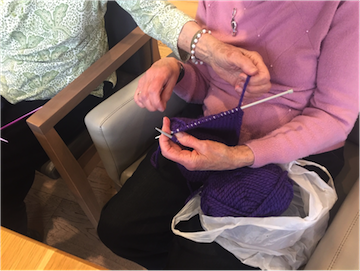 The idea for the project came almost a year ago. It was organized in January, and jumpstarted by a $200 grant from the Vancouver Foundation to fund the purchase of wool. Between 10 and 20 residents regularly participated; some teaching others how to knit, others brushing up on their knitting skills. They worked together while socializing, coming together weekly for a knit-and-chat session.
"When my mother lived at Legacy, I used to knit with her for therapeutic purposes," said Annette Wertman, who organized the effort. "Then, I thought, maybe knitting would be a good activity for the residents of Legacy Senior Living. We had a meeting of those interested – and the idea took off! We applied for a grant and were so pleased to receive one from the Vancouver Foundation. While the COVID lockdown altered the way we gathered to knit together, we followed the health protocols and still managed to knit 98 scarves! And it's perfect that we finished this in October, a more appropriate time to donate these scarves."
Not only was it a more appropriate time weather-wise, but the donation took place around Thanksgiving. The Legacy knitters were grateful to be able to make "a small but warm contribution to the community."
"Our residence, built in memory of Leo Wertman, is a vision of inclusion, diversity and philanthropy within the Jewish community, and of our broader local community," said Wertman, a cousin of the residence's namesake. "We all felt very good about our project and have already begun the next project – toques and blankets!"