Galit Baram, consul general of Israel in Toronto and Western Canada, says the allegations of recruiting are unfounded. (Consul office photograph)
Last October, a coalition of foreign policy and Palestinian solidarity organizations delivered a formal complaint to David Lametti, justice minister and attorney general of Canada, alleging that Canadians are being recruited for the Israel Defence Forces. Accompanied by an open letter signed by more than 170 supporters, the complaint seeks an investigation into the actions of Israeli diplomats and consular officials, among others.
Under Canada's Foreign Enlistment Act, it is illegal for foreign militaries to recruit Canadians in Canada. In 2017, at least 230 Canadians were serving in the IDF, according to the army's statistics. The coalition, composed of Just Peace Advocates, Palestinian and Jewish Unity, and the Canadian Foreign Policy Institute, alleges that Israeli consular officials have invited Canadians to speak with IDF recruiting officers at the consulate and have sent IDF soldiers to speak at Canadian high schools. In a written statement to the Canadian Jewish Record, which was cited in an Oct. 28 article online, Galit Baram, consul general of Israel in Toronto and Western Canada, said, "Any allegations against Israel in this matter are unfounded."
The complaint drew some attention. Montreal-based newspaper Le Devoir reported on it in a front-page article on Oct. 19, under the headline "Israel criticized for recruiting on Canadian soil." The article pointed to a recruiting invitation posted on the website of the Israeli consulate in Toronto in November 2019. "An IDF representative will conduct personal interviews at the consulate. Young people who wish to enlist in the IDF or anyone who has not fulfilled their obligations according to the Israeli Defence Service Law are invited to meet with him," read the post, which included contact information to schedule appointments. Further investigations by Le Devoir yielded similar recruiting invitations from 2014 and 2018.
Baram said the invitations were directed only to Israelis. "In Israel, the law requires compulsory service," she stated. "Every Israeli, male or female, must serve in the Israel Defence Forces. Israeli citizens living abroad are obligated to settle their status with the Israeli authorities." According to the Foreign Enlistment Act, foreign representatives can recruit their own citizens in Canada, so long as the recruits are not also Canadian.
Baram acknowledged that recruiting officers may be sent to large Israeli communities to conduct interviews, citing Toronto as an example. According to the 2016 Census, however, roughly four out of five Israelis in Toronto are dual citizens, and approximately 3,125 Israelis in Toronto are not Canadian. When invited to clarify to which group the invitations were sent, the consulate declined.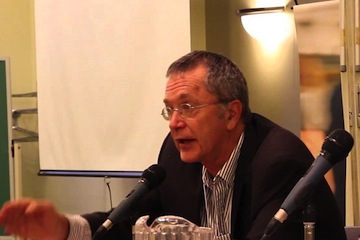 The coalition's concerns extend beyond Israeli or dual citizens, however. "Any suggestion that all Israel does is recruit their own citizens who have to do their military duty is complete nonsense," said John Philpot, a Montreal-based criminal-defence lawyer and coalition spokesperson. The Devoir article reported on a visit by an IDF colonel to a Toronto denominational school "to talk about his experiences as a new recruit and as a senior commander." On the same day the complaint was filed, The Canada Files published an article by Yves Engler, a Montreal-based writer and signatory to the letter, documenting what Engler considers to be extensive promotion of the IDF in Toronto Jewish day schools.
As one example, he pointed to a talk by Seth Frieberg, an IDF "lone soldier," in January 2020 at TanenbaumCHAT, a Toronto Jewish high school and Frieberg's alma mater. Lone soldiers are foreign recruits to the military without immediate family in Israel. Frieberg joined the Israeli army in 2013 and served 14 months as a paratrooper. In an interview last October, he credited his time at the Eretz Hatzvi Yeshiva in Jerusalem, where he spent a year after high school, for partly driving his decision to enlist. His teachers spoke highly about Eretz Yisrael, the biblical land of Israel, and the importance of living there. He said he felt a greater connection to Israeli Jews, to the country, and was drawn to and admired the soldiers. He returned to Canada to complete an undergraduate degree at Western University and joined the IDF the following year.
The roots of his idea, however, began before his gap year. He was also motivated by a family history with the Holocaust and a course at TanenbaumCHAT. Two of his grandparents were Holocaust survivors, one of whom, his grandmother, was active in Holocaust education. "She'd always talk about that, so I think I had this idea in my mind about the horrors of the Holocaust," he said. In his Grade 12 history course, a connection was made between the Holocaust and Israel: he took from it the idea that "had Israel been there during the time of the Holocaust, [it] probably wouldn't have happened." In this and other ways, Frieberg said, he relies on Israel. "In the worst sense … if anything bad happened to Jews or myself in Canada, I always have Israel to go to." He reasoned he should do something for Israel in return: "And that could be charity, volunteer, or going to the army."
As part of TanenbaumCHAT's IDF Day, the annual event at which Frieberg spoke, students wear olive-green IDF T-shirts, matching clothing, and sell baked goods with green icing to raise money for the military. By Frieberg's estimates, he spoke to 80 students about his experience in the IDF, including patrolling the Lebanese border and West Bank, searching for three kidnapped youth, and operations in Gaza. Did his talk inspire others? He said, "You'd have to ask them…. I was just there to tell them my story."
Last year's events were organized under the leadership of Israelis and former IDF soldiers Ariel and Lee Kestecher Solomon. Ariel, the school's Israel engagement shaliach, or emissary, was a commander in the IDF and volunteers with the Jewish Agency for Israel. According to the agency's website, Israeli emissaries are sent to Jewish communities abroad for two to three years "to strengthen and deepen the mutual connection between Israel and members of the community."
In his Canada Files article, Engler characterizes these activities – IDF Day, talks by lone soldiers, fundraising for the military, and former soldiers with extended placements in Jewish day schools – as enticement to join the IDF. When invited to comment, Renee Cohen, TanenbaumCHAT's principal, did not respond to multiple requests.
Why countries like Israel might recruit foreign citizens is a puzzle that caught the attention of Kolby Hanson, post-doctoral fellow at the U.S. Naval War College in Rhode Island. In a 2019 paper for Security Studies, he and co-author Erik Lin-Greenberg categorized the 25 countries that recruit non-citizens into three distinct groups. In an interview in October 2020, Hanson explained that countries either recruit for specific expertise or for sheer numbers to fill ranks, or, like Israel, "within narrow ethnic or commonwealth networks that are more symbolic programs." As with India, Israel "[uses] the rules around their recruitment to make some statement about who they are and what the nation's identity is." Israel recruits foreign Jews for its military to assert its identity as a Jewish state and to establish deeper ties to Jewish communities abroad.
"Someone might grow up and say, 'My cousin served in the IDF and that makes me feel like I'm really connected to Israel,' or whether you know someone who came back after serving in the IDF," said Hanson. Countries that recruit for symbolic reasons tend to have other programs, like expedited citizenship (as Israel has for Jews), to reinforce these ties.
The IDF itself is likely aware of the legal sensitivities around recruitment of Canadians. Hanson described an unusual exchange in an interview with Canadian IDF soldiers: "When we used the word 'recruitment,' we had a couple of people get tetchy…. They pounced on it and said, 'No, no, it's not recruitment. The IDF allows people to serve, but they don't try to get people to.'"
In Canada, crossing the line into active recruitment is a legal issue. Unfortunately, it is not clear where exactly the line is. The Foreign Enlistment Act does not define recruitment, nor, according to Tyler Wentzell, doctoral student in law at the University of Toronto, is there case law.
A serving military officer and lawyer by training, Wentzell has published several articles on foreign recruitment and the history of the act. In an October 2020 interview, he said cases have been tried for recruiting for criminal or terrorist organizations, but not for the military of a sovereign state, for which the term would likely be interpreted differently.
"If you're actually sworn into [a foreign] military in Canada, that definitely crosses the line," he said, as would undertaking the stages of an intake funnel, including physical fitness and aptitude testing and evaluation. But, at earlier points, like attracting prospects, the line blurs. Is putting a Mountie on promotional material for Canada recruiting for the RCMP, asked Wentzell, or using a national symbol to promote the country? To complicate matters further, recruiting is also "a cultural sense that changes over time," as with evolving Canadian attitudes towards high school rifle ranges and cadet corps.
In an October 2020 interview, Petty Officer Gian Barzelotti, a recruiter for the Canadian Armed Forces, described where he draws the line when recruiting in Canadian high schools. To students in Grade 10 or older, he advertises the benefits of joining the military, including a paid co-op program in which students can earn high school credit. With younger students, he emphasized, the CAF does not recruit. "We do talk about the military and who we are and what we do for Canada," he said, but not about programs and benefits nor intake. "You're not saying, 'Go down this path and you'll end up being in the military.'"
Tzofim Garin Tzabar, however, does just that. A branch of the Israeli Scouts that is 70% funded by the Israeli government and the Jewish Agency for Israel, Garin Tzabar describes itself as the "Israeli lone soldier IDF program." Its online promotional video advertises an "unbelievable three months of one unforgettable absorption process," "at least 20 new friends," "a family for life," and that 30% of its participants are accepted to the IDF's officer and commander stream. It also lists an office in Toronto.
Likewise, in June 2020, Nefesh b'Nefesh, an Israeli absorption organization, advertised a webinar entitled "Joining the IDF" on the website of the UJA Federation of Greater Toronto. According to the event listing, the webinar featured "everything you need and want to know about joining the IDF," including the lone soldier program, the structure of the military, preparatory Hebrew programs, and post-secondary degrees relevant to the IDF. Last year, Nefesh b'Nefesh facilitated the absorption of 390 lone soldiers from North America to Israel. Although the UJA Federation did not endorse the webinar, it did promote it on its website.
In practice, it seems the Canadian government has never done more than slap an offending party on the wrist. During the Vietnam War, said Wentzell, the U.S. army accidentally placed a recruiting ad in a Canadian magazine. "There was a great deal of correspondence back and forth saying, 'Hey, could you lay off this?… The response was pretty consistently, 'Yep, sorry.'"
The government maintains an interest in keeping Canadians out of foreign militaries and conflicts. Wentzell illustrated this by way of a Canadian who served in the 1948 Arab-Israeli war: "What happens when Benjamin Dunkelman gets in trouble on the other side of the planet? Do we get him home? Do we owe him anything? These were still live issues." For the 200-plus Canadians serving in the IDF today, they still are.
"If Canada said to the Israeli consulate, 'Stop all recruiting,' [and] went to the schools and said, 'You cannot have meetings where Israelis invite you to join the army' … that would be a good step forward," said Philpot.
To Philpot and the coalition, these acts are part of a "whole series of evidence" that point to IDF recruiting, including an event held by Deborah Lyons, Canadian ambassador to Israel. In January 2020, she hosted 33 Canadian IDF lone soldiers at her residence in Jerusalem to thank them for their service. "We at the embassy are very proud of what you're doing. It's really quite incredible," she said. Philpot said all of this points towards recruitment.
Shortly after the complaint was filed, Lametti responded to questions in an unrelated press conference. He reiterated that Canadian law applies to foreign diplomats but referred calls for an investigation to the police and the public prosecution service. "I will leave the decision to the institutions we have in Canada to monitor the situation," he said. In mid-November, the RCMP confirmed it was reviewing and assessing the evidence submitted.
Kevin Keystone is a Toronto-based freelance writer, editor and researcher. His writing has been published in the Literary Review of Canada, the Jewish Independent and Good Old Boat.