B.C. Regional Hebrew Schools currently serves more than 120 children – in Langley, Port Coquitlam, Vancouver and Whistler/Squamish. (photo from B.C. Regional Hebrew Schools)
It's late Monday evening when Rabbi Dovid Rosenfeld loads a half dozen plastic containers of canvases, crayons, crafts and children's Hebrew workbooks into his minivan. As directors of British Columbia Regional Hebrew Schools, he and his wife Chaya make the two-hour-long commute between Vancouver and Whistler every week so that Hebrew school parents don't have to. "We're the only ones crazy enough to do this," he laughed.
When Erin Silverstein moved to Whistler from Ontario a few years ago with three children under 10, the village boasted one of North America's largest ski resorts, glacier-capped peaks and exceptional mountain biking trails – but no Jewish community.
"Our biggest concern was that there weren't other Jewish families and our children wouldn't receive a Jewish education," Silverstein said.
With Vancouver's skyrocketing cost of living, many families have moved far beyond the city limits to small towns and suburbs. While running a summer camp and Hebrew school for Chabad Lubavitch of British Columbia in Vancouver, Rabbi Rosenfeld met families who'd left the city but returned for camp each year.
"They'd ask me, What can we do for a bat mitzvah? How can we keep our children Jewishly engaged?" he said. "Jewish families kept moving to the outlying areas but lacked access to basic Jewish resources."
Then, in 2018, the Rosenfelds met a former Hebrew school teacher from Langley, some 50 kilometres southeast of Vancouver, and offered to fill the vacancy she left at a weekly Hebrew program for 18 local children. When the rabbi walked into the Langley program sporting a beard and a fedora, three families walked out. Six months later, they were all back.
"I think those families who stayed saw their children having positive Jewish experiences, making Jewish friends, and connecting to their traditions; they must have passed on the message," Rabbi Rosenfeld said.
Dovid and Chaya Rosenfeld and an ever-expanding team of teachers and volunteers pack up the B.C. Regional Hebrew Schools program week after week and bring it to rented classrooms in remote communities.
"At every location, there are dozens of moving parts to keep in mind," Chaya Rosenfeld said. "It's immensely gratifying when the program comes together."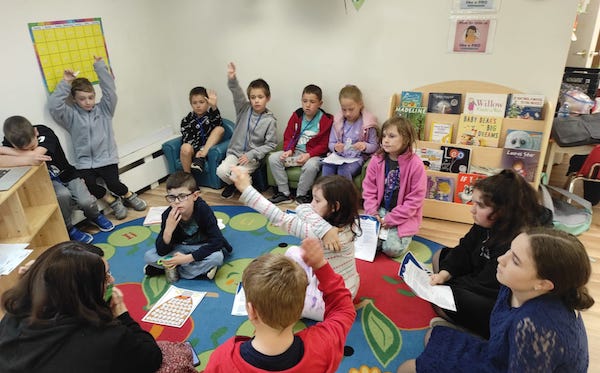 Today, their traveling classroom serves 25 children in Langley, 50 children in Port Coquitlam, 25 children in central Vancouver and 22 children in Whistler and neighbouring Squamish – more than 120 children in all. Chaya Rosenfeld has often found that Jewish families who had lived alongside one another for years met for the first time when their children joined Hebrew school.
"There had never been any centre for the Jewish community in these towns, so we saw whole communities come together for the first time," she said. Within three years of opening their program in Port Coquitlam, the parents and grandparents they'd met there asked for a permanent home for their community.
In November 2022, Rabbi Mottel and Nechama Gurevitz opened Chabad of Coquitlam to serve the growing community. "It started with Hebrew school, but it's become a real community," Rabbi Gurevitz said. Already, the couple hosts Shabbat meals for 40 local Jews and a weekly Torah class alongside the Hebrew school.
Since the opening of the Whistler location, a group of parents has asked Rabbi Rosenfeld for a weekly Torah class of their own, and many are eager to volunteer, creating a centre of Jewish community life in the once-Jewishly-isolated town.
The parent body is as diverse as Canadian Jewry at all four locations. Yet, they share a common desire to share elements of their Jewish identity with the next generation.
"We were so excited when the Hebrew school opened here," said Julie Persofsky, whose three children attended the Whistler location this past year. "All of a sudden, our kids are getting a Jewish education alongside peers their age; it's been wonderful."
Like other parents here, Persofsky is delighted to see her children look forward to Hebrew school, learn Hebrew and deepen their Jewish knowledge. "It's incredible to see them come home with crafts they've made, and they're able to share their own ideas when we practise our Jewish traditions," she said. "At the seder table this year, they all used seder plates they made in school – that was meaningful for them."
Dan Anolik, who moved to Squamish with his wife and young daughter shortly before the 2022-2023 school year, is grateful that his child has Jewish friends.
"Moving here was tough for my daughter," he said. "She didn't know other Jewish kids here; she felt like the only Jew in town. When she first stepped into the Hebrew school classroom, she saw the morah teaching and doing crafts, it looked familiar, and it was like a load came off her. She jumped right in, and all three of us shed a little tear of joy."
Moments like these make supporting B.C. Regional Hebrew Schools a source of pride for Vancouver-based philanthropist Steven Silber, a trustee of the Arnold and Anita Silber Family Foundation. "When you see the children's faces when they're in their classrooms, you realize it's a blessing everyone should get to experience," said Silber.
To find out more about B.C. Regional Hebrew Schools or to become a supporter, contact Rabbi Dovid and Chaya Rosenfeld at [email protected] or 604-266-1313.
– Courtesy B.C. Regional Hebrew Schools