The Jewish Federations of North America held its annual General Assembly this year in Tel Aviv Oct. 22-24. (photo by Pat Johnson)
The Jewish Federations of North America held its annual General Assembly in Israel, as it does every five years, Oct. 22-24. This time, for the first time, the convention met in Tel Aviv. The event was marketed with the theme "We need to talk," the provocative title suggesting that the meetup would frankly confront the many points of contention between Israelis and Diaspora Jews.
By the time about 2,500 delegates, including a sizeable number of Israelis, arrived at the conference centre, the theme had shifted from the ominous pre-romantic-breakup phrase to the more upbeat "Let's talk!" Delegates talked among themselves and listened to a plethora of speakers, including Israel's president, prime minister, leader of the opposition and other elected officials, heads of civil society organizations, a recipient of this year's Israel Prize and leading figures in the Federation movement.
While some observers – including the organization Am Echad, which placed a full-page ad in the Jerusalem Post – said the conference did not reflect the diversity of demographics or opinion in Israel, Jewish Federation of Greater Vancouver chief executive officer Ezra Shanken refuted the criticism.
"I think that we're never going to have a shortage of people who want to criticize our gatherings," he said. "I don't believe that that is actually accurate. When I look around the room, I see kippot on people's heads, I see people coming from the Modern Orthodox side of the community and I see people coming from the liberal side of the community. We have made an effort, in Jewish Federations of North America and the Jewish Federations of Canada and our Federation, to dialogue with as wide of a group as we can. I think there is a lot of diversity here."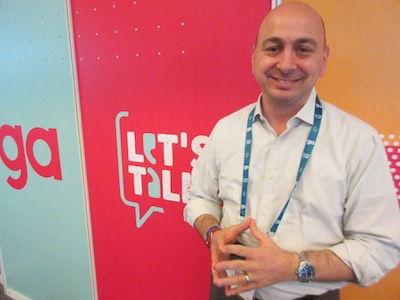 A two-and-a-half-day conference provides an intensely limited time to address, let alone resolve, the range of issues on the table. Topics included broad issues like the stalled peace process, treatment of Eritrean and Somali asylum-seekers in Israel and a Nation State Law that some say undermines the democratic nature of the country. There are also a host of issues that cause friction directly for North American Jews, including the reversal of the promised egalitarian prayer space at the Western Wall, and Orthodox control of lifecycle events in Israel, which negates Reform and Conservative members, who make up the preponderance of North American Jews. If anything, the GA in Tel Aviv was the beginning of a conversation, or the widening of a conversation already in progress.
Some of the divisions were illustrated in public opinion poll results that were projected throughout the convention centre. The percentage of American Jews who believe that non-Orthodox rabbis should be permitted to officiate at Jewish ceremonies in Israel is 80%, compared with 49% of Israeli Jews. Fifty percent of Israeli Jews believe in God "with absolute certainty," compared to 34% of American Jews. Among Israeli Jews, there is 85% support for the decision by the United States to relocate its embassy to Jerusalem, compared with 46% among American Jews. Support for the existence of a mixed-gender prayer area at the Western Wall stands at 73% among American Jews, compared with 42% of Israeli Jews. Among Jewish Israelis, 42% believe that Jewish settlements in the West Bank improve Israel's security, compared with 17% of American Jews. Sixty-one percent of American Jews believe that Israel and an independent Palestinian state can coexist peacefully, compared with 43% of Israeli Jews.
Jerry Silverman, president and chief executive officer of Jewish Federations of North America, illustrated some of the lines of divergence.
"As North Americans and Israelis, we ask very similar questions. But each through a different lens," he said. "North Americans may ask, after nearly a century of unwavering support, do Israelis really think our opinions should not be considered when it comes to policies that affect us? Israelis ask, why should anyone other than Israelis have a say in the decisions of our democratically elected government? North Americans, we may wonder how Israel can claim to be the nation state of all Jewish people when it doesn't recognize the value of Jewish practice of 85 to 90% of Jews living outside of Israel. Meanwhile, Israelis feel that, well, we live here, so what makes you think you have the right to define what it means to be Jewish in the Jewish state? How is it possible, North Americans may ask, that the chair of the board of Brandeis [University] or a student from Florida are questioned or prevented from entering Israel because of their activism and views? Is this a democracy, or isn't it? Israelis ask, what gives anyone the right to question our security decisions when we are the ones under constant threat?
"These are just a few of the questions of two proud communities who have learned to thrive in two very different environments; two members of one family who operate in their own political realities, where North Americans are seeking validation, empathy, partnership and understanding from Israel and Israelis who are living in a sovereign state have largely been insulated from a global conversation about Jewish peoplehood. I don't have all the answers to all these questions, but I can tell you this – we will only find the answers if we start asking the questions to each other and if we really start working together."
One after another, speakers acknowledged the challenging differences between the two communities, which together make up more than 85% of world Jewry, and then accentuated the commonalities.
"We are not strategic allies," said Reuven Rivlin, the president of Israel. "We are family…. We don't have shared interests. We have shared faith, a shared history and a shared future – and a very bright one. It may not be easy to have the truly honest conversation, but this is, I believe, what needs to happen."
Rivlin suggested a "reverse Taglit," a Birthright-like program for young Israelis to travel to Diaspora communities, summer camps and schools.
Danna Azrieli, who, with Israeli high-tech entrepreneur and philanthropist Marius Nacht, co-chaired the assembly, has a personal history suited to facilitating a conversation between the two communities. Born and raised in Montreal in a Zionist family, she made aliyah 18 years ago and now heads her family's business operations in the country, Israel's largest commercial real estate enterprise. She was born in June 1967, at the time of the Six Day War.
"My mother tells the story of how, when she was giving birth, the radio was on and the doctor would be listening to the news from Israel between contractions," Azrieli said.
"We have come to this 'let's talk' conversation about our future together from very different starting points," she noted. "For example, how do we as North Americans begin to understand what we perceive as backward thinking, when women are not allowed to pray at the wall? And yet, the prime minister reneged on the Sharansky Compromise because of the pressure exerted by religious extremists. As a North American, you are probably asking, how could he have done that? Some of you, and I know a few, might go even further and ask, why should I support a country that does not support the way I practise my religion?" On the flip side, she acknowledged the fears of religious Israelis, who see any diversion from tradition as a step toward assimilation and extinction.
"Since I come from the real estate world, I'm going to use an image of an arch," she said. "An arch is two sides pressing together. North American Jewry and Israeli Jewry are like two sides of an arch. We need each other. We need to push against each other to stay strong. By leaning into each other, by providing each other with the right amount of resistance and the right amount of support, we will have the strength to withstand the pressure from all sides. But one side of an arch cannot stand without the other. The art is to find the right amount of resistance, the right amount of pressure and the right amount of dependence and independence to ensure that our two sides will always remain strong vis-a-vis one another."
She acknowledged the differences over policies, but tried to differentiate this from core support for the state of Israel.
"We don't give up when we disagree with our leaders," she said. "Don't walk away because your liberal sensibilities are insulted. Don't assume that nothing can change. Things do change, just painfully, slowly, incrementally, and with all of our help. Help by continuing the dialogue. Help by infusing your children with a love of our heritage. Let's celebrate the good. I am not suggesting that we ignore the things we disagree with. I am simply suggesting that we remember: it's a marathon, not a sprint."
Isaac Herzog, the former leader of the opposition who recently became head of the Jewish Agency for Israel, said the growth and successes of modern Israel could not have been forecast.
"No one could have imagined that, 70 years later, [Israel's] population would increase more than tenfold, its GDP would grow more than fiftyfold, its share within the Jewish world would grow from six percent to 45% and that Israel would become what a great country it is today."
Herzog, a grandson of Israel's first chief rabbi and the son of a president, added: "Israel is not the only Jewish marvel in the last 70 years. You, too, North American Jewry, are a marvel. The saga of North American Jewry is one of the most exhilarating and inspiring success stories of the modern era and your success is evident not only in your high level of education and income, and in the fact that the number of Nobel Prize winners that you've got are over 120, but because your success is palpable in the fact that you are organized, committed and energetic. You donate more than any other group in society, both locally and globally, and your success is manifest in 3,500 congregations, in 150 federations, in 350 JCCs and countless organizations and foundations that you've created together into a beautiful, unique civil society."
He spoke of the historical bonds between the two communities.
"You nourished us ever since we were a helpless newborn," Herzog said. "We were, we are and we shall always be reliant on one another. Our alliance is profound, is heroic and is eternal."
He added: "I see the growing rift between our communities and am shaken to my core. In Israel, there are those who shamefully refuse to recognize the great non-Orthodox Judaism of North America and, in North America, there are those who disavow the centrality of Israel in Jewish life.
"Ironically, in this, the first era in our history when the external existential threats we have faced are greatly diminished, we ourselves are endangering our own existence. It is up to each and every one of us sitting here together in this hall to look into the eyes of our young generations and see where did we go wrong. The obligation we all share is to listen to their pains, to listen to their questions and to listen to their frustrations and ask ourselves, how can we do it better? We must dare to think anew, dare to act differently."
Herzog called for a renewed dedication to the Hebrew language.
"Our first act should be to find a common language," he said. "When I say common, I mean both literally and figuratively. We have a rare and sacred national treasure: the Hebrew language, the language of the Bible and the state of Israel. For all of us to be able to speak to one another and listen to one another and to debate, discuss and delight one another, we must return to our national heritage and treasure. We must enable every young Jewish person in the world to learn Hebrew."
He called on the government of Israel to allocate funds for a program that teaches Hebrew all over the world.
"From here on, it will be every young Jew's birthright, wherever he or she may live, not only to visit this historical homeland, but to learn the language of the Jewish people," said Herzog. "Hebrew can be a common denominator of all Jews from all streams of Judaism – a beautiful language can serve as a tool for unity."
Other ideas being mooted, he said, include a Jewish "peace corps" that brings Diaspora and Israeli Jews together for tikkun olam projects around the world, and inviting thousands of young Jews from around the world to Israel to participate in groundbreaking "startup nation" technology projects.
As head of the Jewish Agency, Herzog promised to "reach out to all of you to advance hundreds of faction-crossing, stream-crossing, continent-crossing dialogues under one common tent. Israelis will learn to appreciate and know the magnificent civilization of world Jewry, while world Jewry will learn to appreciate the achievements of Zionism and the beauty of Israeliness. Reform and Conservative Jews will learn to cherish Jewish orthodoxy and Orthodox Jews will learn to respect the Reform and Conservative. We shall learn from one another and learn to appreciate one another and endeavour to resolve our internal differences through a new Jewish dialogue. All that I ask of you is not to despair and not to give up. Indeed, let's talk."