Laura Leibow is one of the 14 comics featured on The New Wave of Standup, now streaming on CBC Gem. (photo by Emily Cooper)
The whole thing was a highlight really! I still kind of had that post-COVID 'I can't believe I get to take the stage again' sense of wonder in me at that time," comedian Laura Leibow told the Independent. "Combine that with getting to see comics I respect and love do their thing made the whole experience very cool. Plus, I love staying in hotels."
Leibow was speaking about the taping of the latest season of The New Wave of Standup, a Just For Laughs Vancouver and CBC original series, which is now streaming on CBC Gem. Leibow and fellow Jewish community member Jacob Balshin are two of the 14 comics featured on the show.
"I try really hard to approach taped sets in the same way I'd approach ones that are not being taped because, ultimately, it's just about that live experience between you and the crowd and, hopefully, the tape will capture that," said Leibow. "The only major difference is I mind the subject matter I cover a little more when I'm being filmed, so my mommy and daddy don't get mad at me!"
Balshin went into the New Wave set having worked out more of what he was going to say than he usually does. "I love writing and try and work every day on my comedy. I do not like repeating the same set over and over again though," he said. "It can make me depressed. Leading into the taping, I only ran the set a few times. I was just getting back into comedy after the last COVID lockdown in Ontario and did not want to take a break from having fun to repeat the same jokes over and over. I try not to overthink things. Comedy is the easy part of my life. The rest is the struggle.
"After I got off stage that night, I went to another show," he said. "It was next door to where we were shooting and was actually part of a tour I was on…. I was able to make it in time to do my spot. I bombed trying new stuff. No one in the audience knew I had just filmed for TV 20 minutes earlier. Both sets held the same weight to me – I just want to make people laugh, and get better. I do not think any one set matters that much. And, if it does, I will be prepared because I know I have put in the work."
It took Balshin time to find his comedic voice. "I did not know my own voice when I started comedy, so I would speak like other people who I was a fan of," he said. "Now, it is not something I think about. Everything I do is naturally me. And that feels like a really good place to be – and something I always wanted. To me, the goal is to be yourself. Anyone can be funny, but only you can be yourself. So, over the years, it has been more about actually living a life and less about what happens on stage."
While Leibow seems to have experienced a less drastic evolution, she, too, has reached the point where, she said, "I'm far less concerned now with trying to impress certain people than I am with just talking about what I think is funny."
Leibow said, "My comedic voice is driven largely by my ADHD [attention-deficit / hyperactivity disorder], friendship, laughter, feminism, silliness, clay, and Jews. No, I don't know if I can really nail down my comedic voice other than saying that it really is largely driven by my scattered brain and throwing spaghetti at the wall. If something really tickles me, and it seems to be making other people laugh, then that's great!"
Both Leibow and Balshin have topics they won't cover in their acts.
"I won't tell a joke that denigrates or harms a marginalized group and I prefer to stay in my lane when it comes to certain issues," said Leibow. "I'm not going to boldly speak out of turn on a topic about which I'm not well informed. I also try not to violate the privacy of my family members. Unless I think of a good joke that would require me to do so."
Balshin only writes material that is about him. "I only have my own story to tell," he said. "I hope my comedy makes you feel good when you watch it. And I always feel bad when someone has a bad night. If any joke I ever tell hurts someone, I am interested to know why and am willing to listen."
On stage, Balshin interacts with the audience quite a lot.
"It is a part of my comedy that naturally developed from doing comedy in rooms in Toronto, where the audience … [wants] you to feel present and talk to them," he said. "I struggle with social anxiety off stage and rarely talk to people. It is pretty fun to have a space where that seems to not exist for me at all. And I love when the audience opens up to me. It feels like the reward I get for being so open with them. And to know they trust me sometimes is really special."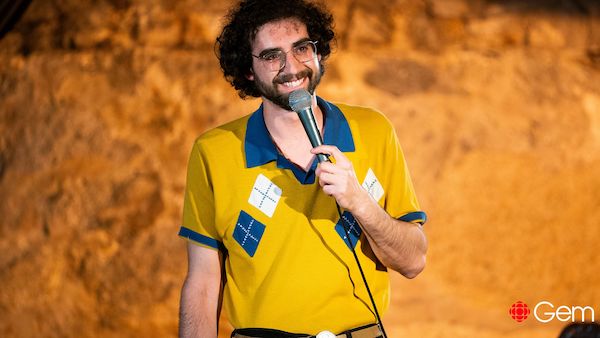 Balshin tours the country regularly. "I've performed in places with populations in the hundreds many times in my career. For many, I am the first Jewish person they have ever met," he said. "From my own experience, I would say there is a big difference between hate and ignorance. I would say the vast majority of what I have encountered firsthand is ignorance. Most people though do not care that I am Jewish. We are all just people.
"I hope to be funny and genuine enough on stage so that anyone who came in with any misconceptions or hate towards Jewish people can recognize someone who has nothing but love to give. Even though we are different, we can all relate to the weird experience that is living."
In addition to being part of The New Wave of Standup, Balshin's debut standup comedy special will be airing on his YouTube channel in the next few months. "It's called 30 and Breathing Funny," he said. "It was recorded on my 30th birthday and it would mean a lot if you gave it a watch. It better showcases my style of comedy and includes some material about being Jewish that is not in the CBC taping."
Balshin moved to Vancouver last year, after a breakup. "When I arrived at the airport, friends Bobby Warrener and Malik Ellassal [also on New Wave this season] picked me up and immediately helped the move feel far less lonely. Getting to do my first TV taping with both them a few months later helped relieve me of that same feeling of loneliness," he said. "And getting to watch them both kill, knowing how hard they both work and how much they deserve it, was definitely a highlight. Go watch their episodes! They are two of the funniest young comics in Canada."
Rounding out The New Wave of Standup lineup are Brendan D'Souza, Travis Lindsay, Rachel Schaefer, Courtney Gilmour, Charles Haycock, Seán Devlin, Dino Archie, Heidi Brander, Jackie Pirico and Mike Green. To watch, go to gem.cbc.ca/the-new-wave-of-standup.