Rick Tash is the primary caregiver of his wife, Bambi Fass, who is dying of cancer. (still)
A new short film by Dr. Jessica Zitter and Kevin Gordon gives an intimate look at the toll involved in caring for a loved one at the end stages of their life.
Zitter happened upon palliative care, she said, before "anyone even knew how to spell the word 'palliative,'" after she had "finally realized I'd been feeling a lot of burning walls of stress in the way that I had been practising medicine."
A physician in Northern California, Zitter said, "I'd been treating patients like objects on a conveyor belt, instead of as people, and then began to practise, for the next two decades, palliative care and critical care at the same time, providing me with a strange vantage point within the world of medicine.
"I was inspired to write and share stories about what's going on in hospitals, and about how we're treating the seriously ill among us … and I also continue practising medicine."
Zitter at first opted to educate the public via books, but then she encountered the power of film. "I realized, all these messages I'm trying to get across to people – about medical culture and about what we want to think about differently – they'd lend themselves so well to film, to show the experience of the patient. If a picture is worth 1,000 words, I realized that a movie is worth much more than 1,000 pictures."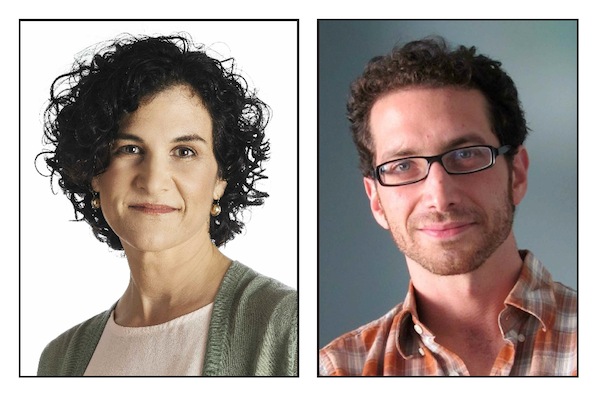 In the 24-minute Caregiver: A Love Story, the audience meets a woman Zitter met at synagogue, Bambi Fass, and Fass's husband, Rick Tash. Fass was dying of cancer and Zitter offered palliative care, but was refused, until Fass's condition became dire.
"She called me and she was extremely sick and had deteriorated," Zitter told the Independent. "She said she needed help and, that day, we got her into hospice care. She was so, so sick and in so much pain and suffering. That day, her life turned around for the better. All of a sudden, she was living again."
That is when Zitter asked Fass if she would be willing to be filmed. "She replied, 'I want to help someone else … if you want to write about me or anything.' She knew about my book. That's when we got a film crew. I thought the film would be about her, an amazing woman. What I didn't realize then is that it would actually end up being about her husband as the main focus. I thought he was just going to be the guy who opens the door for the hospital, but he ended up being a central character."
Fass had sat a few rows in front of Zitter at their synagogue. "She had a long braid of hair," recalled Zitter. "I'd always see it from behind. I didn't know her really, but I did wonder…. She was very, very sick…. I knew she was, because she had brain metastasis. She was vivacious and funny. She was staring her death in the face and she still had a sense of humour. She was a hero, a really fascinating character."
It took almost two years to put the movie together and to fully grasp the importance of sharing it with the world.
"I never realized – the invisible public health crisis, family caregiver burden – how much this story needed to be told," said Zitter. "The original intention I had for this film was to show how, once you make the right decision, everything will be OK…. I then realized how naïve that message was. It's not that easy. You can make decisions that feel like they're going to be the right choice for the patients, but will it be the right choice for the family as a whole? We have to be much more holistic when we think about our patients. It really needs to include our families as well.
"Even in a loving, caring and organized community like ours, we aren't necessarily focusing on and supporting the family caregivers among us," said Zitter. "And there are a lot of family caregivers – rising numbers – with very little support. An organized community has been unable to attend to this man [Tash] who is deteriorating in front of our eyes, because they don't know what to do with him. We're not primed to think about caregiver burden as an urgent task."
Zitter found that her synagogue had no committee to assist family caregivers, and her hospital community was also not paying attention to caregivers.
"They're an invisible workforce that we don't pay attention to," said Zitter. "We don't attend to them, we don't think about them, we don't identify them, we don't include them in the conversation. But they're a huge part of our workforce … and we're just ignoring them."
Zitter's hope is that people from various communities, including synagogues, churches and mosques, will watch this movie and then establish a workshop for family caregivers and identify ways to support caregivers. To that end, she has created a keynote message and an hour-long program to raise awareness of this crisis and do something about it.
"The best place to start is at caregiveralovestory.com," she said. "You can go on the website and see public screenings that are coming up and other ways to watch the film yourself, whether bringing it to your organization or watching it privately."
Currently, Zitter is working on a film about deathbed spirituality and prayer, as well as on a movie about Ethan Sisser, a Jewish Buddhist.
"Ethan was an amazing, amazing guy," said Zitter. "He died about two or three months ago. He has a community following on social media. A lot of young people were just so moved by the way he viewed his death and the bravery and beauty of his final days…. We're making a film about him, which will be beautiful and, hopefully, you'll see that soon."
Rebeca Kuropatwa is a Winnipeg freelance writer.