ARC Ensemble (photo from Royal Conservatory of Music)
Over the span of three decades, the ARC Ensemble (artists of the Royal Conservatory) has provided a voice for exiled composers who had graduated from Europe's finest conservatories and enjoyed successful careers, but were subsequently forced into exile by antisemitism and bigotry, their works forgotten. As it marks its 20th anniversary, the ARC Ensemble remains dedicated to the research, recovery and recording of the music produced by these extraordinarily gifted exiles.
It was Dr. Peter Simon, president and chief executive officer the Royal Conservatory of Music, who envisioned creating an ensemble showcasing faculty musicians as part of the RCM's overarching mission to develop human potential. The conservatory is one of the largest music education institutions in the world. More than 500,000 students study its RCM Certificate Program through a network of 30,000 independent music teachers and its more than five million alumni include Glenn Gould, Oscar Peterson, Shania Twain, Sarah McLachlan and David Foster.
Comprised mainly of the senior faculty of the Royal Conservatory's Glenn Gould School, with special guests drawn from its most accomplished students and alumni, the ARC Ensemble has become one of Canada's cultural ambassadors. Its concerts and recordings have garnered multiple Grammy and Juno nominations.
"Over the past 20 years, the ARC Ensemble has done important work in ensuring that the contributions of composers who were marginalized under the 20th century's repressive regimes are heard and given their due," said Simon.
ARC has released nine recordings (on RCA Red Seal and, more recently, on Chandos Records), including six in its Music in Exile series. Through its quest to uncover neglected and forgotten 20th century composers, a growing roster of works is now entering the classical canon.
ARC Ensemble artistic director Simon Wynberg's musical detective work might begin with a footnote in a biography, an old concert program, an email from a composer's relative, or a suggestion from the network of musicologists active in the area of suppressed music. "Fortunately, many scores have survived and are hiding in plain sight in large library collections and archives," he said.
Wynberg tracks down potential treasures scattered across the globe, from Israel to India, from Austria to Argentina, and resources closer-to-home in Bloomington, Ind., and Winnipeg, Man.
In recognition of his work with the ARC Ensemble, Wynberg was inducted into CBC Radio's In Concert Hall of Fame and featured on a special broadcast on Sept. 24.
In resurrecting music forgotten from the boxes of library archives, the ARC Ensemble has created renewed appreciation for a growing list of gifted composers: for example, Ukrainian nationalist Dmitri Klebanov, who was suppressed under Stalin; Sephardi composer and musicologist Alberto Hemsi, who fled Turkey and Egypt to settle in Paris; and Walter Kaufmann, who found sanctuary in Bombay (Mumbai) and created a uniquely personal language by fusing Indian and Western traditions. As a direct result of ARC's research and recording, Kaufmann's works are now published by Viennese publisher Doblinger, and both European and American orchestras are now programming his works. Kaufmann's Indian Symphony will be reintroduced to an audience at Carnegie Hall in 2024.
ARC's Music in Exile series continued with the Nov. 17 release of a recording of premières by Robert Müller-Hartmann (1884-1950), who fled Hamburg with his wife in 1937 to escape rising Nazism, and settled in England.
"He was an émigré people knew about because of his relationship with [Ralph] Vaughan Williams, but whose music no one had explored," said Wynberg. "When I met the composer's grandson in Israel, he arrived with a huge sports bag and a backpack crammed with manuscripts and early editions of Müller-Hartmann's scores, but the family had never heard a note of his music."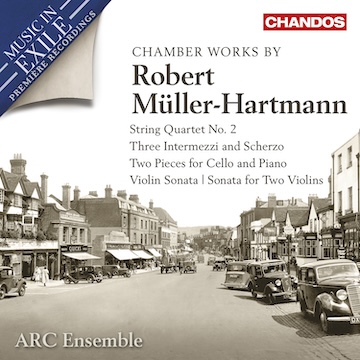 Like so many of his contemporaries, in addition to his professional work as a composer, teacher, administrator and musicologist, Müller-Hartmann had a broad range of intellectual interests. He enjoyed considerable success in Germany with major conductors like Richard Strauss, Fritz Busch and Otto Klemperer performing his works. Fired from his post at Hamburg University in 1933, he taught at a Jewish girls' school before fleeing to England.
In England, Müller-Hartmann spent much of his time in Dorking, some 25 miles south of London, living with Eugenia and Jacob (Yanya) Hornstein, friends from Hamburg. Through Gustav Horst's daughter Imogen, he met Vaughan Williams, who became a valuable friend and colleague, and who intervened in Müller-Hartmann's internment on the Isle of Man, where Jewish internees were obliged to live alongside Nazi sympathizers. Despite his connections to influential British musicians, Müller-Hartmann's career stalled, and his music fell into obscurity. This was partly the result of the war and the economic privations that followed, his sudden death in 1950, and his modest and rather retiring personality. 
The pieces performed on Arc Ensemble's Chamber Works by Robert Müller-Hartmann, likely written in the early 1920s and mid-1930s, are examples of why Müller-Hartmann's music deserves a place in today's classical repertoire. Among Wynberg's favourites are Two Pieces for Cello and Piano, and the Sonata for Violin and Piano, op. 5, which is dedicated to Müller-Hartmann's friend and legendary pianist Artur Schnabel. The recording also features Sonata for Two Violins, op. 32, characterized by the duet's dramatic contrapuntal interplay; the Three Intermezzi and Scherzo for Piano, op. 22, short but technically demanding works for piano; and String Quartet No. 2, op. 38.
Every one of the exiled composers that ARC has introduced has both a compelling story of flight and exile, and a body of music of extraordinary range and quality. Twenty years on, with an alarming rise in antisemitism and new waves of cultural repression, the ARC Ensemble's mission is a reminder of how easily lives and careers can be devastated by political and social oppression. 
"My hope," said Wynberg, "is that our introductions to these chamber works will encourage further research, exploration and adoption of music that has been unjustifiably ignored."
Learn more at rcmusic.com/performance/arc-ensemble. 
– Courtesy the Royal Conservatory of Music