Biofeed's Nimrod Israely, top centre, with mango growers in Karnataka, India. (photo from Biofeed via Israel21c)
Shortly before Indian Prime Minister Narendra Modi's visit to Israel in early July, Indian diplomats in Israel heard about a revolutionary no-spray, environmentally friendly solution against the Oriental fruit fly (Bactrocera dorsalis) made by Biofeed, a 10-employee ag-tech company. They invited Biofeed to be one of six innovative Israeli companies meeting with Modi and Israeli Prime Minister Binyamin Netanyahu.
The company's founder and chief executive officer, Nimrod Israely, who has a PhD in fruit-fly ecology, told the two leaders that Biofeed's product can protect Indian farmers against fruit flies like the Iron Dome system protects the people of Israel against missiles. The Oriental fruit fly has been decimating 300 fruit species in India and in 65 other countries in Asia, Africa and the Americas and is considered to be the most destructive, invasive and widespread of all fruit flies.
Biofeed's lures, hung on trees, contain an organic customized mix of food, feeding stimulants and control or therapeutic agents delivered by a patented gravity-controlled fluid release platform. Attracted by the odour, the fly takes a sip and soon dies – without any chemicals reaching the fruit, air or soil.
The launch of Biofeed's first-in-class attractant for female Oriental fruit flies results from 15 years of development of the core platform and more than a year of development and testing in Israel and Karnataka, India. Mango farmers on four Indian orchards saw an overall decrease of fruit-fly infestation from 95% to less than five percent.
"We were hoping to bring a solution that will replace spraying and increase productivity by 50%," Israely told Israel21c. "I am excited by the results, demonstrating the future potential for some farmers to bring about 900 times more marketable produce to market."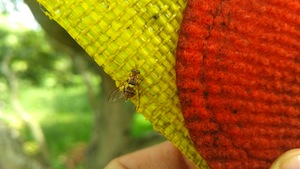 One farmer in the Biofeed pilot explained that previously he had used a trap that attracted only male fruit flies, with limited success. "If you cut 25 fruits, we were getting only one good fruit; 24 were infected," he said.
K. Srinivas Gowda, president of the 70,000-farmer Karnataka Mango Growers Association, wrote in a letter presented to Modi and Netanyahu that he "would like to have this [Biofeed] technology implemented to all the mango farmers through the government of India. This technology can be used to develop pest-free zones in the mango-growing belts in India."
The pilot project started after Biofeed won a Grand Challenges Israel grant last year from the Israel Innovation Authority and the Foreign Ministry's international development agency, Mashav.
"We don't have the Oriental fruit fly in Israel. However, until now there was no solution for this problem. So, we took the challenge and chose to focus on India," Israely said. The company worked with Kempmann Bioorganics in Bangalore to carry out the trial.
Biofeed's products are used in many Israeli fruit orchards against the Mediterranean fruit fly and other common pests, including the olive fruit fly and the peach fruit fly (Bactrocera zonata).
"Bactrocera zonata is the number two pest in India. There are three main pests in India, so now we've given, within two years, a solution for the two most devastating fruit flies in India and in other parts of the world," said Israely.
"We are the only company in the world with a solution for those two pests and both solutions are harmless to the environment," he added. "We estimate the annual market potential of these two pest segments to be well over $1 billion."
The Biofeed platform is effective with as few as 10 units per hectare and for a period of nearly a year before the dispenser needs replacing.
Biofeed, founded in 2005, also has a formula targeting mosquitoes that bear viruses such as Zika.
"Evolution has given insects an elaborate sense of smell, which they utilize to find mates, food, egg-laying sites and more," Israely told Israel21c last year. "The company has developed a liquid formula that 'knows' how to tie different kinds of smells to other materials, as the need arises. The result is a special 'decoy' that draws the target insect through smell. The decoy is slow-released from a device over the course of a year. The insect is drawn to the decoy, feeds off it and dies shortly after."
Headquartered in Kfar Truman, Biofeed sees the future of agriculture in developing countries such as India and China.
"We want to bring something that is extremely easy to use: you don't need tractors, you don't need to remember to spray once a week, you don't need to put yourself in danger with sprays, there's no safety equipment. This is something that can make a dramatic change in agriculture and human health," said Israely.
For more information, visit biofeed.co.il/enhome.
Israel21c is a nonprofit educational foundation with a mission to focus media and public attention on the 21st-century Israel that exists beyond the conflict. For more, or to donate, visit israel21c.org.