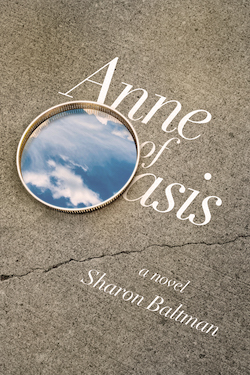 In Anne of Oasis, drawing on my many years as a physician psychotherapist, I tell the detailed, fictional story of what goes on in the therapy room when an eccentric, 70-year-old is obsessed with changing her life – or ending it. Anne bumbles through what she views as mysterious rituals with the therapist, explores secrets, re-jigs behaviours and, five years later, finds bliss. Here is the final chapter.
***
Chapter 26: June 2008
For two years, Doug heard sporadically from his mother and continued his requests for pearls. She made it clear to him and his brother she wasn't coming out to Kelowna anymore. They occasionally visited her in Toronto, or in Golden, where she was staying with Eleanor for longer and longer periods of time.
When he received the phone call from a Toronto hospital, Doug asked if she'd fallen and busted her hip. They said it was more than that. They had found her unconscious on the street in Toronto with no ID, except for a piece of paper with Doug's number on it as her next of kin. They admitted her as an Unknown Person and she was failing fast. If he wanted to see her alive, he had better come quickly.
He didn't know what to do. He had promised to be there if she needed him for assistance in dying peacefully, but this was different. Yet how could he leave her to die on her own?
"She's still your mother," his wife offered.
He flew out as soon as he could. He arrived at the Toronto General Hospital, where Admitting confirmed there was no patient by the name of Anne Bishop. But a woman had been admitted as an Unknown Person. Doug wandered the halls searching for his mother.
"She was moved to a different floor."
"She's in ICU."
"She's not in ICU."
Finally, he stepped into the Cardiac ICU and in the corner he saw a pile of breathing bones. Tube in mouth, IV in arm, sas-sas-sas of a respirator. Unknown Person at the foot of the bed.
"Is this her?" he asked the nurse at the desk.
"She was found with only this slip of paper on her."
"That's my name and number."
"She apparently suffered a sudden, massive heart attack on the street."
As Doug approached the bed, he recognized the bony lumps on her hands, the chewed-up fingernails, the crepe skin. It was definitely Mum. He gasped. His eyes filled, the lump in his throat tightened. He turned and rushed to the nursing station.
"Please, can the tubes be removed? She didn't want heroics."
"We barely know her name. We can't follow any directives without proper ID and signed papers detailing her wishes."
He took off uptown to retrieve the Dying With Dignity papers his mother had been talking about for years.
Stepping into his mother's house, it felt haunted, full of yesterday's glory. Dust everywhere. Her clothes neatly stashed, but neglect inhabited the place. He walked from room to room, observing photos everywhere – on window ledges, on kitchen counters, on the bedside table. Pictures of Jesse and Catherine and Doug and Bruce and Pam and Sue in every combination. Sitting next to each image was a shiny rock or pebble. He picked up each clear Plexiglass frame and stared. He was shocked to see how she surrounded herself with family. He began to sob.
He found the papers in the second drawer of his grandmother's mahogany desk, exactly where his mother had said they'd be. Everything was perfectly organized and signed. He grabbed the requisite forms, glanced around at the family photos and returned to the hospital. They removed the tubes.
He returned to the house for a few hours' sleep and arrived back at the hospital next morning, to find she had again sprouted pipes. The staff explained that overnight she had taken a turn for the worse and they tried to save her.
Angrily showing them the papers again, he repeated her wish to die quietly, and they removed the tubes a second time. He wrapped Mum in her favourite turquoise velour blanket he had brought from her home, took her in his arms and held her exactly as she held him as a sick boy on the farm. He noticed a flicker of a smile cross her face, then she took her last breath.
Just then, Eleanor appeared.
Through their tears, Doug and Eleanor awkwardly made their way to her house together. They expected to start planning how to say goodbye to Anne. But she beat them to it. She had detailed her every wish. They simply had to fulfil them.
"You know what?" Doug asked. "She knew what she was doing all those years ago around Dying With Dignity. We thought she was nuts, but it's sure helping us now."
"She was utterly determined in every aspect of her life," Eleanor replied.
"What do you think we should do with the rocks? My brother thinks we should pitch them."
"She schlepped them home from every spot she ever visited. Each and every one was special to her," Eleanor sighed.
"I think we should leave some at the cemetery."
Because Doug knew Mum hated missing appointments, he searched in her handwritten, dog-eared address book for Dr. C's number.
"I'm so sorry," Dr. C responded when he told her the news.
"It's odd speaking to you in person after hearing about you for so long," Doug said. "I'm happy to hear your voice. I need to tell you how important you were to my mother. Thank you for helping her.
"She was still difficult to deal with, but she seemed a lot happier. I also want to thank you for all the pearls of wisdom I received second-hand. Mum loved sharing them and they have been extremely helpful in my life."
"We will all miss her."
"As per her wishes, we are having a funeral service tomorrow afternoon at 2 p.m. at the Mount Pleasant Cemetery. We would be honoured if you would come."
"Thank you. It would be a privilege. I'll see you there."
Tuesday afternoon, at 2 p.m., under a blistering sun, Doug, Eleanor and Dr. C, along with a handful of grey-haired men and women, gathered as they lowered the casket into the ground. Doug pulled out a heavy purple velvet Crown Royal bag and spoke.
"When I called Dr. C to notify her of Mum's death, I asked what we could do with the stones Mum collected on her travels. She informed me that according to Jewish tradition, leaving a stone on a loved one's grave signifies you have been to visit. Because of Mum's lifelong appreciation of all things Jewish, placing stones on her grave would be a mitzvah, or a blessed act of kindness.
"I am honoured to ask each of you to dig into this bag, which held my marbles as a kid, to take out a pebble and place it on Mum's final resting place."
Tears rolled down his face. Doug held the bag open. Eleanor, Dr. C and the others lined up. One by one they removed a rock and placed it on the earth as it was shovelled onto the casket.
For more information, visit sharonbaltman.com.