B.C. Lt.-Gov. Janet Austin addresses the July 27 Shabbat Dinner with Pride Colours event. (photo by Matt Hanns Schroeter)
On July 27, the Metro Vancouver Jewish community celebrated Jewish Pride with guests ranging from B.C. Lt.-Gov. Janet Austin, to government officials and representatives of faith-based and nonprofit organizations, as well as Jewish community leaders, LGBTQ+ Jews and friends in a sold-out, community-wide, family-friendly, gender-inclusive Shabbat dinner at VanDusen Botanical Garden. The festivities continued on Aug. 5, when the Jewish community hosted its annual booth on Sunset Beach during the Pride Parade and Festival.
These events were organized by the Jewish Pride planning committee and made possible by the support of a record 31 Jewish participating organizations, led by the Centre for Israel and Jewish Affairs, Pacific Region, and the work of numerous volunteers and community members. Funds raised at the Shabbat dinner will go towards supporting future Jewish LGBTQ+ events over the coming year.
While B.C. Premier John Horgan could not attend the July 27 Shabbat Dinner with Pride Colours, he sent his "warmest greetings," noting, "For some, tonight may be their first introduction to observing Shabbat, and it is through sharing our lives and traditions with others that understanding and acceptance grows. Events like this are essential in ensuring that B.C. is a vibrant, diverse and welcoming place to live."
Selina Robinson, minister of municipal affairs and housing, commented in a post on Facebook, "While I was proud to be there to bring greetings on behalf of our government … I was most proud to be there as a member of the Jewish community. I am grateful to see just how much has changed over the past number of years to create and facilitate space in our community … space for everyone regardless of gender identity or gender expression."
"This was a really powerful moment for me last week," said attendee Aaron Robinson, also on Facebook. "My mom spoke about being the Jewish parent of a gay Jewish man and how wonderful it was to see that there was space being made in the Jewish community for queer Jews. She spoke of the struggle and fear about making sure that your children have the space to be who they are in all of the ways they identify, and this Friday gave both of us so much hope. I'm so very grateful to the people that put on this Shabbat Pride dinner and all the organizations that were represented there for taking a huge step forward in creating a space for Jewish LGBTQ+ folks."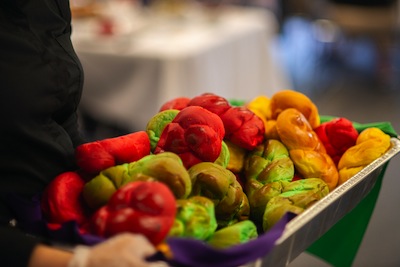 Attendee Jill Beamish especially enjoyed talking with other women there "about parenting, queering and Judaism."
"I loved the gathering, and send heartfelt thanks to the organizers," said Beamish. "In 30 years of being out – and only four of being Jewish – I never thought I'd feel this welcomed and celebrated."
Dr. Aaron Devor was another invitee who could not attend the Shabbat dinner, but who sent his remarks to be read at the event. Devor is, among other things, founder and inaugural chair in transgender studies at the University of Victoria, as well as a past president of the Jewish Federation of Victoria and Vancouver Island and a former board member of Hillel BC.
"I'd like to express my sincere appreciation to all who participated in making this fine event happen," said Devor in his speech, "and especially to [CIJA's] Carmel Tanaka, who I know from her years of dedicated service to the Jewish communities of Vancouver and Vancouver Island. Yasher koach to all of you!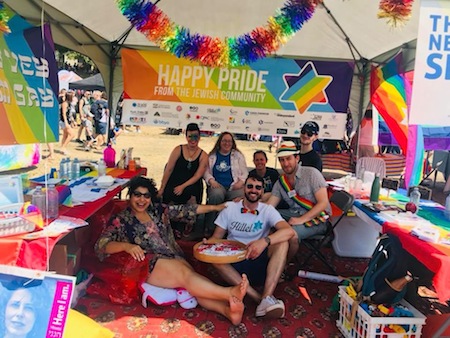 "I, personally, have been attending Pride celebrations since 1971, when I was there for the second-ever Pride march, which took place down New York City's Fifth Avenue. It was a breathtaking and exhilarating experience to see 10,000 lesbian, gay, bisexual and trans people marching together in the bright sunlight…. To be out and proud was something new and bold back then. And, I want to remind you that many of the people who took the risks to fight back against shame and oppression in those early days – and in all the days since – were gender diverse people: trans people, non-binary people, two-spirit people, genderqueer people, transsexuals, transvestites, drag queens and drag kings, and queers, many of whom were also Jews.
"We've seen huge progress since then," said Devor. "It would be easy to get comfortable and enjoy the benefits of all that LGBTQ2+ people have accomplished in the decades since the birth of Pride. The fact that all of you are here tonight is a beautiful testament to the progressive thread that runs through much of Jewish life and culture…. I thank you for all that you have already done to bring us to this moment, and I look forward to continuing the work. There is much still to be done to make the world truly inclusive of gender and sexual diversity in all its glory."