Chabad Lubavitch BC's 40th Annual Gold Plate Celebration raised $10,000 for the Jewish Food Bank. (photo courtesy)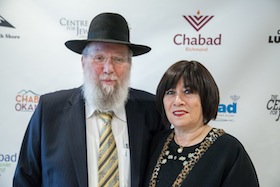 Lubavitch BC held its 40th Annual Gold Plate Celebration on March 15, 2018. The dinner celebrated 43 years of Chabad Lubavitch service to British Columbia.
Instead of having a sit-down affair this year, Chabad Lubavitch BC had a cocktail reception and donated the money raised (the costs saved by not having a sit-down dinner) – $10,000 – to the JFS Vancouver Jewish Food Bank to help those in need.
There was also a raffle for the grand cash prize of $18,000.