This year's Gold Plate Dinner marks 40 years that Lubavitch B.C., led by Rabbi Yitzchak Wineberg, third from the right, has been in Vancouver. (photos from facebook.com/LubavitchBC)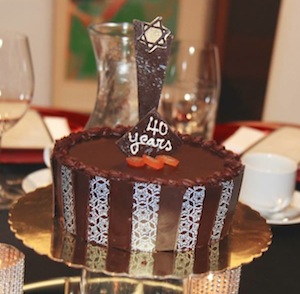 Chabad Lubavitch BC held its 39th Annual Gold Plate Dinner, paying tribute to the Rebbe, his vision and 40 years in British Columbia on Dec. 2, at Schara Tzedeck Synagogue. Guests enjoyed a reception, followed by a five-course meal, during which several speakers shared how Chabad Lubavitch has impacted their lives. Throughout the evening, several prizes were raffled, including hockey tickets, vacation packages, 40-year-old scotch and the grand prize of a 2014 BMW i3. The evening concluded with an entertaining performance by comedian Marc Schiff.
For more photos of the event, visit facebook.com/LubavitchBC; for a video, youtube.com/watch?v=gzWVr9iVY-g.