"Sometimes Being Human … Can Be Hard" by August Bramhoff.
The Jewish Community Centre of Greater Vancouver's inclusion services' third annual art exhibit at the Zack Gallery is on display this month. And people can meet the artists at a March 23 virtual reception.
"For the last two years, the JCC has celebrated Jewish Disability Awareness and Inclusion Month through an art exhibit that interrogated and explored themes of community longing and belonging," Leamore Cohen, inclusion services coordinator, told the Independent. "We asked artists of mixed ability: How do we make meaning of the concept of community, the real and the imagined spaces we inhabit? What does community longing look like and what are the possibilities for belonging in an ever-changing world?"
This past year, the world has changed almost beyond recognition. "In Vancouver, we are nearing a year since the COVID pandemic shut down our city and transformed all aspects of our social world," acknowledged Cohen. "However, while we were isolated, we also saw our creativity flourish."
In the two previous exhibits, artists responded enthusiastically to inclusion services' challenge, unfolding a fascinating slice of society through their art, and both shows were successful, well-attended cultural events. Unfortunately, the pandemic has moved most of our interactions online, and so it is with this new show, though it is also available to view in-person by appointment.
The participating artists are of differing abilities and artistic levels, so the artforms vary. There are paintings and multimedia collages, figurative and abstract imagery, landscapes and still life. Some pictures are disturbing in their naked emotional pain. Others are quietly sad, or funny, or absurd. One thing is universal: the artists' willingness to express their feelings, both in their art and in words, as each piece is accompanied by its creator's short writeup.
It is impossible to mention all 57 pieces on display, but here are a select few to represent this multifaceted show.
August Bramhoff's painting "Sometimes Being Human … Can Be Hard" depicts a woman sitting, alone. She is sewing or knitting. The painting's muted colours permit no joy. There is obviously no one there with her, even beyond the edges of the painting. The woman's isolation and loneliness are palpable despite the spare simplicity of the image.
The artist wrote about his painting: "My main practice is analogue photography, with a focus on street photography…. This is the first painting I've created in over 10 years. The inspiration for this work is from a feature film. It captures the sense of longing and displacement we all seem to be juggling during the COVID shutdown."
In contrast, Tracy-Lynn Chernaske's "Whispers" is a dreamy landscape. The moon shines over the night forest and a trail of shiny fog weaves its way between earth and sky. Maybe it is just the weather. Or maybe the fog illustrates our mutual desire to connect with one another. Maybe it is a whisper of our souls.
The artist explained: "Community is … a place and a way to tell stories and journeys so they can be witnessed, heard and held. They are a way of bonding together … and the need to push away and seek out new and more fitting spaces." According to Chernaske, we all nourish "the invisible threads of relationships that cross borders, land, sea and time."
In Evelyn Finchman's "Roots" – an abstract composition in the earthy colours of brown and beige – interconnected spirals, lines and shapes allow the viewer's imagination to stir. Is it food? Is it a surreal terrain? A carpenter's schematics?
"Belonging to a community is much more than interacting with our societies and being accepted by our peers," mused Finchman. "This year, I realized how important it is to coexist within the nature that surrounds us…. There is no human life if we don't respect all living beings on our planet and understand that we are part of the whole environment."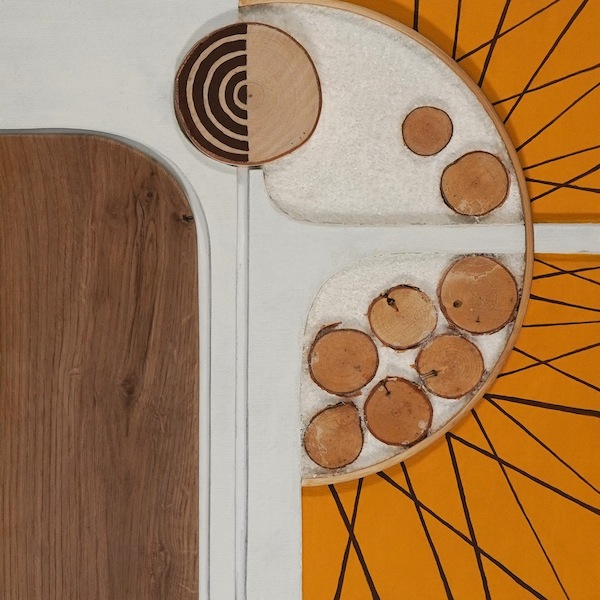 Another artist who touched on the theme of nature and its connection with humanity is Peggy Logan. Her painting "Flowers Adrift" shows single blooms, all different – a tulip, an orchid, a daffodil, a daisy – but all similarly pale and faded, bobbing on the blue background. The image seems dejected and symbolic.
"The piece of work I have created," said Logan, "is about that sense of disconnection that exists now with friends and family with restrictions on travel, social distancing, and isolating inside. This image is about the lack of roots the flowers have as they float over the water via the internet."
Symbolism is also the main approach of Theresa Moleski in her painting "Life In and Beyond our Bubble." The painting is dark, almost black and white. A tree is imprisoned inside a sharply delineated bubble, striving to get free. But there is something vaguely optimistic outside the bubble, too. And the artist expressed herself in no uncertain terms in her writeup: "COVID or not, I will continue my journey as an artist!"
While most of the images in this show are serious in tone, a few offer a humorous slant on our very human follies. Danielle Haslip's painting "First Date Red Flags" is a tongue-in-cheek exploration of dating. Its style – childlike and undeniably funny – includes a figure with lots of teeth. You see it and you know: something is gonna bite.
"Reflecting on my own personal growth, as I wait for conditions to be safer for meeting people, I thought I'd be cheeky and depict an exaggerated vision of dating, in which we can either fall prey to manipulative people, who mean us harm, or attempt to force a connection with someone who is not a good fit for us," wrote Haslip.
Another smile-inspiring work is Paul Leighton's "Not Over the Moon Yet." On the painting, a sad cow is floating on a cloud. Or is it an island? The style is two-dimensional, but the meaning is much deeper. Is the poor cow attempting to fly away from stupid humans? The artist thinks so: "My approach to the theme of longing and belonging is to use oblique humour to ponder unfathomable human global problems through the lens of the preposterous…. An individual, no matter how earnest, can't solve all the interrelated problems of the Anthropocene or rescue a cow fleeing into the clouds," said Leighton. "However, social pressure and citizens' assembly can help."
And then there are paintings like Gail Rudin's "Home is Where the Heart Is." Folk art in style, it is heart-warming in its essence. It reminds all of us of the importance of home.
The show is on display at the gallery until April 2. To view the exhibit anytime or attend the March 23, 5 p.m., reception, visit jccgv.com/community-longing-and-belonging.
Olga Livshin is a Vancouver freelance writer. She can be reached at [email protected].