Shira Geffen shares how she met her husband, Etgar Keret, in the film Etgar Keret: Based on a True Story, which screens Nov. 14. (photo from facebook.com/etgarkeretfilm)
"I want to write stories so the readers will like mankind a little bit more," says Israeli writer Etgar Keret in the documentary Etgar Keret: Based on a True Story. Similarly, as depicted in another film, the Israel Museum aims to uplift and educate visitors with its artistic, cultural and historical displays, and The Museum offers a glimpse into the breadth of its collections and the diversity (and quirkiness) of its employees. Both of these award-winning films screen during the Vancouver Jewish Film Festival, which started this week.
Danish filmmakers Stephane Kaas (director) and Rutger Lemm (writer) do an excellent job of introducing viewers to what makes Keret tick. They do so using a creative mix of interviews with Keret and his family, friends and colleagues; reenactments of sorts of a few key points in Keret's life; and a few of Keret's stories, the portrayal of which is mainly done in animation. Not surprisingly for anyone who has read Keret's short stories, there are several laugh-out-loud moments in Etgar Keret: Based on a True Story, but there are also sombre elements, as we learn about how Keret has been impacted by tragedy, including the suicide of one of his best friends.
One of the funniest scenes is when Keret shares his first story with his brother, Rodi (Nimrod). Rodi brings his dog along for the walk and, after he finishes reading Keret's story and praises it, he asks whether the typed copy he's holding is the only copy. When Keret says no, Rodi uses the paper to pick up his dog's poo. Perhaps a lesson in humility, Keret explains that it was at this moment he realized that a story is not in the piece of paper on which it has been written or typed – once a story has been read, it is in the mind of the reader. Keret calls this ability of a writer to transfer their ideas to another person a "super power."
While many of Keret's stories have gloomy aspects to them, the stories as a whole generally leave readers feeling good. He describes his stories as "an advertisement for life," saying that he writes to answer the question of why he wants to live.
"I think the need to tell stories is, basically, the need to put a structure to the reality around you. And I feel that the more chaotic and the less sense it makes, the stronger the need I have to tell a story about it," he explains in the film.
Etgar Keret: Based on a True Story screens Nov. 14, 8:45 p.m., at Fifth Avenue Cinemas (19+), following the 22-minute short Large Soldier, directed by Noa Guskov. "It's 1973 and all that Sherry, a 15-year-old Israeli girl, wants is a boyfriend," reads the synopsis of the film, which is in Hebrew with English subtitles. "A letter exchange with an unknown soldier makes her believe that it's going to be her first love. But what will happen when the imaginary soldier becomes real?"
* * *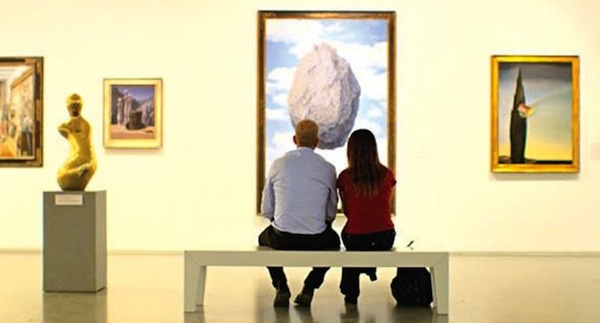 The opening of Ran Tal's documentary The Museum grabs viewers' attention: a black screen, the sound of footsteps, some shuffling about, then a woman asks a man, "What do we have?" "That's a huge painting," he begins. When the scene is revealed, we see the man and woman sitting on a bench, looking at the painting, but the woman seeing it only through his eyes, as she is blind. Later in the film, this woman is part of a group of blind people visiting the museum – she and others touch various sculptures, feeling how the works are made.
The Museum makes clear the enormous responsibility and privilege of caring for, handling and presenting art and artifacts. Over a period of one-and-a-half years, Tal interviewed several museum staff – including a security guard who is also a cantor; the institution's kashrut inspector, who notes that "a museum doesn't replace spirituality"; and the then-museum director, who sadly had to miss his mother's funeral because it took place on the day the museum reopened after an extensive renovation. Tal also films visitor interactions over that time, and highlights a 50th anniversary event (in 2015) featuring Prime Minister Binyamin Netanyahu and members of his government. Netanyahu remarks that the museum shows three things: "One is our bond to this land in a very dramatic display, and one of humanity's most significant archeological finds, the Dead Sea Scrolls. Another is the great cultural treasure of the Jewish people in Israel and the world over, which symbolizes our contribution to humanity."
Admittedly, The Museum only touches upon more serious concerns – there is a scene where a group of museum staff discusses a collection of traditional Palestinian clothing that is in storage, and the potential impacts of displaying (and not displaying) them – but it at least does bring up such issues, which will hopefully open the door for more in-depth discussion.
The Museum screens on Nov. 17, 6:45 p.m., at the Rothstein Theatre. For the full festival schedule and tickets, visit vjff.org.