Left to right, Lighthouse Labs' Jeremy Shaki, Josh Borts and Khurram Virani. (photo from Lighthouse Labs)
The Jewish Independent first heard of Lighthouse Labs in January of this year, when it received a press release about Lighthouse's second annual HTML500, "where 500 people can learn basic HTML and CSS skills from Canada's top 50 tech companies for free." In its first year, the waitlist numbered 1,300. In its second, more than 2,000.
But HTML500 (thehtml500.com) offers merely a peek into what Lighthouse Labs (lighthouselabs.ca) teaches in its eight-week computer coding bootcamp – a bootcamp that this year also became available in Toronto and Calgary. Lighthouse co-founder Jeremy Shaki credited fellow co-founders Josh Borts and Khurram Virani – who are also founders and partners of the Toronto-based development company Functional Imperative – with the concept.
"I wish I could take credit for the idea of Lighthouse Labs, but I can't," Vancouver-based Shaki told the Independent. Borts and Virani, the latter of whom now also lives here and is Lighthouse's head of education, "came up with it as it pertained to their space … and asked me if I wanted to be involved.
"Personally, I have always felt very strongly about learning by doing and that schools should have more tangible outcomes associated with their education. So, to get a chance to put all that into action in an exceptionally exciting space like tech was very lucky. There were definitely other models for this that we looked at, but we developed our own philosophy around outcomes and, specifically, that we felt that everyone graduating should be able to get a job."
While Lighthouse Labs doesn't guarantee employment, of course, it boasts a 100% placement rate. As its website explains, "Since some students have other goals, this refers to those students whose goal is to work as a full-time developer as soon as possible upon graduation. To date, 100% of our grads have gotten jobs in that capacity within three months!"
Shaki and Borts have known each other since high school. Both were born and raised in Montreal.
"I was raised 'Jew-ish,' as in I was taught the history, had dinners on all the holidays, had Friday night meals with my family and went to synagogue on the important dates," said Shaki, who attended JPPS-Bialik Jewish school until heading to St. George's High School, where he met Borts, who attended St. George's from pre-kindergarten through high school.
Borts described his family as "modern Jewish."
"While my father was raised Orthodox," he explained, "by the time I was born, we had migrated down the path to Conservative and mainly practised during the High Holidays, etc., like most of my Jewish friends. When I was planning for my bar mitzvah, I had a good interaction with the rabbi at the Reform synagogue in Montreal, Temple Emanuel, so our family moved there, completing our move to Reform.
"Once I left for university to Waterloo (honors, bachelor of computer engineering), I found myself outside of the Jewish social groups that are ever-present in English Montreal and I was, therefore, forced to create my own traditions. So, while I no longer attend synagogue on every High Holiday (I do when I can make it back to Montreal), I host a break-fast and seder for my friends (both Jews and non-Jews), as well as light the Chanukah candles (because who doesn't like the dreidel?)."
Shaki stayed in Montreal for university, attending Concordia, where, he said, "I took the extremely practical political science course which led to my career in – marketing."
Always encouraged to work, Shaki had myriad jobs, "ranging from selling spa packages on the street to hiring staff" – and including a job, at 15, with "the famous Montreal bagel shop St. Viateur Bagels" – "but ended up working for an experiential marketing agency called Sugar Media out of Toronto. I stayed there for seven years, loving every day of it before ultimately beginning to run Lighthouse Labs," where his title is "chief talking officer."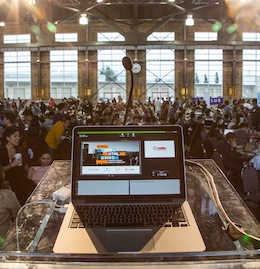 Borts' path to Functional Imperative and Lighthouse Labs began in University of Waterloo's co-op program, from which he obtained a wide range of experience, he said, "from working for a nonprofit in Sub-Saharan Mali … to algorithmic and high-frequency trading. Upon graduation, I took a job with a proprietary trading group in Hong Kong, where I spent three years working on trading strategies.
"When I finally came back to North America," he said, "I was approached with an opportunity to launch my own technology startup. While not in the finance space, the idea of being an entrepreneur really appealed to me and my risk-taking approach, so I jumped in and moved to Toronto to launch SocialStreet. Unfortunately, my lack of experience showed and it quickly failed. However, I learned a great deal about what it takes to run a successful startup, experience that I now am able to give back to the community in my role at Functional Imperative and Lighthouse Labs."
Integral to both places is Virani. "While I have a computer engineering background," explained Borts, "I didn't have the experience of building scalable software solutions. Khurram, with over 10 years of experience in web development, was the perfect co-founder to be able to execute on our clients' visions."
Based in Toronto, Borts' involvement with Lighthouse Labs includes being its chief financial officer. "In general," he said, "my ability to speak both business and technology means that I am responsible for bridging the gap between what is best for the business and what can be done. I often am the one pushing for higher margins and faster growth, to the chagrin of Jeremy and Khurram."
It's hard to imagine faster growth for Lighthouse Labs, which started in Vancouver in 2013 and now not only is established in two other cities, but has dozens of instructors, mentors ("For every seven students," says the website, "we have one superhero of a mentor ready to combat the villains of logic errors and low batteries") and alumni mentors (graduates who help "students figure out careers as developers").
"The success we had in the early going really helped us prepare for the future from the start," said Shaki. "We were lucky to have made some fantastic partnerships with many different groups in the tech sector, and those groups helped open up opportunities to bring our business to other Canadian cities faster than we had originally expected.
"As for where we go from here, the main focus is to make sure we are able to deliver the same quality program consistently in the markets we have expanded to. That being said, we have some very ambitious projects that will be coming to fruition soon, but I'll keep those ones to myself for the moment!"
Earlier this year, Shaki spoke at a conference at Simon Fraser University on a panel dealing with the topic Not Just Our Problem: Motivating People to Care About Women in STEM (science, technology, engineering and math). His comments shed light on another aspect of Lighthouse Labs' success.
"There is a major movement going on in tech to get more women involved and we are as active as anyone," he said. "On the panel, I spoke mostly about the language that we use to describe the tech industry in general and how, with some small changes, it makes for a big difference.
"We threw an event called HTML500 last February in four cities across the country and, with those language changes, we were able to attract over 50% female participation in a learn-to-code event. It was about making it open and inclusive instead of trying to depict coding as difficult and niche.
"We also made sure to have a lot of women mentors around, as it provided both the men and women showing up to learn the initial opportunity to learn from and respect a woman developer. I don't know if you can change all the people who are already in the tech industry, but we definitely feel as though we can affect the people entering it for the first time."
The language and approach Borts uses at Functional Imperative are also illuminating.
"One of the common misconceptions is that software developers are not creatives," he said. "I may not be good with a paintbrush but, like other creatives, my team and I are abstract thinkers who thrive on innovation. My job is to harness my team's insane creativity in a way that still ensures a quality product at the end of the ride. A couple of strategies we use at Functional Imperative include:
"Demo your work early and often. The sooner you can get feedback on your work, the more likely it is to match the project requirements. This is at the core of agile development methodology.
"Have someone else give you feedback on your code. This 'peer review' is essential for ensuring code quality.
"Eighty/20 rule: 80% of our projects should use technology my team already knows, while 20% can be riskier, allowing them to push the bounds of their knowledge.
"Tell them what you want, not how to get there."
And it can only help that both Borts and Shaki love what they're doing.
"I get to wake up every morning and create new things," said Borts. "It is the dream of every engineer. This is both at Functional Imperative, where we help shape and deliver on the vision of our clients, and at Lighthouse, where I am helping build a world-class education institute that is at the forefront of changing how education is delivered. Every day brings a new problem to solve."
As for Shaki, he looks forward to going to work because he has "an amazing team that are all passionate, goofy, hard-working and hilarious.
"I also love it because, when I made the switch from marketing to running a developer bootcamp, I made the conscious decision to do something that made a positive impact. We keep very small classes, so I get to meet all our students and watch as their lives change in the matter of eight weeks. That is extremely fulfilling, and a far cry from hawking other peoples' products, no matter how much fun event marketing is.
"At this point, I get to have extremely intelligent discussions with intelligent people every day and talk about better ways of improving education. To be doing that as my job makes me happier than anything else I could be doing."