Blake Mycoskie, founder of TOMS, with Hannah Alper. Mycoskie is one of the role models Alper features in her book Momentus: Small Acts, Big Change. (photo from callmehannah.ca)
In Momentus: Small Acts, Big Change (Nelson Trade, 2017), Toronto-based teen activist Hannah Alper profiles people who are doing humanitarian work. Each chapter is devoted to a person who is doing significant tikkun olam (repairing the world) in any number of areas, from the environment to indigenous rights to mental health.
Alper uses a specific formula to describe what her book is essentially about: issue + gift = change. The issue is something an individual is passionate about, whatever the cause might be. The gift is something a person is blessed with or a hobby they might enjoy or want to pursue. With just these two aspects, individuals can change the world.
In the introduction of Momentus, Alper briefly talks about how she got involved in humanitarian work. She and her parents were coming back from a Digital Family Summit, which is a conference to help young individuals use the internet safely. Blogging was never something she had envisioned herself doing, but this conference changed her mind. While still there, she began her own blog, titled "Call Me Hannah."
Initially, she did not know what she would write about. Then, her parents gave her some encouraging words. They told her to write what she was passionate about. Being 9 years old at the time, Alper was learning about the environment and the problems animals were facing because of habitat loss and deforestation. It especially bothered her because these were problems caused by humans.
Alper began to receive comments from people who were actually trying to do what she advised in her writing. She herself became involved in the World Wildlife Fund and Environmental Defence. But, even though she enjoyed helping these organizations, she felt that something was still missing.
Because of her blog, Alper was invited to WE Day as media. WE was founded by Canadian brothers Craig and Marc Kielburger, and WE Days across North America, the United Kingdom and the Caribbean bring thousands of change-minded people together to celebrate their contributions and be inspired by one another and by well-known speakers. Alper explains that people cannot buy a ticket to a WE Day, but earn an invitation to it through their work.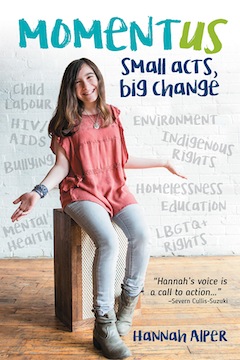 Two years after her first WE Day, Alper helped promote the event as a representative of the organization. During her first tour, she shared the story of Nobel Prize winner Malala Yousafzai. On the second, she co-hosted a social empowerment section and, in Momentus, she briefly talks about her time meeting other young people during a WE Day tour in 2014. She says that seeing others who were also trying to create change was refreshing to witness.
Role models in different categories have been a main inspiration for Alper's work and each chapter of her book focuses on one of these mentors and the work they are doing. She hopes that, by highlighting such role models, readers will come to understand that they, too, can make a difference, no matter how old they are, or where their interests and passions lie.
The Kielburgers, Yousafzai, Lilly Singh and Brad Montague are among the change-makers included in Momentus, as is one of Alper's biggest role models, Severn Cullis-Suzuki, whose father is David Suzuki. Watching a 1992 video in which Severn spoke at the United Nations Earth Summit made Asper realize that she had the ability to take a stance on environmental issues – and that her voice could be heard and make a difference.
"My greatest hope from this book is that people finish it and believe that they have the fullest power and capacity to make a difference," writes Alper on her blog. "Then, they go out into their community [and take] action. I cannot tell you how excited I am to see how people create their own change."
One voice can impact so many that a chain reaction can occur when it comes to solving problems. Reading about young people who are passionate about fixing or improving deep-rooted problems is inspiring. As the proverb says, "If you want to go fast, go alone. If you want to go far, go together."
Chloe Heuchert is a fifth-year history and political science student at Trinity Western University.