From left to right: Murray Palay, Canadian Friends of the Hebrew University national chair; Israel Defence Forces Unit 669 reserve combat soldiers Leehou Porat and Gai Ben Dor; Prof. Yaacov Nahmias, director of the Alexander Grass Centre for Bioengineering at Hebrew U; 669 reserve combat soldiers Bar Reuven and Dotan Braun; CFHU Vancouver chapter president Randy Milner; and CFHU national vice-chair Phil Switzer. (photo from CFHU Vancouver)
Dina Wachtel, executive director of Canadian Friends of the Hebrew University's Western region, describes the recent fundraising event that attracted more than 300 people to Congregation Beth Israel on July 17 as "a wonderful success."
The sold-out event raised scholarship funds for outstanding student-soldiers. These individuals are pursuing degrees at the Hebrew University of Jerusalem, as well as performing their miluim, or reserve duty, in the Israel Defence Forces' elite airborne rescue and evacuation unit known as "669." The Vancouver event drew a diverse and engaged crowd from the community and included academics and members of local search and rescue groups.
Prof. Yaakov Nahmias, director of the Alexander Grass Centre for Bioengineering at the Hebrew University, kicked off the formal part of the evening's program with an overview of Hebrew U's history and accomplishments. Founded in 1918 – 30 years before the establishment of the state of Israel – by illustrious historical figures, such as Albert Einstein, Sigmund Freud and Chaim Weizmann, Hebrew U ranks as one of the world's leading universities and boasts seven Nobel Prize laureates. According to Nahmias, "when Hebrew U calls, you answer!"
The Grass Centre was established in 2010. Nahmias, who was at Harvard University before returning to Israel, has won several academic awards for his work in liver research and he is particularly proud of the centre's successes in "educat[ing] a new generation of multidisciplinary innovators and entrepreneurs at the cutting edge of biotechnology and medical science." He noted that the centre's 44 affiliated faculty members undertake research that winds up in the world's leading scientific journals; interest-catching pursuits such as building a liver outside of a body, predicting in vitro fertilization pregnancy rates, and determining "idiosyncratic drug toxicity" (hitherto unexpected adverse reactions to drugs).
Nahmias also outlined the "startup" element of the centre's work – an aspect that appeals to students with academic ambitions, as well as giving them market experience and engendering an entrepreneurial spirit. The Israeli government has invested $20 million US in BioJerusalem, or "Silicon Wadi," to support technological innovation. The outcome? Israel is a global leader in medical devices and pharmaceuticals, he said, and this attracts intellectually curious science students who are also seeking opportunities in business, medicine and engineering. The biodesign program feeds directly into Israel's economic success and reputation as a technological powerhouse. Remarkable and revolutionary projects to date, he said, include the creation of a specialized infrared gun to facilitate intravenous insertions; digitally made dentures that are inexpensive and quick to produce; and a new 60-second life-saving procedure that improves stabbing victims' chances of survival by preventing suffocation caused by collapsed lungs.
Nahmias concluded his presentation by highlighting bioengineering as "one of the most fascinating areas, especially for the future of Jerusalem as a city and Hebrew University as the leading university in Israel." He announced that plans are underway to build a large, new institute on the Givat Ram campus to house the biodesign program.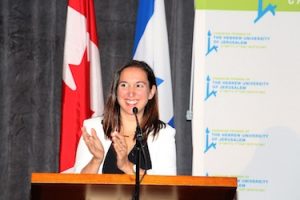 The evening's lecture was punctuated with a musical interlude from Vancouver-based Israeli composer and guitarist Itamar Erez. Recipient of the Landau Prize in 2014, as well as the ACUM Prize for special achievement in jazz, Erez's musical talents blend jazz, flamenco and the sounds of the Middle East.
Following Erez's performance, four extraordinary young Israelis took centre stage. They detailed their personal experiences serving in the IDF's 669 and how the service has impacted their lives.
The unit, which accepts only 50 recruits each year out of 10,000 applicants, was established in 1974 following the Yom Kippur War. It is referred to as the "guardian angel of the Jewish people" because it rescues soldiers and civilians alike, both within and beyond Israel's borders. The unit's motto is, "Thou didst call in trouble and I rescued thee" and, in the last 40 years, the unit has rescued more than 10,000 injured and saved thousands of lives. Rescue operations are generally extremely difficult and dangerous.
Bar Reuven, Leehou Porat, Dotan Braun and Gai Ben Dor impressed upon the crowd the unique and challenging lifestyle of a Unit 669 reservist, who is "on-call 24/7" and serves an average of 30 to 45 days a year "in peacetime." When summoned, a civilian university student is instantly transformed into an elite reservist on a mission that can be anywhere in the world. All personal commitments are immediately set aside.
According to Reuven, 27, who served as an officer in 669 and founded an alumni association designed to provide much-needed support to discharged soldiers from 669 transitioning to civilian life, you "can go from eating shakshuka [in Tel Aviv] to Gaza in 30 minutes."
Thirty-year-old Braun, a fifth-year medical student at Hebrew U and a reserve combat soldier and paramedic in 669, recounted walking to class in July 2012, when he received a command to present himself on base within the next 30 minutes. He soon learned that he would be traveling to Burgas, Bulgaria, to treat and evacuate some 42 Israeli tourists who had been targeted in a bus bombing. (Tragically, five Israelis and a Bulgarian bus driver were murdered in that terror attack.)
Serving in the 669 instils Braun with a profound sense of pride in Israel, as "there is no other country that cares about the security of all its citizens and at all times," he said. He – like others in 669 – is also called upon to come to the aid of non-citizens in life-threatening situations, including rescuing sailors in the Mediterranean or treating casualties of natural disasters in far-flung corners of the world.
Braun emphasized that life for 669 reservists, in particular, "is never routine." Porat, 28, who is both a reserve combat soldier in Unit 669 and a student at Hebrew U, underscored this fact by recounting – with the aid of select video footage – a harrowing evening of back-to-back rescue missions that included evacuating an Israeli soldier from Gaza who had been gravely wounded in an axe attack; responding to a serious car accident that caused seven fatalities; assisting a pregnant Bedouin woman in the advanced stages of labor and whose house had just been washed away by floods; and rescuing a number of individuals trapped in or on cars swirling in raging floodwaters and high winds.
Despite the challenges of balancing the responsibilities of school, work, family, volunteerism and reserve duty, Reuven, Porat, Braun and Ben Dor were all steadfast in their commitment to their unit, and to serving their country and fellow citizens in times of crisis.
It was evident that these four speakers have indeed internalized the core values of the unit, described by Reuven as assisting those in need, social responsibility, and helping make Israel and her people stronger. He engages these values to guide him in managing his Cat 669 Alumni Association, a group that provides emotional, psychological and financial guidance, career mentoring and other material support to fellow unit members transitioning – sometimes with great difficulty – to civilian life. This group also draws upon its superior skill set to "pay it forward" in local communities by, for example, teaching emergency first aid.
Thirty-two-year-old Ben Dor is an accountant and lawyer at KPMG in Israel. As part of 669, he is another example of the positive contributions that 669 reservists make to Israeli society. An avid long-distance runner in his teens, Ben Dor responded to an online ad seeking "a runner with soul." Beza, a blind Ethiopian immigrant wanted to take up running, and Ben Dor (and his father, also a runner) coached Beza over the next several years. Beza competed in a number of international marathons, and ultimately qualified to compete at the Beijing Paralympics, representingIsrael. Ben Dor, his father and Beza have since climbed to Everest Base Camp together and Ben Dor has established an Israeli not-for-profit organization called 180 Degrees, which hosts running groups for people with physical or cognitive disabilities.
Listening to these four young Israelis who are serving their country in truly meaningful ways and learning about the cutting-edge research taking place at the Hebrew University, it is not surprising that the evening's fundraising event – to support the reserve soldiers in Unit 669 studying at Hebrew U by relieving them of financial worries – was a "wonderful success."