Yoni Avi Battat (photo by Richard Ijeh)
On Sept. 2, multi-instrumentalist, singer and composer Yoni Avi Battat released his debut album, Fragments, a collection of original and traditional music surrounding his Iraqi-Jewish identity. With lyrics in Arabic, Hebrew, English and Yiddish, the music uses Arabic modes and rhythms with an ensemble of traditional Arabic instruments to make sense of the artist's fragmented identity.
"Growing up in an American Jewish community dominated by European culture, I had very little access to the music, language and traditions of my Iraqi-Jewish ancestors," said Battat. "As an adult, I've had to make a concerted effort to learn Arabic music and language in order to represent my Arab-Jewish ancestry as a musician. Studying these musical traditions has connected me deeply with my roots, but there are still so many parts of my family's experience about which I will never know. I can no longer ask my grandparents about their life in Baghdad or their departure from Iraq. I can't visit the land where my ancestors lived for thousands of years."
Battat dove into scholarship of Jewish Arabic poetry, researching translations and tracking down rare editions of Arabic books. In doing so, he was able to source the Arabic texts that helped him begin to answer his questions. By pairing these words with existing and original lyrics in other languages, and setting them to Arabic musical modes, Battat envisioned his own method to make sense of fragmented identity.
"As you experience these original and traditional pieces, I invite you to approach memory in a new way – not through exact facts, dates and photos but through your senses and your imagination," he said. "Allow these smells, textures, tastes and sounds to transport you to a place and time you have never been. When we cannot access the specific details of our families' stories, our imagination can still bring us a real and intimate connection with where we come from."
Battat's great-uncle, Razi, is his only remaining direct connection to the generation that was born in Iraq. Battat has been lucky to hear him sing at the tiny synagogue in Jerusalem where he's been praying for decades. On the track "El Eliyahu," a traditional Iraqi melody, the timbre of Razi's voice offers a lens into a different time and place.
Another song, "Will Her Love Remember?" brings to life a Hebrew poem from the 10th century, one of the only remaining examples of poetry from this era thought to be written by a woman. The wistful melody and carefully metred lines show us how physical objects can be imbued with memory and allow us to hold our loved ones close, even when they are so far away.
Yet another relatable piece, "What Would You Say?" recounts the artist's attempts to recreate his grandmother's cooking and his struggle to get it just right. The chorus comforts any home cook with imagined advice and affirmation from Battat's grandmother, Violet: "Take it slow. Take it easy. Trust your hands."
For more on Iand Battat, visit yonibattat.com.
* * *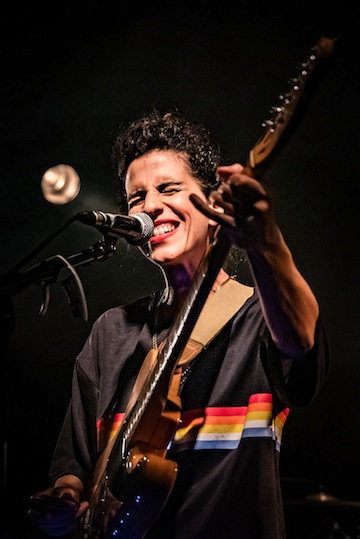 At the start of this year, Tamar Eisenman released Rain & Dirt, which includes 11 new tracks recorded in New York City, Shanghai and Tel Aviv, bringing together a multicultural musical experience from a guitarist's perspective. Songs on this album observe the nexus between the life you've planned and the life you're living. The main prism revisits the story and feeling of someone traveling between countries, trying to build a home and start a family.
A trio session with longtime friends, musicians Rea Mochiach and Yonatan Levy, produced an alternative wrap of musical textures, combining blues, rock, jazz and muddy funk. The trio were joined on some tracks by Yoed Nir on cello, pianist Chano Dominguez and saxophonist Amit Friedman.
The musical approach emphasizes the feeling and concept of living in a constant gap between languages, homes and cultures. This led to a real-time recording of events in the studio. Long jams created the rebirth of songs and paved the arrangements, as a reflection to all those plans you made that changed along the way and created new realizations.
"It's a bit strange releasing an album that was ready and completed almost two years ago," said Eisenman. "But, we all know what happened in the past two years, that obviously reflected this process. On normal days, I would have used all that 'quiet time' and lockdown state of mind to create and record. As New York City was shutting down, by the end of March, I had a baby – my first. I did not expect this would be my maternal experience; I couldn't imagine this in my wildest dreams."
For more information, visit the website  eisenwoman.com.