Estee Ackerman wins gold at the 2016 Junior Olympics in Houston. (photo from Estee Ackerman)
A Jewish Orthodox New Yorker is quickly becoming a legend – and she is not even 15 years old yet. Her name is Estee Ackerman and she is currently one of the hottest names in table tennis.
In 2013, Ackerman even beat one of the world's greatest tennis players – Rafael Nadal – in an exhibition table tennis match during the American Open. Nadal went on to win the American Open that year. "So, I could say I was the only one who beat him in New York," joked Ackerman.
A sophomore at Yeshivah University High School for Girls, also known as Central, Ackerman is a nationally and internationally ranked table tennis star.
Her passion for the sport began at a young age, as a fun way for her and her family to pass the time on Saturday afternoons in their basement.
"My dad wanted to do something fun with my brother, Akiva, and I that did not involve electronic gadgets," Ackerman told the Independent. "He says everyone is looking down [at their gadgets] these days. We figured, what can we do? In the wintertime, we can't go out so much and we were young kids at the time … we can't do wrestling, we're not tall enough for basketball.
"My dad started with my brother, Akiva, who is also now an amazing player. They really just had a fun family activity, as we had a table in our basement. One day, I went down and I said, 'Let me give this a try.' I was about 8 years old at the time and I was also so little that they just saw the racket going back and forth … I was under the table.
"Just playing with them about an hour each night was how it began. After doing this for a few months, a few days a week, we saw improvement. From there, we took it to the next level. We went to professional ping pong clubs. I compare it to how some people get piano lessons … I got the ping pong lessons, with top coaches from China."
Ackerman recalls feeling "star struck" when she entered these clubs. "I was definitely at the bottom in the club leagues," she said. "But, as the coaches said I had talent and that I should continue, I went to them a few times a week, and that's how we saw much improvement to keep going."
Balancing school and play is no easy feat, but, with Ackerman's success, Central was willing to accommodate her traveling for tournaments, sometimes missing a week of school at a time.
"I would say that when I get back from these weekly tournaments, all the teachers are so happy … they're so willing to sit down with me and catch me up on the notes I missed," said Ackerman.
"Besides my friends wanting to know how I did in the tournaments, they're eager to sit down with me, because they know that missing 11 classes a day for a week is not so easy to catch up on. But, I'm happy to say that Central is very supportive in all I do."
Ackerman's dad takes her to all the tournaments and practices, and ensures she has whatever she needs.
As for Ackerman's fellow table tennis playing brother, he has put the sport on hold in order to continue his Torah studies in Israel. But, he may return to ping pong in the future, as he has plans to study at Yeshivah University after his time in Israel.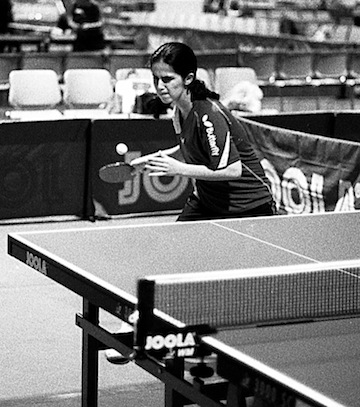 In Ackerman's professional career to date, she has already achieved successes that few even dare to dream about, including winning the Nationals in Las Vegas in 2015.
"This probably is one of my biggest accomplishments," she said about those games, "as I was competing against 250 players in that event – transferring from the round robin group all the way to the single elimination matches."
Last summer, Ackerman entered the U.S. Open playing hardbat. "That is like the old school way," she explained. "If you know, a ping pong racket is usually made with smooth rubber, but a hardbat is usually made with pimples [an outer layer of rubber covered in dots]. I had never played in tournaments with hardbats [before that].
"Believe it or not, I did win the Women's Open hardbat event. I came in second in the mixed doubles hardbat event. And, I won the gold medal in the women's doubles hardbat event. So, I can definitely say that, in America, I'm the best female hardbat player."
In February 2016, Ackerman was one of 16 women invited to the American Rio Olympics trials. But, as she could not play on Shabbat, she was not able to get enough wins to make the team.
"Being at the Olympic tryouts was already great enough to me," she said. "Me being with the best players in our country – warming up with them, seeing them in the locker room – it doesn't get better than that. I was playing on the biggest stage of my life."
Now, Ackerman has her sights set on 2020 in Tokyo. But, in the meantime, she is busy accomplishing other feats, such as winning gold in the Junior Olympics, for girls under the age of 16 in singles and for girls under the age of 16 in doubles.
Ackerman is also thinking about whether or not she will go to the Maccabiah Games or stay in the local circuit for now. And, of course, she is focusing on graduating in 2019.
As it happens, Ackerman's first trip out of the United States was in 2014 for a tournament in Markham, Ont. "I was representing the United States competing against Canada in the Junior Cadet Open," she said. "As that was the first time I left the country, I was very excited, especially to be representing America.
"We did hear of a tournament taking place two weeks ago in Vancouver, but, as it was only a two-day event and one of the days was on Shabbat, we didn't go. Other tournaments are four days or a week long, so just to compete for one day is a little much for the amount of travel."
Asked if she has any advice for other young sport hopefuls, Ackerman said, "One should always dream big and just believe. I know that if one can put in countless hours and hard work, and they really love what they do, they can accomplish their goals. If they really want to be the best they can be, they have to put in the amount of hours that it takes.
"Although I love the sport of table tennis, I always say it's my second priority. My religion, Judaism, is my first priority."
As far as playing ping pong on Shabbat, Ackerman feels it is totally OK when her friends come over to have fun. But, when it comes to competing in a national tournament – with the uniform, with the media – she does not feel that it is right to participate on Shabbat.
Ackerman recently made it onto the world ranking. She is 466th in the world and 171st for her age group of under 18. To follow her career, visit teamusa.org/usa-table-tennis.
"I know to be really up there in the world rankings, you really have to travel worldwide – to France, Poland and Switzerland," said Ackerman. "As I am in yeshivah, it's a little tough. But, as I get any opportunity, I'd love to be there."
Rebeca Kuropatwa is a Winnipeg freelance writer.