Jeffrey and Elizabeth Nider, a local couple from Vancouver, were part of more than 200 North American immigrants to move to Israel on July 4. (photo from Nefesh b'Nefesh)
***
The board of directors of Jewish Federation of Greater Vancouver and the board of governors of the Jewish Community Foundation are pleased to announce the appointment of Marcie Flom to the position of executive director of the foundation. Marcie brings more than 25 years of nonprofit leadership experience to the role.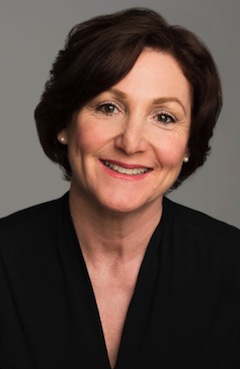 Marcie previously served as both director of JCF and vice-president, financial resource development, of Jewish Federation, where she was responsible for the revenue functions of the organization, including the annual campaign, special projects and corporate funding of nearly $15 million annually. Prior to that, she had a consulting practice and held leadership roles at the Vancouver Playhouse Theatre Company and the National Ballet of Canada.
"I am very pleased to welcome Marcie into her new role," said Ezra Shanken, chief executive officer of Federation. "Marcie has extensive development and planned giving experience, along with a solid record in major gift fundraising, which perfectly positions her to lead the foundation through the next phase of growth."
"I am thrilled with Marcie's appointment and look forward to continuing our strong working relationship," said Judi Korbin, chair of the foundation's board of governors. "In addition to her decades of experience and stellar track record, Marcie's work is characterized by her donor-centric approach. On behalf of the board of governors, I would like to say that the Jewish Community Foundation is extremely fortunate to have Marcie as its new executive director."
This newly created role is one of several outcomes of the strategic planning process recently undertaken by JCF under the leadership of Korbin and with professional guidance from a strategic management and development consultant. It is a central component of the three-year operational plan approved by Jewish Federation's board of directors and adopted by the foundation's board of governors. The foundation's new strategic and operational plans were driven by Jewish Federation's 2020 Strategic Priorities, and will serve to support the organization's overall goals of generating the resources required to address the community's current, emerging and future needs.
"The foundation is investing in resources, including full-time staff for the first time since the economic downturn in 2008. Re-investing in staff resources will enable the Jewish Community Foundation to grow, which is critical to the long-term viability of the Jewish community. The board of governors remains committed to ensuring the philanthropic goals of the foundation's fund holders are fulfilled, that our community organizations are strengthened and that the continuity of the Jewish community is ensured through legacy planning," said Korbin.
* * *
At the Jewish Federation of Greater Vancouver's annual general meeting on June 20, Karen James became the new board chair, while Stephen Gaerber is now immediate past chair. Marcie Flom was appointed executive director of the Jewish Community Foundation and Diane Switzer was appointed an honorary life director of Federation. The Young Leadership Award was presented to Bryan Hack and Mike Sachs, the Elaine Charkow Award to Lisa Pullan for her ongoing leadership role in women's philanthropy and the inaugural Bob Coleman Award to Risa Levine for her leadership role on the local allocations committee, positively impacting Federation's partner agencies.
* * *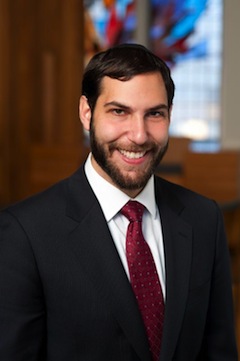 Rabbi Philip Gibbs is the new spiritual leader of Congregation Har El in West Vancouver.
Gibbs grew up in Marietta, Ga. He went to college at Washington University in St. Louis and graduated in 2012 with a double major in Hebrew and humanities. After college, he attended rabbinical school at the Jewish Theological Seminary, receiving a master of arts in Talmud and rabbinic ordination in 2017. During his time at JTS, he had the opportunity to work in different synagogues and appreciated the warmth and mutual support in synagogue communities.
Following his love of the outdoors, Gibbs led the Jewish Outdoor Leadership Institute at Ramah in the Rockies, and is looking forward to hiking and skiing in the Vancouver area. He served as the secretary to the Committee on Jewish Laws and Standards. Playing violin since childhood, he also had the opportunity to join the JTS house band, the Committee on Jewish Music and Standards, for celebratory occasions.
The entire community is invited to come and meet Gibbs at a Shabbat dinner at Har El on July 28.  For more information about the event, click here.
* * *
A true mensch resides in the Vancouver Jewish community, and that person is Aria Smordin. Aria has just returned from a gap year in Israel and, while there, did something that greatly impacted the lives of children with special needs in Jerusalem. Aria participated in the Shalva Ambassadors Program, investing time and energy volunteering at the Shalva National Centre.
At the centre, life-changing services are provided to thousands of flourishing kids every year. As an ambassador, Aria not only volunteered every week, but was responsible for bringing in new volunteers. Many of them ran the Jerusalem Marathon for Shalva, threw parties for the Shalva kids (where they all danced like crazy) and sleepovers, and even got their hands dirty painting the recycling centre and working in the therapeutic garden.
Aria's choice to be in a position of giving is a true inspiration to us all.
In Aria's own words, "Volunteering at Shalva was rewarding, uplifting and gratifying. There is a strong feeling of love and homey-ness that permeates the entire (beautiful) building. From the first time I visited Shalva, to all the times I came back to volunteer, these feelings always remained the same. The service Shalva provides and the care they take in doing so is inspiring. I am truly thankful that I was able to assist in carrying out their mission."
Thank you, Aria. We at the Shalva National Centre are looking forward to seeing what you do next and to writing about next year's fleet of mensches from Vancouver!
* * *
Jeffrey and Elizabeth Nider, a local couple from Vancouver, were part of more than 200 North American immigrants to move to Israel on July 4, on a chartered Nefesh b'Nefesh flight, the organization responsible for removing or minimizing the financial, professional, logistical and social obstacles of immigration to Israel.
The charter flight took off from JFK Airport in New York City and is in partnership with Israel's Ministry of Aliyah and Integration, the Jewish Agency for Israel, Keren Kayemeth Le'Israel and Jewish National Fund-USA.
The Niders will be moving to Beit Shemesh with their four children, ages 10, 7, 5 and 2. Both Jeff and Elizabeth will enrol in Hebrew classes and Jeff will be looking for work in pharmaceutical sales or in business development for a medical startup.
* * *
The 35th Annual Jessie Richardson Theatre Awards were held on June 26 at the Commodore Ballroom, saluting excellence in theatre. Among the winners was Itai Erdal for O'wet/Lost Lagoon, presented by Alley Theatre in association with Full Circle: First Nations Performance, in the category of outstanding lighting design, small theatre.
With numerous theatre companies in the small theatre category, eight companies earned a Jessie, with Reelwheels (Rena Cohen, managing artistic director) leading the group with total of three for their production of Creeps, which co-starred David Bloom and David A. Kaye. The winners were Lauchlin Johnston for outstanding set design; the production itself for outstanding production of a play; and, for significant artistic achievement, Paul Beckett, Bloom, Genevieve Fleming, Brett Harris, Kaye, Aaron Roderick and Adam Grant Warren, recognized for outstanding ensemble performance.
Among the nominees for other awards in the small theatre category were Erdal for Walt Whitman's Secret, the frank theatre company (outstanding lighting design) and Cande Andrade for am a, Mindy Parfitt and Amber Funk Barton Present (significant artistic achievement, outstanding innovation in video design).
In the large theatre category, Ryan Beil was nominated for outstanding performance by an actor in a lead role (Angels in America: Millennium Approaches, Arts Club Theatre Company), Erdal for outstanding lighting design (Moonlodge, Urban Ink) and Amir Ofek for outstanding set design (Pericles, Bard on the Beach).
* * *
In recent decades, many individuals and organizations in Germany have raised awareness of a once-vibrant Jewish history and culture in their communities through educational programs, exhibitions, restoration of synagogues and cemeteries, installation of Holocaust memorials, genealogical research, development of websites, publications, stolpersteine, public programs and other activities. They have forged meaningful relationships with former residents and descendants of those who once lived in their towns. They are teachers and engineers, publishers and judges, artists and bankers, lawyers and business executives, and they come from every corner of the country. These volunteers have devoted countless hours to such projects.
The Obermayer Awards recognize and encourage those who have been devoted to such activities and bring international attention to their work. Five individuals and/or organizations are honoured each year.
The award program was initiated in 2000 by Dr. Arthur S. Obermayer and the awards are co-sponsored by the Berlin Parliament and the Leo Baeck Institute. They will be given in the Parliament's Plenary Chamber on Jan. 22, 2018, as its principal Holocaust Memorial Day event. They follow in the tradition of recognizing righteous gentiles who protected Jews during the Holocaust.
Many American Jews have been beneficiaries of the work of these dedicated Germans, and the majority of the nominators have been American Jews – Canadians are also eligible to receive the award.
For more information, visit obermayer.us/award. A hard copy of the call for nominations can be requested by sending a letter to the attention of Betty Solbjor, Obermayer Foundation, 15 Grey Stone Path, Dedham, MA, 02026, or by email to [email protected]. The deadline for submission this year is Sept. 12.