The new Shalva National Centre in Jerusalem officially opened on April 27. (photo from Shalva)
History was made on April 27, when hundreds of friends and donors traveled from around the world to gather in Jerusalem to celebrate the grand opening of the new Shalva National Centre. The day began with a rendition of "To Dream the Impossible Dream."
"I fell in love with the concept that Shalva represents," said Jerusalem Mayor Nir Barkat. "It is an icon and a role model for the world. Shalva has shown innovation in dealing with children with disabilities and I believe it will create ripple effects around the world."
Leslie and Gordon Diamond, who dedicated the centre, flew in from Vancouver with family and friends. In addition, they dedicated the Steven Diamond Sports and Wellness Centre in memory of their son, Steven. With its semi-Olympic pool, large therapy pool, fitness centre and gymnasium, it is a significant gift of wellness to the Shalva children, their families and the broader community. Also dedicated was the Shalva Inclusive Parks in memory of Ambassador Ronald E. Arnall.
"Shalva epitomizes tikkun olam, making the world a better place and respect for family dignity. I am sure that Shalva will serve as the gold standard in its field for many years to come," said Gordon Diamond. "For me and my family, it is an amazing honour to help this institution. Imperfection is inevitable in this world. We cannot make this a perfect world, but this is where society can shine. There is no more shining model than Shalva."
"We have built a centre of excellence, full of colour, a magical place for the children of Shalva," said Shalva chairman Avi Samuels. "We are humbled to open this state-of-the-art facility."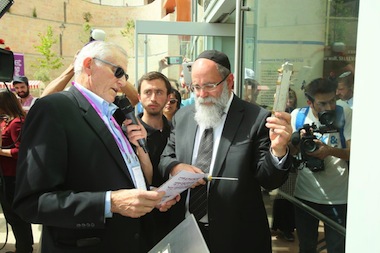 MK Chaim Katz said, "This is a huge day of giving. There's so much heart and so much soul. I am bursting with pride to know that these world-class facilities are available right here in the state of Israel."
The ribbon-breaking ceremony began with the sounding of 10 shofars. Barkat said, "When people come to the city of Jerusalem, they ask me what they should see. I tell them to go see the City of David so they see their roots. And then I tell them to go and see Shalva. People who enter this centre do not go out the same people. This place changes them."
Kalman Samuels, who founded Shalva 27 years ago with his wife Malki when their infant son became blind and deaf following a faulty vaccination, thanked the audience of philanthropists, dignitaries and well-wishers. He said, "Your boundless love and your selfless care for your brothers and sisters with disabilities makes this earthly site heavenly.
I have gratitude to the Almighty and gratitude to each of you who continue to impact precious lives."