As meaningful and fun as most of the Jewish holidays are, there's a lot of running around, cleaning, cooking and other preparation that generally goes into them. Three recently published children's books – two about Passover and one on Shabbat – capture the joys of the holidays, and the craziness that can sometimes precede them.
Passover, Here I Come!, written by D.J. Steinberg and illustrated by Emanuel Wiemans was put out this year by Grosset & Dunlap. It's a compilation of short poems, all related to Passover, from "Scrub-A-Dub-Dub!" preparations to "Bye-bye, Bread!" and "Hello, Matzoh!" it goes through pretty much every aspect, including the Passover story, what's for dinner and the search for the afikomen.
"Made by Me!" is about making up the seder plate, and all the plate's items and their symbols are noted alongside the illustration. For the poem "Our Magic Table," the drawings and words again combine to wonderful effect. We see the tables from set-up to guest-filled, and the typesetting, leaving gaps between the letters forming the words "g r o w s   a n d    g  r  o  w  s," communicate the truly magic nature of a Pesach table that does seem to fit an enormous number of people, when we're lucky to have many friends and family join in our celebrations.
Steinberg's verse and Wiemans' drawings work well together, simultaneously entertaining and teaching. The basics of Passover are all covered in Passover, Here I Come! which even includes a recipe for Mom's Matzoh Brei after the four-line poem "World's Best Breakfast."
A Persian Passover (Kalaniot Books) by Etan Basseri with illustrations by Rashin Kheiriyeh, also contains a recipe – for hallaq, which is Persian-style charoset. In addition, the end of the book features a brief description of Passover and what goes on the seder plate, a glossary of Persian and Hebrew words used in the story, and a couple of paragraphs on Jews in Persia, known today as Iran, though, notes Basseri, "the culture and main language of this region is still called 'Persian.'"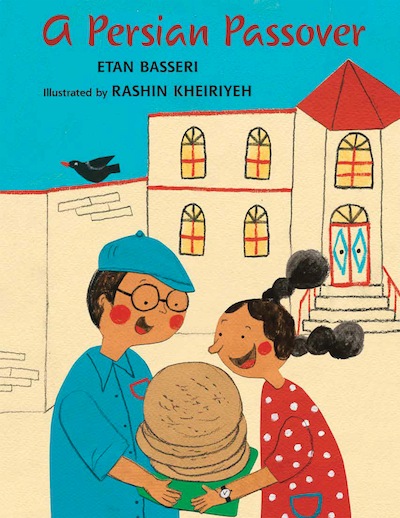 Set in Iran in the 1950s, A Persian Passover follows siblings Ezra and Roza, who are helping their family get ready for the holiday. Everyone is put to work and Roza is finally old to enough to accompany older brother Ezra to the synagogue, where families bring their own flour "to be mixed, rolled and baked into soft, delicious matzah." Though older, Ezra is not necessarily wiser and he's still a kid, with energy to burn. Not having learned from an earlier collision with a neighbour – as he ran a lap around the house, being timed by Roza – Ezra once again asks Roza to measure how fast he can run to the next street corner, freshly baked matzah in hand.
"But he didn't see the rut in the road up ahead. 'Oof!' yelped Ezra as he tripped and fell. Splat! went the bag of matzah as it dropped into a puddle.
"'The matzah!' they exclaimed together.
"'That was all the matzah we had for the week. Now it's gone. What will we tell Mama and Baba?' asked Roza." (The glossary notes that baba means dad in Persian.)
Ezra and Roza set out to find replacement matzah before the seder starts, and we meet more of the neighbourhood folk. Hopefully, it won't be too much of a spoiler to know that the kids succeed – not only receiving kindness, but also showing kindness to others along the way.
The last book that recently came out has to do with matzah, but not with Passover, which is why it's included in this brief roundup even though it's about Shabbat. Good for year-round reading, Bubbe and Bart's Matzoh Ball Mayhem, written by Bonnie Grubman and illustrated by Deborah Melmon, was published by Seattle's Intergalactic Afikoman last November. Created by two dog lovers, it begins, "This is Bubbe's story. Believe me that it's true. Her puppy loved each Friday night like Jewish puppies do.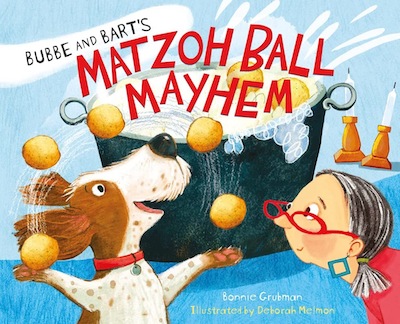 "When Bubbe made her matzoh balls, Bart was at her feet, waiting for a ball to fall, and not some doggie treat."
While Bart's begging doesn't achieve the desired result, he does get to eat all the matzah balls he's able to catch. Bubbling away in the pot on the stove, the matzah balls grow so large that they blow off the lid and zoom all over the room. Not to be held back by "a better lid, and some very sticky tape," the balls continue to fly. And we get to count them as they do. (Another spoiler alert: Bart gets to eat an awful lot of matzah.)
Eventually, with a little magic, calmness is restored and dog and house are cleaned up in time for Shabbat dinner with the family.
Bubbe and Bart's Matzoh Ball Mayhem ends with a couple of paragraphs about Shabbat, "a very special day of the week," and a short glossary.