JQT Vancouver executive director Carmel Tanaka at the Zack Gallery, where the Chosen Family exhibit is on display until Sept. 30. (photo from Carmel Tanaka)
In a Simon Fraser University survey of more than 4,000 elderly Canadians (55+), conducted from August to October 2020, to see how people were coping with the pandemic, about 10% of respondents identified themselves as part of the LGBTQ+ community. These respondents were more likely to follow COVID protocols and to have said they "feel they have been here before" – they were 10 times more likely to report experience with HIV/AIDS than heterosexual persons. Among the many other findings, LGBTQ+ respondents were less likely to ask relatives for help, but more likely to call upon close friends.
In the context of the pandemic, then, the focus of the new exhibit at the Zack Gallery has added significance. The show, called Chosen Family, is a multimedia partnership between the gallery and JQT Vancouver in honour of Vancouver Pride. It opened officially on Aug. 26, with the artists in attendance.
JQT (Jewish, Queer and Trans) is an arts, culture and education nonprofit organization. It is dedicated to creating connections and seeking space to celebrate the intersectional identities of Jews of diverse sexual orientations and genders. The organization's executive director, Carmel Tanaka, said JQT's members are accomplishing their goals "by queering Jewish space and 'Jewifying' queer space in Vancouver."
"We started JQT in Vancouver four years ago, as a grassroots movement, everyone was a volunteer," Tanaka told the Independent. "We incorporated as a nonprofit in 2020. This show feels like a milestone. It is probably the first exhibition here, at the Zack Gallery, that features exclusively queer Jewish artists."
The theme of the show, Chosen Family, reflects that some LGBTQ+ individuals face rejection by their immediate family and must look elsewhere for understanding and acceptance. "I'm lucky," said Tanaka. "I didn't have to look for another family; my family was supportive. Unfortunately, that's not true for everyone."
Only a few artists are featured in the exhibit. "We invited more artists from the JQT community, plus their families, to submit art for the show, but not everyone was easy with the invitation," Tanaka said. "Some didn't feel 'artistic' enough. Others didn't feel Jewish enough. Still others – the older people mostly – didn't feel entirely safe to identify themselves as queer to the wider community. It is an ongoing vulnerability issue with many of us."
Another reason might lie in the location of the gallery. "The Zack Gallery is inside the Jewish Community Centre, so the art must be family friendly. That might be a limiting factor for some artists," Tanaka mused. "We might look at another venue next time."
The show includes art in a variety of media: paintings, prints, textiles, cinematography, sculpture. A series of six pictures by Ari Fremder all have the same size and structure – a human face surrounded by flowers – but they centre on different faces, representing different friends or family members, and have varied arrangements of flowers. Nonetheless, they all have one thing in common – they are all beautiful and upbeat.
Two of Fremder's paintings are self-portraits. One looks like a face in repose; the other an angel with black wings. The angel soars in the dark sky and, unlike the six-photo series, this image is moody and contemplative.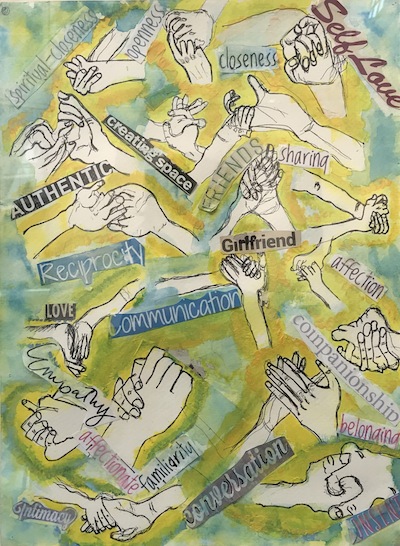 On another wall, there are several paintings by Holly Steele. In one, a multimedia print, hands clasp together in various combinations: hands of friends and hands of family, interspaced with positive, trust-affirming words. The image, done in a muted greenish-yellow palette, screams of the yearning for acceptance.
In the centre of the gallery resides a sculptural composition by Morgan Strug. A dinner table with chairs around it shows us what a family meal means to the artist. There is understanding and affection there, benign teasing and fierce joy in the others' fulfilments. Is it wishful thinking? Is it the artist's reality? Everyone can decide for themselves.
Strug is the director of the short movie Enby, which screened at the Vancouver Queer Film Festival earlier this month, and the film is part of the Zack exhibit. The gallery planned three screening dates, the first being for the exhibit opening Aug. 26, as well as Sept. 9 and Sept. 30. Those who want to see it should contact the gallery first.
"This is a very eclectic show," Tanaka said. "It is the first art show for several of the participating artists. Some of them celebrate both their identities: as a queer and as a Jew. We would love this show to become an annual tradition."
Chosen Family continues until Sept. 30. To learn more, visit jqtvancouver.ca.
Olga Livshin is a Vancouver freelance writer. She can be reached at [email protected].