Gerry Sheena shows students his method of carving. (photo from Vancouver Talmud Torah)
Vancouver Talmud Torah invited Interior Salish Nation carver Gerry Sheena and his son Matthew Sheena for a week-long program where each grade participated in a session to learn about the history of Indigenous carving, the tools used and the process of carving and design.
Gerry Sheena has been carving for more than 17 years and his work is shown in galleries throughout British Columbia. He describes his carving style as "traditionally Salish, informed by modern painting techniques and innovative use of colour and design."
The Sheenas' visit related to the applied design, science and technology curriculum, notably the woodworking aspect. However, VTT has been working on creating a more meaningful implementation of First Peoples' education, which sparked the idea of integrating the two areas and having presenters from the First Nations community educate students on carving, drumming and storytelling. The timing for the presentation was matched with the month of June, which is National Indigenous History Month. Teacher-librarian Nicolle Wade created a display of Indigenous books and shared Learning to Carve Argillite by Sarah Florence Davidson and Robert Davidson, to give students an idea of what they would be seeing. She also installed a welcome display shining the light on Gerry Sheena's art.
The program was unique in that the Sheenas were at the school for an entire week, not only presenting but also working in the playground, carving a welcome sign for the soon-to-come community garden. Students were able to come out every recess and lunchtime to watch Gerry Sheena carve and listen to Matthew Sheena drum, and additional Q&As took place organically. Teachers had the opportunity to bring their classes out to watch the carving take place firsthand.
"Having an Indigenous carver join our VTT community for one whole week has helped us to organically elevate Indigenous education and ensure that our students are engaging in meaningful learning about the Indigenous peoples and their traditions. We are honoured to have Gerry and Matthew Sheena join us from the Interior Salish Nation as we find ways to recognize National Indigenous History Month now and moving into the future," said Emily Greenberg, VTT head of school.
Gerry Sheena shared how he got started in carving, his love for art and his happiness when creating totem poles, masks, paddles and many other ceremonial carvings. Matthew Sheena is a passionate drummer and graced the school with his drumming and singing of a Squamish Nation song, "Snowbird," acknowledging the land and sending a powerful message to love and to lead "through your heart, spread love to others around you and to be kind."
Among the many lessons learned from the week were:
• The power of passing on knowledge through storytelling.
• The connection to the land being the foundation of Indigenous ways of knowing and practices. The land, plants, animals and sky are all teachers, and taking care of the land and everything living is of utmost importance.
• Honouring language. The Sheenas taught students how to say thank you, and the importance of respecting elders and cherishing their roots.
• Older students had questions about residential schools that the Sheenas approached in a gentle and meaningful way.
• Matthew Sheena spoke to the students about always reaching for the stars, never giving up no matter what life throws at you, and being the best you can be every single day. Also, he encouraged them never to give up on art, drawing, singing and dancing – and to do things that bring them joy and will help them tell a story. He said his favourite tool when carving is a pencil and spoke about the power of the pencil to create.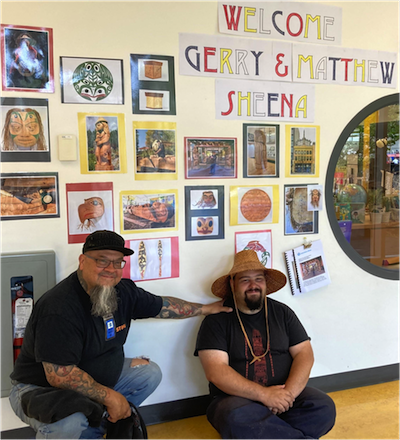 VTT was so grateful to spend time with Gerry and Matthew Sheena, both of whom inspired students and faculty through their presentations. The themes of building community, recognizing that everyone can be a potential source of inspiration and knowledge, and fostering respect by encouraging students to speak honestly, listen to one another, be active in problem-solving, take care of the land and value their surroundings were a few of the key takeaways from the week.
VTT aims to grow in the area of Indigenous education and make links to Jewish history, cultures and traditions, as the Sheenas' presentations revealed that there are many similarities. The week's activites and interactions left students with more knowledge and understanding of First Nations peoples, and it is hoped that students will continue to reflect upon questions like, What do I know about Indigenous education and First Nations communities? How can I contribute to changing the world we live in by storytelling and passing on knowledge? How can I learn more about Canada's relationship with Indigenous people? How can I build meaningful relationships? How can I protect the world we live in; the land,  animals and people? and What connections does First Nations education have to Jewish education?
Jessie Claudio is director of learning and innovation at Vancouver Talmud Torah.