Seth Siegel's latest book is Troubled Water: What's Wrong with What We Drink. (photo from Seth Siegel)
With approximately seven percent of the world's renewable water resources within Canada's borders, it would seem that we should have little to worry about when it comes to agriculture and potable needs. But our drinking water is at risk, said Seth Siegel, author of Troubled Water: What's Wrong with What We Drink.
Siegel has spent the last half-decade studying the quality of drinking water. While his book focuses specifically on U.S. water sources, he said water quality is also a concern for Canadians and he worries that neither country is really prepared to address the threat of contaminants from our technological age: plastics, undetected chemicals and aging, inadequate infrastructure.
All of the issues that Siegel examines in his book regarding U.S. drinking water have been raised in recent years in Canada-based research. In many ways, Siegel's exposé on the environmental impacts of toxic substances, chemicals and medication in the United States is a mirror into our own environmental dilemmas, as Canada is home to many of the same industries and technological challenges. It's also home to its own significant problems with water purification in rural indigenous communities.
Lead in drinking water
The Flint, Mich., lead water crisis of 2014 may have faded from newspaper headlines, but researchers are still warning about the levels of lead in American and Canadian drinking water. While we are exposed to lead daily in minuscule amounts from the environment, both countries' federal governments publish guidelines to stringently limit exposure – because lead is a neurotoxin. In Canada, old (pre-1970s or so) water pipes or solder were made with lead, while more recently made pipes do not contain the substance.
In March 2019, Health Canada tightened the guidelines for lead in potable water from a maximum of .01 micrograms (mcg) per litre to .0005 mcg/litre. The decision coincided with a yearlong investigation by Canadian journalists to determine how prevalent lead was in tap water. Some 300 homes in 11 cities were tested and, as expected, newer homes connected with updated water systems had acceptable readings but neighbourhoods with lead service lines or antiquated interior pipes had excessive lead in tap water. One older home in Whistler produced readings more than 12 times the maximum limit, and some 20 communities in Montreal were found to still have lead service lines.
What often makes things worse, Siegel told the Independent, is that updating service lines and interior water lines aren't inexpensive undertakings and homeowners, who may not have the expertise to weigh the urgency of those changes, often have to bear the cost of upgrades.
Microplastics and more
Lead isn't the only health risk homeowners face. Microplastic contamination, which has been traced, in part, to the use of plastic bottles, is a growing concern in Canada, home to a robust bottled water industry. Researchers at McGill University, the University of Toronto and several institutions in the United States are currently undertaking studies to determine the prevalence and effect of microplastics in the environment, including on local marine life.
While the World Health Organization states there isn't enough evidence to confirm that ingesting microplastics is harmful to humans, Siegel and other researchers disagree. As he details in his book, there is now compelling research to suggest microplastics can actually "disrupt the human body's hormone-related activity," especially in children.
Becoming advocates
Still, Siegel cautions that his book isn't an appeal to simply throw out the technology we use. "None of this is a call to ban plastic," he said, noting that, "just more than 100 years since its first commercial use, plastic is the dominant material of our times. If one wanted to do so, it would be nearly impossible to go even a day without contact with it in some form."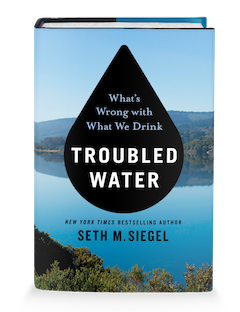 The answer, he said, is advocacy: educating ourselves and taking proactive approaches that steer both companies we invest in and the experts that oversee their products' safety, so that materials are exhaustively tested and verified as safe for dependent, long-term use.
"Because your health and the health of your family rely upon your drinking water being of good quality, it's important for you to get this right," said Siegel, who said he hopes the data he has provided will help inspire a "citizen's movement" to change the way drinking water is tested, approved and protected in the United States and elsewhere.
Troubled Water is Siegel's second book on drinking water management. His New York Times bestseller, Let There Be Water: Israel's Solution for a Water Starved World, published in 2015, delved deeply into Israel's national water management system and the mechanisms that have made the country a sought-after resource on drought management in an era of climate change.
A graduate of the Hebrew University of Jerusalem and a successful entrepreneur and expert in patent law, Siegel said the book's concept has been licensed in his name, but he is not charging royalties for its use. He said he wants to encourage other countries to use it as a template to inspire environmental change in their communities.
"[Every] country in the world is dealing with the same contaminants," said Siegel. "They may have a different regulatory regime. Obviously, not everybody has the U.S. [Environmental Protection Agency] … but, whatever the local problems are, they are more similar than different."
Both of Siegel's books, as well as other resources, are available through his website, sethmsiegel.com.
Jan Lee's articles and blog posts have been published in B'nai B'rith Magazine, Voices of Conservative and Masorti Judaism, Times of Israel, as well as a number of business, environmental and travel publications. Her blog can be found at multiculturaljew.polestarpassages.com.