Lillian Boraks-Nemetz's latest collection of poems offers comfort, even though she does not shy away from the tragedy of her Holocaust experience and ever-present memories of that period. From the very title, Out of the Dark, she gives hope. If she can still see beauty and love, then we can, too.
An established and award-winning writer, Boraks-Nemetz has published many books and her poems have appeared in literary anthologies. A child survivor of the Warsaw Ghetto, she is an eyewitness to some of the most cruel aspects of humanity and openly wrestles, in these poems, with the death she has seen, with the hiding she was forced into and can't completely shake the habit of, with the stark contrast of her life before coming to Vancouver and the world she has created here. While deeply marked by suffering, she makes space for the pain that others experience.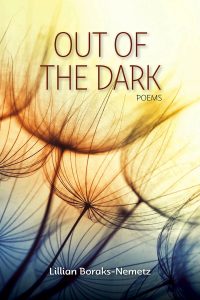 Out of the Dark is divided into three sections: Survival, Flickers in the Dark, and Into the Light. Even the most sombre first part, which includes poems about those murdered in the Holocaust, the impacts of war and the existence of antisemitism, starts with a poem called "Flowers of Survival," in which a daughter recalls the words of her father, from whom she has been separated, forever: "'Let the wind thrash us if it will // And the foul earth open to swallow us,' you said, / 'for in the end / neither the violent wind nor / the foul earth will succeed.'"
In midsection of the book, Boraks-Nemetz gives voice not only to her sadnesses and joys of making a new life in Vancouver, but of the immigrant experience in general. She writes of the difficulties of living in another place, both with regards to location but also in her mind and body, as well as in time, so different is British Columbia than Poland, so changed is Warsaw now from how it was during the war, so renewed a person is she, yet, she advises, in the poem "Identity," "when they tell you / forget the past – let it go / they are in error // your past is your memory / and memory – a bridge / to you."
As people are marked by what happens to them, internally and externally, so is nature, and Boraks-Nemetz has included several poems about its splendour, what it has witnessed and how we humans are threatening it, despite its strong will to survive.
There are many poems in Out of the Dark that are dedicated to family, friends, poets and others, but the bulk of them are in the final section. Boraks-Nemetz seems to be saying that, despite our capacity as humans for brutality and destruction, we need one another and we are the only ones who can fix what we have wrought, and make the world a better place.