Levinsky Market (photo by Daniel Dodek)
The decision to travel with your family to Israel is a big one. It's so expensive and the long distance requires going for at least two weeks to make it worthwhile. My husband and I debated for years on the merits of taking our children on such a trip. Finally, our daughter's bat mitzvah convinced us it was time. At nearly 13, she would get a lot out of it, and our 11-and-a-half-year-old son seemed ready as well. To mitigate jet lag, I traveled a week early with the kids to London, England, where we laid low, staying with friends and taking in a few sights. We then met my husband in Jerusalem.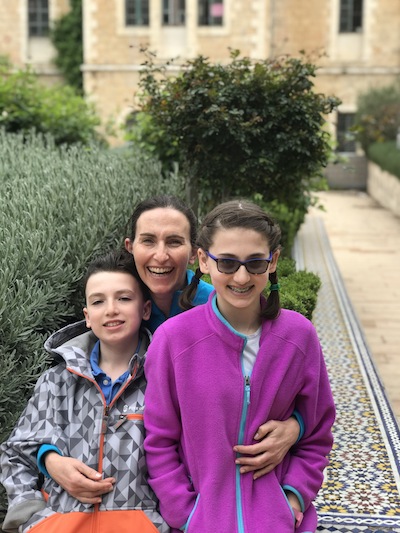 The morning after we arrived, we went on a walking tour. Our guide, Dvir, specializes in tours of the Old City, which must be done on foot. Not only did he take us to all of the highlights, find us the best food in the Old City and explain the geopolitics of Jerusalem but, also, he knew where to find all of the clean toilets. And our children surprised us with the knowledge they had gleaned from their years of Jewish education, enriching our experience, as well. That day, we walked more than 13 kilometres, helping us sleep well and rid us of any jet lag that might have been lingering.
The next day, we returned to the Old City to buy special gifts of Judaica, and managed to pick up plenty of beautiful treasures for ourselves. We finally found use for our son's bargaining skills, which had previously only been used to negotiate things like screen-time and treat consumption.
One of the best decisions we made was to stay in apartments. With two preteens, the need for food sometimes comes fast and furious. Knowing breakfast was in the fridge and we could make nutritious snacks to take along with us every day contributed enormously to the success of our trip. The other element that made it the best vacation we've ever had with our children was the planning my husband did, combining some days with a tour guide and other days with age-appropriate activities. Since neither of us is interested in driving in Israel, he also worked our plans around all the different kinds of transit. Our centrally located lodging enabled us to walk many of the places we wanted to go.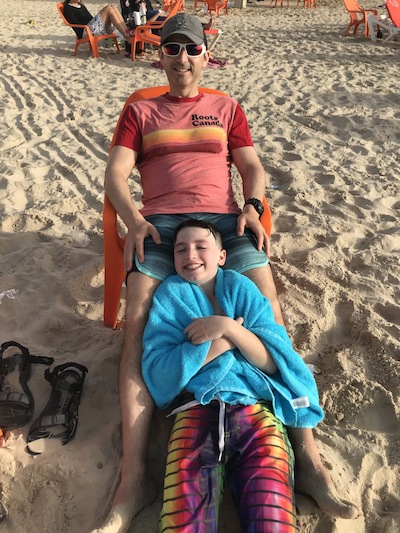 We were invited by a friend, who was also visiting Israel with her family, to join their tour one morning of an agriculture reserve called Neot Kedumim. Near Modi'in, the site is of archeological significance and takes visitors back to biblical times through the landscape, agriculture and activities. Our experience included tree-planting, za'atar-grinding, pita-making, cooking and pulling water up from a cistern. My husband's dream now is to spend his birthday working as a shepherd there. Another morning, with the same friends, was spent in fierce competition at the Tower of David doing something called the Amazing Race. It was good fun and educational, too.
We ventured one windy day to Ein Gedi and did a hike. Luckily, before driving to Masada, we discovered that, when it's too windy for the cable car to run, Masada is closed. However, the Dead Sea was open for business as usual and, while we took in the experience of the mud and the floating, we also loved the variety of people from around the world visiting the waters.
In Jerusalem, we loved the green spaces like Station One. Formerly a train station and tracks, it is beautifully landscaped and is perfect for cycling, so we rented bikes. The public art in Israel makes the parks and streets even more interesting. Markets are favourites when we travel and Machane Yehuda did not disappoint. We returned there a number of times to buy Israeli essentials like halva, rugelach and dates, as well as more mundane food like fruit, vegetables and bread. The dinner scene is like the best food court in the world.
We all enjoyed the food in Israel. Gone are the days when every corner had falafel, fly-covered shawarma and pizza with corn and tuna. You can still find those delights in a few places but, these days, no matter what you like to eat, you can find it in Israel (except on Shabbat or holidays in Jerusalem). Keeping kosher for Passover, once the holiday began, was certainly easier than we find it in Vancouver.
Two days before Passover started, we took the bus from Jerusalem to Tel Aviv. Comfortable, cost-effective and an experience in Israeli culture, the bus took only 45 minutes. Our lovely apartment in Tel Aviv was in an area in transition. Just over a block from the beach and a short walk from Shuk HaCarmel (where we went almost daily), the location was excellent. We were able to walk to many places, including Sarona (the market is like an upscale Granville Island), Shenkin (shopping), the Tachana (eclectic Israeli items) and Neve Tzedeck (artists and fancy touristy stores). We ended every day relaxing at the beach on the powdery sand.
The seder was delightful at my cousin's house in Ramat Hasharon. Seeing my secular Israeli cousins argue over the tunes and forget the words occasionally showed us that they observe Passover similarly to how we celebrate it. The only difference was that they served twice as much food as I do, including seven types of meat. The food was almost as unreal as the traffic jam at 12:30 a.m., as people left their respective seders.
Other excellent parts of our trip included a fun and informative walking tour of Jaffa. Our guide, Noam, dressed in Turkish garb of 1905 – and, for awhile, our son dressed up as well, beard and all. We spent a day in Ramat Aviv, between the Museum of the Diaspora (Beit Hatfutsot) at Tel Aviv University and the Palmach Museum, just down the road. All of us took full advantage of the many types of exercise equipment in the public parks all around Tel Aviv and rode bikes along the Yarkon River, in addition to enjoying the lively promenade (Tayelet) along the ocean. One day, we took a fabulous full-day private tour up north to Akko, Haifa and Caesarea. The guide enabled us to get the most out of the day.
When we saw the family dynamic start to go sideways, we split up. Our ability to keep good snacks handy and to make sure everyone got enough outdoors time each day made everything we were able to see and do a wonderful experience for all of us. I would recommend a trip to Israel to anyone.
Michelle Dodek is a freelance writer living in Vancouver who spent enough time in Israel in her youth to speak sufficient Hebrew to communicate with taxi drivers and vendors in the shuk.