Michael Schwartz, director of community engagement at the Jewish Museum and Archives of British Columbia, speaks to guests at a Chosen Food Supper Club gathering. (photo from JMABC)
This spring, the Jewish Museum and Archives of British Columbia began airing the podcast The Kitchen Stories. The series, which is focused on Jewish food, is the brainchild of Michael Schwartz, the museum's director of community engagement.
"A podcast is not so different from a museum exhibit," said Schwartz in an interview with the Independent. "It is a way to present a story…. It doesn't have a visual component but, unlike a museum exhibit, people can take a podcast with them, listen to it whenever they have the time."
While podcasts have evolved on and from the internet, Schwartz considers the format a renaissance of a much older type of media – the radio talk show. "Like radio, a podcast is an audio presentation, but on a different technological level. In the past couple of years, there have been some creative and innovative podcasts, and we're trying to add to their number."
The idea of a food-related podcast came to him after he experimented with a couple of other topics. "My role at the museum is to make people, both Jews and non-Jews, more aware of our museum. I tried several different themes – architecture, photography – but food seems to be universal. Everyone is interested in food, especially in Vancouver. We are a foodie city, so it seemed appropriate to ride that momentum, to let people tell their stories about food. That's what a museum does: it lets people tell their stories. Ideally, the museum staff should be invisible."
The Kitchen Stories concept, as well as the museum's Chosen Food Supper Club – a dinner series where people meet each other, learn about and enjoy the food being served – crystallized for Schwartz simultaneously. "We started the podcasts a bit earlier, in March, and the supper club in April…. Lots of storytelling happens during the club meetings," he explained. "Like the podcasts, each club meeting has a theme. Sometimes, it is geographical: food from different parts of the globe. Sometimes, thematic, like holiday food."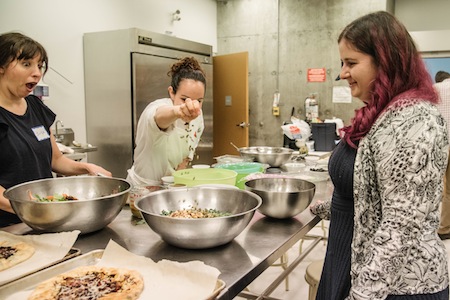 A similar variety of themes characterizes the podcasts. To date, shows have examined food links to family dynamics and worldwide migrations, climate and gender roles, cultural customs and regional culinary quirks.
"We brainstormed the possible themes as we listened to other podcasts, read books on culinary history. We tried to pinpoint what is missing and use those points as our guidelines. One of the underlying themes in our podcasts is the tension between traditional and modern. How people adapt to the local food sources when they move, how the familiar recipes change with times and places. How those recipes diverge when members of one family move to different countries, or continents, and the usual ingredients become unavailable."
Schwartz believes that the museum has to be open to the stories of all Jews, regardless of their religiosity, affiliation or geographic roots. "The museum's role is not to provide answers but to discuss a question, to open a forum for conversation. In The Kitchen Stories, food is a medium of telling stories. We explore healthy food choices and how they change with generations: what our grandmothers thought healthy and what we think healthy could be different. We talk about kosher food and organic food. And, of course, when people talk about food, everyone has an opinion."
The topics are approached often from an historical perspective. "Food is a way to keep history alive," Schwartz said. "When a kid asks his parents or grandparents why do you cook this way, stories emerge. We wanted to showcase those stories. Food is also a way towards peace and harmony. When we share food with friends, we talk and try to understand each other. Food is a means of communication."
Schwartz doesn't create the podcasts alone. Co-producer April Thompson has been working for the museum for the past year.
"I do research on the theme we select, I conduct the interviews," Thompson said. "Sometimes we interview people in their homes or their businesses. Other times, they come here to the museum; we use a quiet room for the interviews. The museum has had an oral history program for decades, so we use the existing museum equipment for recording. Then I do the editing, choose the music. After I'm done, Michael listens to my material. He records the narration, inserts special terminology sometimes, or we move the pieces around to structure the story better."
"April is very important to the series," said Schwartz. "She is not Jewish, and that fact has given her an interesting angle on the project. She brings necessary curiosity to some things those of us within the Jewish community take for granted."
"Yes," Thompson agreed. "I'm like a child. I ask: why do you do this, because I don't know. I want to know. I'm now working on a podcast about [dealing with] grief through food, about the Jewish shivah custom. It's different from many other cultures."
All of the podcasts can be found at jewishmuseum.ca/the-kitchen-stories.
Olga Livshin is a Vancouver freelance writer. She can be reached at [email protected].