Mike Levin's "Waiting for the Train."
Community Longing and Belonging is a community art show in celebration of Jewish Disability Awareness and Inclusion Month. It opened at the Zack Gallery on Feb. 14.
Curated by Leamore Cohen, inclusion services coordinator at the Jewish Community Centre of Greater Vancouver, the fourth annual exhibit once again considers the questions, How do we make meaning of the concept of community, the real and the imagined spaces we inhabit? What does community longing look like and what are the possibilities for belonging in an ever-changing world?
Many of the pieces on display were made by artists from JCC Art Hive, a free and low-barrier program for artists with diverse needs. The collection comprises the work of diverse artists, with different levels of experience, perspective, faith and social location.
One of those featured is award-winning artist and writer Sandra Yuen, who is a member of Kickstart Disability Arts and Culture. Her piece, "Exploded," is based on the prose of Derrick Bauman, an artist and writer, and influenced by pop art, Roy Lichtenstein, and graphic design. In her artist's statement, Yuen writes, "As a person with schizophrenia, I wanted to express the fractured mind, the cut edges, the shattering of my life experience because of mental illness. However, this rendition is more a poetic image versus the cruel reality of living in madness, paranoia, hysteria and anger. The colours are sweet, the black lines clean and sharp, creating a mythological or romanticized view of insanity. I try to whitewash my life, sanitize the pain out of it, deny the diagnosis, but the illness remains, the weakness, the flaws, the humanity."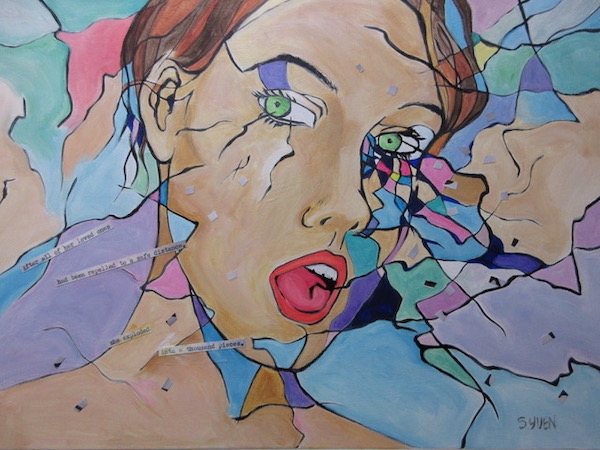 Mike Levin's "Waiting for the Train" is about being shrouded in darkness, yet feeling the abundance of sunshine not far away. It is a metaphor for the continued longing for COVID to end so that we can get back to normal living.
Levin's paintings are often abstractions of nature or city life that conform to structure of composition. They are amalgamations conjured from his imagination, photos he has taken and memories of his experience of exploring.
Growing up in Calgary, Levin has practised art from a young age, and also plays clarinet and saxophone. He attended the University of Calgary's fine arts and urban studies programs and, after moving to Vancouver, completed his bachelor's degree in fine arts at Emily Carr University of Art + Design in 2020.
For the past 20 years, Levin has lived with schizo-affective disorder, which he controls through medication and being active in the arts and mental health communities. He has taught drawing and painting at Vancouver General Hospital, the Art Studios, Gallery Gachet and privately within the community; he also works part-time in carpentry. His art has been sold in Canada and the United States to more than 70 private collectors.
Mark Li is a Vancouver-based visual artist whose narrative-focused work creates a whimsical world filled with colour and imagination, as his untitled work in this exhibit shows. Every painting is a tale of friendship and acts of kindness: a bear might be best friends with a cat; a T-Rex smiles with shy humour and sweetness at the viewer; a lady bug and a cat might go dancing in the sunlight; a simple walk in the park with a friend and his dog is a delightful adventure – anything could happen and they could meet anyone.
Rickie Sugars' "Like Minded" is an example of his unique style of painting in abstract cubism expressionism, using bold colours and black outlines.
A seasoned professional artist, Sugars had his first gallery showing, and sold his first painting, at the age of 17. Since then, he has displayed and sold his art in several galleries and art shows throughout British Columbia.
Sugars is a classical animation graduate from Vancouver Film School. He started creating animated characters well before graduation, resulting in a partnership in an animation company that went on for many years. Continuing his artistic path, he began tattooing in 2004 and has his own tattoo shop. He also designs sculptures created from broken toys.
A few years ago, during an attempt to assist a woman who was being attacked, Sugars received a traumatic brain injury. He had to re-learn everything, including how to talk – however, it did not stop his artistic endeavours. Today, you will find Sugars painting on canvass (or any surface, really), crafting stickers, postcards, wall murals, sand and wood sculptures, and interior/exterior commissioned graffiti.
"My artwork is influenced by media, fads, plus social, political and cultural issues," he writes in his artist statement. He wants viewers "to look past the obvious, to treasure and celebrate the unique, the unconventional, the familiar: and to be nonjudgmental. Respect others and support them for who they are. Find the beauty in broken toys, an old door, a broken guitar – take time to look more carefully at things around you and you'll discover beauty in unusual places."
Another of the artists contributing to the Community Longing and Belonging exhibit is Adrianne Fitch.
Born in Kew Gardens, Queens, N.Y., Fitch studied English and writing at Pennsylvania State University and has traveled all over the world, including living and studying in Israel. She has lived in Vancouver since 2008 and pursues a number of other art forms. She is also a writer and desktop publisher.
"Having lived with a hearing disability and also struggled with depression all my life," she writes, "I definitely know what it means to feel isolated. As hearing loss is invisible, people frequently make assumptions about me (e.g. they think I'm stupid, stoned or purposely ignoring them). As I did not begin learning ASL until adulthood, I occupy that grey area between the hearing and deaf worlds. I miss a great deal of communication, both spoken and signed, and have often felt as though I don't belong anywhere.
"That's why this art show's theme, Community Longing and Belonging, is so significant and meaningful to me. Indeed, I have always longed for community and belonging. The Jewish community, with its wonderful heritage and incredible diversity, is very precious to me. In creating these three ceramic menorahs, I have tried to express this diversity, as well as my love for the Jewish people."
Community Longing and Belonging is at the Zack Gallery until March 17. There is a virtual meet-and-greet with the artists on March 2. Visit jccgv.com/art-and-culture/gallery or email Cohen, [email protected], for more information.
– Courtesy Jewish Community Centre of Greater Vancouver