Members of the Recycled Orchestra of Cateura, Paraguay, are among those helping provide relief services during COVID-19 and after a devastating fire. (photo from IBB)
Times are tough for everyone, but that hasn't stopped one Vancouver group from organizing an urgent fundraising drive to support an orchestra that is a testament to the transformative power of music.
Instruments Beyond Borders (IBB) is a registered Vancouver-based charity that supports music education in disadvantaged communities. The group is raising funds to support the Recycled Orchestra of Cateura, Paraguay (aka the Landfill Harmonic) as they are dealing with two major crises: not only the COVID-19 pandemic, but a devastating fire in the landfill, next to which they reside.
Since 2014, IBB has delivered donated instruments and funds to the Recycled Orchestra, which was borne out of a desire to teach music to eager children living in the marginalized landfill community of Cateura.
The Recycled Orchestra of Cateura is internationally renowned, performing all over the world with their instruments made out of recycled materials from the neighbouring landfill. They deliver a resounding message of environmental stewardship and hope and endurance in the face of poverty.
The pandemic has suspended the capacity of the orchestra to travel internationally – which was a major source of their revenue. Compounding the hardships wrought by the pandemic, the Cateura landfill recently suffered a major fire, resulting in the destruction of many of the orchestra families' homes. Consequently, this has all but eliminated the opportunity of the parents to derive much-needed income from the gathering of saleable recyclables from the landfill.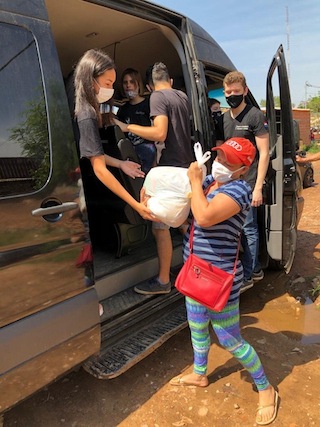 In 2014, IBB donated $10,000 towards the building of a music school in Cateura. Fortunately, the school was not damaged by the fire, and today it is temporarily being used as a food relief centre – for the preparation and distribution of upwards of 5,000 meals daily to the devastated local community. Incredibly, the students of the Recycled Orchestra, along with the Orchestra's Parents Association, have become the hub of relief services.
In the midst of these crises, Favio Chavez, the orchestra's founder and director, is determined to keep both the orchestra and the hope of music alive, and to support the orchestra's education program.
The IBB fundraising drive aims to assist the orchestra recover from these dire circumstances. To jumpstart this urgent appeal, the Ben and Esther Dayson Charitable Foundation has pledged to match the first $5,000 donated.
The Recycled Orchestra was the subject of an award-winning 2016 feature film Landfill Harmonic, the trailer for which can be watched on YouTube. Donations can be made at instrumentsbeyondborders.org.