Assaf Gavron (photo from JCC Jewish Book Festival)
As it does every year, the 31st annual Cherie Smith JCC Jewish Book Festival offers readers the chance to meet some of their favorite authors. Sean Michaels, the 2014 Scotiabank Giller Prize winner, starts it all off on Nov. 21 at the Jewish Community Centre of Greater Vancouver's Rothstein Theatre. Among the festival's many highlights are Israeli writer Assaf Gavron and American writer Nomi Eve, to whom the Independent had a chance to e-speak recently.
Gavron's latest novel, The Hilltop (translated into English from Hebrew by Stephen Cohen), deals with one of the most contentious and emotion-laden aspects of the Israeli-Palestinian conflict: the settlements in the West Bank. It does so with humor and humanity – and an even eye, examining the larger societal issues through the troubled relationship of two troubled brothers. Family, bureaucracy, unintended consequences, and more, factor into the story.
JI: What is it about fiction that allows it to communicate controversial ideas or speak to controversial topics in a way that seems to be more easily received than other media, such as journalism, academia, documentary film?
AG: I think that usually when ideas are termed "controversial," it is on a simplistic level – when you can sum it up in a sentence or two, it is easy to annoy, or touch a nerve, or whatever. The other forms of media you mention, like journalism or documentary, are also susceptible to this superficiality. Fiction gives you more time, and depth, to really get to the story and to the people behind it. And, whatever the subject is, it can't remain on the simplistic level. Yes, hopefully it causes more thinking and a better understanding of complexities. I like that about reading fiction, but as to the reason why I choose to write, I think that, over the years, I learned that it is the kind of storytelling I am best at, and most comfortable with.
JI: When I used to ask my grandmother how she was doing, her response often was that she still had her sense of humor – once she lost that, then…. What purpose does humor serve in your writing, or is it "just" a matter of style?
AG: That's how I write, it is part of me, part of how I communicate. I can identify with your grandmother. I think that it is important, and sane, not to take things too seriously. And not less so, probably more so, in situations that are perceived as sad and difficult and tragic. We must be able to smile. In writing, it is mainly entertainment. It is more fun and enjoyable to read something that makes you laugh. In my books, I would like to entertain as much as anything else, like making a point, educating, etc.
JI: Not everyone can put themselves into someone else's shoes, something you seem to have mastered in your writing, including your latest novel, The Hilltop. Does that openness and empathy extend into your "real" life? What is it in your personal "toolkit" that allows you to at least write from multiple viewpoints with sincerity?
AG: I disagree. I think everyone can put themselves in someone else's shoes. This is why people read books, go to movies, read newspapers or even just talk to each other – they are curious about the experiences of others and, when they hear or read or watch them, they are always imagining if it was them, what would they do, how would they react. But it is true that people are reluctant to identify or see the world through eyes of people they perceive as an enemy, or as very different, as an "other," in the real life. Sure, I hope I'm as open in real life. I think it is crucial to fundamentally accept that there are others, and to attempt to get to know them. I guess that it is no more than this belief that is my "toolkit."
JI: You write books, translate, create videogames, are in a band … could you share a little bit about your background and how you came to your expertise in these areas?
AG: First and foremost I'm a fiction writer. But I'm also a curious person, like to keep myself interested … so I tend to do other things as well. The band, for example, is a lifelong project of three friends, who decided to do this for the long run, with little interference to our "daily" life. This is why we release an album every six years and not more frequently. Translating and teaching I do sometimes for income and sometimes for interest. The computer game was a one-off project.
JI: Your write-up on Wikipedia notes that you were in Vancouver in 1997, studying "new media." Do you still have Vancouver connections?
AG: I do! My first cousin lives there with her family. Having family was part of the reason I came, and what I heard and imagined of the city and the school, which offered what I was interested in studying at the time. I had a great year in Vancouver, had a lovely apartment in Kitsilano. That year, I also wrote what would be my second book. I have been back only once since then, in 2003, I think, so it's been awhile. I'm really looking forward to this visit, my first as a writer.
JI: Where are you and your family currently based?
AG: We are in Omaha, Neb. I have been teaching here for the past year. I'm moving to your time zone, San Diego, in January for six months, and then next summer back home to Israel.
***
The main character in Nomi Eve's second novel, Henna House, is Adara, born in Yemen in 1918, the year that Imam Yahya took control of the region. He passed many restrictive decrees, including the Orphans Decree, calling "for any Jewish child to be confiscated, converted and quickly adopted by a Muslim family if a father died," writes Eve. When the story begins, Adara's father is already ill.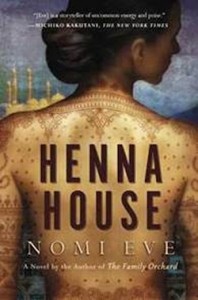 The bulk of the novel follows Adara and her family – notably, two cousins – from the 1920s in Yemen to the early years of Israel, briefly touching upon Operation On Wings of Eagles, better known by its nickname Operation Magic Carpet, when almost 50,000 Yemenite Jews were airlifted to Israel between June 1949 and September 1950.
JI: Research is an essential part of your creative process, but you also said in one interview that reality limits your creativity. How did you navigate the need for both research/reality and imagination in your two novels, seeing as both are rooted in "real" historical spaces?
NE: History is much more than a backdrop in my fiction. It also provides soul and substance. But I never let myself feel straightjacketed by history. I make things up and let my readers know that this is fiction, not academic research that they are reading. In Henna House, the fact that I have a first-person narrator also helped me navigate this terrain. My narrator uses her memory and imagination to construct her own version of the past. Memory is porous, and doesn't always hold truth. Memory is powerful and often finds truth in unlikely places.
JI: Have you reached your 100 Book Clubs goal?
NE: I did book club #143 tonight – it was a Skype visit to Toronto. I love my book club visits. Readers are my wildest dream, and I feel lucky each time I get to chat with a new group.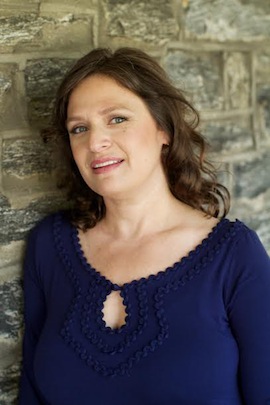 JI: In Henna House, you write about Mizrahi Jews. What is your background? Did you have a mix of traditions growing up, given that your father was from Israel?
NE: My family is Ashkenazi, but I have a Yemenite aunt. It is from her that I learned to love Yemenite Jewish culture. But most of what I learned about the history of the Jews of North Yemen and Aden I learned through my own research. The most fascinating things that I learned were about henna traditions, and the Orphan's Decree. Both of these things became central to the plot of my book.
JI: Your two novels are both set in the past. What appeals to you about the past and imagining what it might have been like?
NE: I find it easier to write about the past than about the present. The past feels multi-dimensional to me, whereas the present feels one-dimensional. I think that I am attracted to the fierce power of memory and the perspective gained by the passage of time.
Assaf Gavron in conversation with Marsha Lederman takes place Sunday, Nov. 22, 8 p.m.; tickets are $18. Nomi Eve speaks with Israeli-Canadian writer Ayelet Tsabari on Tuesday, Nov. 24, at an intimate gathering at 6:30 p.m. ($16) and to a book club and book-lovers event at 8 p.m. ($18); to attend both, the price is $30. For tickets to these and other festival events, call 604-257-5111 or drop by the J in person. For tickets and the full festival lineup, visit jewishbookfestival.ca.