A scene from Clowns by Hofesh Shechter Company. (photo by Todd MacDonald)
Double Murder takes audiences on a journey from cynicism and violence to hope and healing. The double bill from the United Kingdom's Hofesh Shechter Company features Clowns, described as "a macabre comedy of murder and desire," and The Fix, "an antidote to the murderous, poisonous energy of Clowns," which "brings a tender, fragile energy to the stage."
Presented by DanceHouse at the Vancouver Playhouse Oct. 21 and 22, U.K.-based Israeli choreographer Hofesh Shechter told the Independent he is excited to share the works with audiences in North America.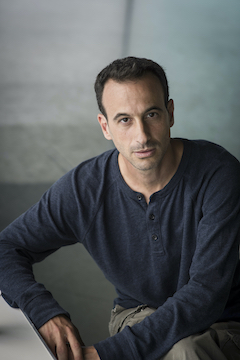 Clowns debuted at Nederlands Dans Theater 1 in 2016 and later was produced as a film and broadcast by the BBC. The Fix is a more recent piece. The company was in the middle of creating it when COVID hit and everything shut down, Shechter told the Independent. "And so we had this weird start/stop experience, where we sometimes could have two or three weeks of work, and again get shut in our homes for a few months. For me, it was a really interesting experience artistically. The work is about healing and about a communal effort, or the ability as a community, to heal ourselves and each other. The spirit of the time became a part of the energy of the work, and the craving for human contact and communication became even more urgent and relevant. There was a weird synergy between worldly events and The Fix, and I personally found it a very healing experience post-COVID."
Hope plays a key role in the relationship between Double Murder's two contrasting works.
"The energy of hope was something the dancers and myself discussed in the studio, months before COVID, as I knew I would like to create a balancing piece to Clowns," said Shechter. "Clowns presents a rather sarcastic, somewhat hopeless world in perpetual power games. I was adamant to have another perspective in the evening on what the world can be, and we discussed in the studio that the most precious currency of our days must be 'hope.' It felt like an interesting and powerful direction to go to, and we embarked on trying to produce this energy through the means of movement and composition."
Shechter is also a musician and composer and his original scores interweave with his choreography, deepening his dances' emotional impact.
"Creating new work for me is a chaotic process of releasing thoughts, feelings and ideas from the inside out," he said. "Anything can be an idea, from a sketch of sound to a sketch of movement; lots of writing in my messy notebooks and recording sounds/music and experimenting in the studio. There is no particular order in which the elements are born – it is an organic, chaotic process of producing material, which is then followed by the process of editing and decision-making. The process of decision-making is complex, and does not always happen through the thinking mind, instincts have a big part in deciding which way to go."
And his instincts have proven sound. In addition to choreographing for leading ensembles around the world, Shechter has choreographed for theatre, television and opera. His works have been performed internationally and Hofesh Shechter Company has won multiple awards. Shechter himself was awarded an honorary Order of the British Empire for his services to dance.
When asked about the courage it takes to be creative in the public sphere and whether it has become easier or harder as his career has progressed, Shechter told the Independent, "The level of difficulty of being publicly creative is not really dependent on external elects, such as time or external success. I find that the internal processes and thoughts or, in other words, the way I perceive my reality is what can make things tough – the expectations I might think are placed upon me and so on. All these are thoughts and, in truth, I cannot know or presume to know what people might be expecting. Therefore, I rather divert my inner thinking and process to what excites and inspires me – sharing my experiences, thoughts and feelings and sensations with people through the means of movements and sound. This communal sharing of experience is the most powerful aspect of performance for me, and a very fulfilling one as well."
For tickets to Double Murder: Clowns/The Fix, visit dancehouse.ca or call 604-801-6225 during a weekday.