Naomi Steinberg debuts Goosefeather. (photo from Naomi Steinberg)
The Vancouver Fringe Festival starts next Thursday, Sept. 4, and runs until Sept. 14. There are many shows from which to choose and five of which, at least, include members of the Jewish community. In order of first appearance, here are the highlights of those five shows, garnered from their press material:
HappyGoodThings presents the première of … didn't see that coming, Beverley Elliott's funny and moving collection of autobiographical stories that take the audience on a romp from small-town Ontario to Vancouver's gay bars and red carpets. Directed by Elliott's friend and colleague of 30 years, Jessie Award-winner Kerry Sandomirsky, who has been close by holding the tissue for many of these life-changing events, musical direction is by Bill Costin.
Inspired by her live performances at the Flame, her writing group Wet Ink Collective and years of entertaining crowds gigging in various bands in a parade of bars, … didn't see that coming reveals unexpected blessings and uncomfortable epiphanies. These range from catching a bouquet, being called Smelly Elliott, attending a Guess Who concert, growing up with Presbyterian morals, a generous Greek admirer and a yellow dress, the highs and lows of singing at weddings and funerals, relationships with straight men going nowhere and relationships with gay men going to the grave – all held together with the galvanizing salve of songs, the lifeboat of music.
… didn't see that coming takes place at Performance Works on Granville Island, 1218 Cartwright St., with the first show (of six) on Sept. 5 at 6:45 p.m. For more information on Elliott, visit beverleyelliott.net.
***
Naomi Steinberg's debut performance of Goosefeather will be at the Fringe, after which she will set off to go around the planet with no airplane, carrying the story in which she weaves together traditional storytelling with movement and clowning to tell you about the time her grandfather sent her on a wild goose chase in the south of France.
Steinberg is an accomplished performer, storyteller and site-specific installation artist. With more than 13 years experience, she knows how to seduce audiences through a provocative mix of political thought and artistic content, telling her stories in a unique voice, with an evocative gestural language.
Past highlights of her work include storytelling events in Jerusalem, Ramallah, Paris and Zurich, among others. Steinberg was the artistic director of the Vancouver Society of Storytelling from 2009-2014, steering large-scale community engagement initiatives and producing three international festivals. Grants awarded include from the City of Vancouver, B.C. Arts Council and Canada Council for the Arts.
Goosefeather begins its nine-show run at the Toast Collective, 648 Kingsway Ave., near Fraser and 16th, on Sept. 5, 8:30 p.m.
Following the Fringe performances, Steinberg heads down the West Coast to board a cargo ship in Los Angeles. She will arrive in Melbourne, Australia, near the end of December, completing the first leg of her journey around the planet. See goosefeather.ca for more information about the project.
***
Charlie Varon brings his new solo show, Feisty Old Jew, to the Vancouver Fringe. Feisty Old Jew is a fictional comic monologue about a 20th-century man in a 21st-century city. At age 83, here's what Bernie hates: yoga studios, tattoo parlors, boutiques of all kinds, $6 cups of coffee, young techies and what they're doing to San Francisco.
The story takes place entirely on one hot October day. Bernie gets tired of waiting for a cab, sticks out his thumb and is picked up by three 20-somethings in a Tesla with a cappuccino maker in the dashboard and two surfboards strapped to the roof. By the time they get to the beach, Bernie has convinced the kids to let him surf for the first time in his life, and bet them $400,000 that he'll ride a wave.
Varon has been making theatre for 23 years at San Francisco's Marsh Theatre, in collaboration with director David Ford. In addition to Feisty Old Jew, his other shows include Rush Limbaugh in Night School (1994), The People's Violin (2000) and Rabbi Sam (2009). Of Feisty Old Jew, Varon says: "This is a show about a city in flux. When I moved to San Francisco in 1978, my rent was $70 a month. Now people pay $70 a month just for lattes."
The Fringe presents six performances of Feisty Old Jew, beginning Sept. 5, 8:45 p.m., at Performance Works. To read a Q & A with Varon about the show, visit goo.gl/doYJ7h; more information at charlievaron.com.
***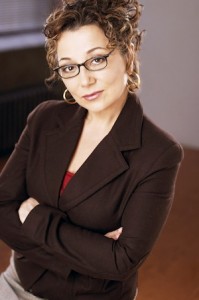 As part of the Vancouver Fringe, Dirty Old Woman Artists Collective presents Dirty Old Woman, a new play by Loretta Seto, directed by Lynna Goldhar Smith.
After her divorce, Nina, a 50-something-year old, decides to venture back into the world of romance. But when she meets Gerry, 20 years her junior, the sparks fly in more ways than one. Judgments, double standards and comedy ensue, as Nina tries to navigate the dangerous world of dating a younger man.
Dirty Old Woman stars Jessie Award-winning actors Susinn McFarlen, Robert Salvador, Emmelia Gordon and Alison Kelly; with lighting design by Michael Schaldemose, sound design by Dylan McNulty. It will have six shows at Studio 16 (1555 West 7th Ave., between Fir and Granville), starting Sept. 6, 6:15 p.m. For more information about the show, visit dirtyoldwomanplay.wordpress.com.
***
From the twisted mind that spawned South Park and Book of Mormon, Trey Parker's Cannibal! The Musical comes to the Vancouver Fringe Festival. Among the cast of this Awkward Stage Productions (awkwardstageproductions.com) show is community member Henya Rosen.
Cannibal! The Musical is the true story of the only person convicted of cannibalism in America – Alferd Packer. The sole survivor of an ill-fated trip through the Rockies, he tells his side of the harrowing tale to news reporter Polly Pry as he awaits his execution. While searching for gold and love, he and his companions lost their way and resorted to unthinkable horrors … with music!
It's unique every time. Originating as a film, the licence includes no script, only a guide, so each production really is a new show. Care is taken to preserve those fundamental elements to please the cult following, but the rest is up for grabs. The blended offering in this year's Fringe includes a human campfire, a tribe of Amazon war princesses, a multi-media format with animation, a giant Cyclops, a lesbian biker gang of fur trappers, puppets, a massive saloon fight, some cross-dressing and sexual confusion, the classic "Shpadoinkle" and "Hang the Bastard" musical numbers, offensive language, a human horse and, of course, a healthy helping of gore and cheese.
For this, its fifth year in a row at the Vancouver Fringe, Awkward Stage presents another all youth cast, crew and band of emerging stars aged 14 to 25 who are eating up these roles! There will be eight shows, the first being on Sept. 6, 7:15 p.m., at the Firehall Arts Centre, 280 East Cordova St.
***
For the full Vancouver Fringe schedule, ticket and other information, visit vancouverfringe.com or head down to the box office at 1398 Cartwright St. (after Sept. 1).