B.C. Premier John Horgan toured the Jewish Community Centre of Greater Vancouver on March 29, speaking with community members of all ages. (photo from Office of the Premier)
B.C. Premier John Horgan visited the Jewish Community Centre of Greater Vancouver just before erev Pesach, March 29.
The premier had visited the JCCGV before, but only to attend meetings in the boardroom, and this was his first visit as the province's head of government.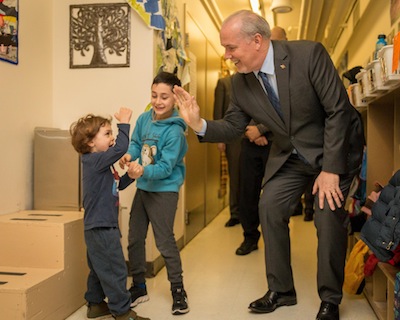 Horgan toured the building, visited the Vancouver Holocaust Education Centre, the sports facilities and spent time with children and parents at the daycare.
In a statement to the Independent after the meeting, the premier said: "People drive community. Touring the centre really hit that message home.… I was glad to meet with and hear from community leaders, see the range of services being provided and visit with kids, parents and educators at the childcare centre in advance of Passover."
On April 12, the premier also participated in a Yom Hashoah ceremony at the B.C. Legislature, which included numerous survivors of the Holocaust. In next week's Independent, there will be more about the Yom Hashoah commemorations that took place in Victoria and Vancouver.
"Our goal was for him to get to know us and get to see our centre, get to understand the level and breadth of activities we offer," said Eldad Goldfarb, executive director of the JCCGV. "His focus was primarily on childcare and I think he had a few more visits during that day to other [childcare] facilities.… We wanted him to see what we are doing and we wanted him to hear about our plans for the future."
While there was no formal agenda for the meeting, after the tour, Horgan met with representatives of agencies that are located in the building. He was introduced and thanked by Alvin Wasserman, vice-president of the JCCGV.
While affordable housing was not on the agenda officially, Goldfarb said he discussed with the premier the opportunity for including such accommodations within the planned redevelopment of the JCCGV site. The new provincial government made a substantial commitment to affordable housing in its first budget, Feb. 27.
Nico Slobinsky, director of the Pacific Region for the Centre for Israel and Jewish Affairs, said Horgan was at the centre more to listen than to talk.
"He was there to learn a little bit about what the centre does and the opportunity to connect with the community since becoming premier," said Slobinsky, who helped arrange the visit. "He hasn't had a chance yet to do that. He did that before but not since becoming premier.
"As a community," he said, "we have long enjoyed a great relationship with the provincial government and we are very happy to see that continue."