Samantha Emerman opened Kind Café last year. While closed during the COVID-19 pandemic, they are operating a pickup service twice a week. (photo by Olga Livshin)
Kind Café is a warm, airy space, a place for friends to meet and eat together. Or, at least it will be a welcoming meeting place again, after the coronavirus pandemic is over. In the meantime, the restaurant is offering takeout service only.
Jewish community member Samantha Emerman, with her father, Marvin Emerman, opened the café in August 2019. The main idea behind it was threefold: no meat, no dairy, no waste.
"I became a vegan in 2013. I went to a nutritionist college here, in Vancouver. I learned where our meat and milk come from, so I stopped eating them," Samantha Emerman told the Independent in a recent interview.
Initially, she opened an online business, ran some seminars on healthy eating habits and offered nutrition coaching. She supplemented her income by working at local restaurants and coffee shops.
"Do you know how much garbage Starbucks produces?" she said by way of but one of many possible examples. "In a busy location, they take out the garbage every hour. I wanted to create a space for people to enjoy their meals, while generating no garbage at all. It's a much kinder way to feed people – kinder to the environment, to our planet."
Emerman started doing research on what kind of restaurant she wanted. "There are other vegan restaurants in Vancouver. Being vegan has become trendy, but there is no other vegan café, except ours," she said. "And no eating establishment in the city offers the 'no waste' policy, except ours."
The next important decision was where to set up shop.
"I researched for a long time. We looked into downtown locations," she said, "but most people in downtown rely heavily on their daily to-go coffee. We checked out the suburbs, like White Rock. In the end, we decided that the best location for our café would be Main Street, with its diverse people."
And, last August, Kind Café opened its doors on Main Street.
"We offer a vegan menu and we don't generate any garbage. We don't even have a garbage can inside," Emerman said proudly. "We don't have any plastic or any single-use items here. Everything is reusable."
The zero-waste initiative extends to all areas of eating, including the takeout aspect of the business. The café doesn't have paper coffee cups or foam containers for to-go orders.
Before the coronavirus hit, Emerman said, "If people want[ed] takeout, they should come in with their own containers. It took awhile for the people to get used to that idea, but now, most of our customers who want a takeout come with their own containers."
She called this policy BYOC (bring your own container). "We are passionate about BYOC," she said. "When you dine inside, we have you covered with metal cutlery, ceramic plates, mugs and glasses. Otherwise, instead of the disposable plastic utensils, paper cups and single-use food containers that are polluting the environment, we kindly ask our customers to bring their own."
Even with the COVID-19 restrictions, Emerman isn't sacrificing her environmental beliefs. Instead, she is extending the practice of "renting" containers, which was in place before the virus. The café is temporarily suspending its BYOC policy and is now only offering customers food served in new glass containers for which there is a monetary deposit that will be returned to the customers at a later date, when they return the container so that it can be washed and reused.
"We're trying to shift the focus away from the single-use mindset altogether," she said. "Why use any product only once and throw it away? We are here to shake up the food industry, change people's behaviour pattern, and to make BYOC the norm."
The demographics of Kind Café are as diverse as the Main Street population. "About 60% of our customers are regulars who work or live in the area," Emerman said. "Most of them are between 14 and 40, professionals and students. The rest are walk-ins. All kinds of people, really. And people are still discovering us."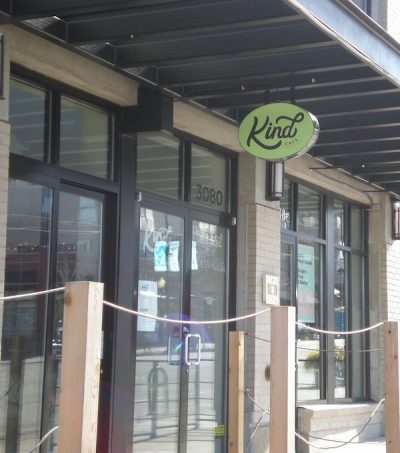 As a way for people to discover the new café, Emerman has been offering the space for events and seminars on healthy eating. One of the events that fit the café's no-waste strategy was a clothing swap. "It's the same principle," she said. "You don't want this sweater, but someone else might want it. No throwing away anything."
The no-waste guidelines apply to the restaurant's suppliers as well.
"We don't accept the products in plastic bags. We have our own large containers for the supplies we use," said Emerman. "The only bags we do accept are paper and reusable. But it took some time to find suppliers who share our beliefs. That's why we have 11 suppliers for different products, not two or three, like Starbucks."
The café is a family business. "My father is my partner and mentor," Emerman said. "He taught me a lot. Most of the recipes are our family recipes or my own, although now that we hired a chef, he contributes, too. My sister is the office admin. My mom does everything that needs to be done. We are a very close family."
Of course, they have some hired staff, all of whom happen to be, like the Emermans, vegan. "It is not a requirement for working here," she stressed, "but our staff want to work for us. There are not too many vegan places in the city."
The majority of work falls to Emerman herself. "Owning this café is the hardest thing I've ever done. I do everything. I bake. I manage front and back. I look for suppliers. I do advertising on social media – Facebook and Instagram. It's a 24/7 job and the most rewarding I've ever done."
To order takeout and for more information on the café, visit kindcafe.ca. The website notes, "We know that getting your hands on certain groceries, specifically vegan food, during this time can be challenging. Although we do not currently have a delivery service, we will be open for a small window, of three hours, twice a week, for you to come pick up orders!"
They request that customers preorder by Friday, 10 a.m., for Saturday pickup and Monday, 10 a.m., for Tuesday pickup. There is an online form to fill out, and an invoice will be provided once your order is confirmed.
Olga Livshin is a Vancouver freelance writer. She can be reached at [email protected].