The Arnold and Anita Silber Theatre at Tel-Hai College officially opened last month. (photo from Jewish Federation of Greater Vancouver)
Last month, Jewish Federation of Greater Vancouver chief executive officer Ezra Shanken, as well as board members Karen James, Alex Cristall and Candace Kwinter, and Jewish Community Foundation executive director Marcie Flom were in Israel for the official opening of the Arnold and Anita Silber Theatre at Tel-Hai College. This new 1,200-seat outdoor theatre will be a hub of activity for the university and surrounding area. The theatre is located at the centre of the Tel-Hai campus, and is a key component in the college's long-term development plan.
The Silbers have long supported Federation's partnership region of the Galilee Panhandle, and its work there. They have supported a number of projects and established the Friends of Beit Vancouver, a donor-recognition program for supporters of Beit Vancouver. Anita Silber serves on Federation's Israel and overseas affairs committee, and has for several years. Recognizing that Tel-Hai is a significant economic driver in the region led the Silbers to fund this legacy project and lend their name to it.
The official opening of the theatre began with a welcome reception with Tel-Hai's board of trustees, followed by a ribbon cutting. The Silbers were joined by their granddaughter, Samantha Addison, and family members from Israel. In reply to the address honouring them that was delivered by Tel-Hai's president, Prof. Yossi Mekori, Arnold Silber stressed that the students were the primary motivation for this investment. They are the ones to whom the future of the region is entrusted, and it is they who will take it to the next level.
A number of families and individuals from our community agree, and they are funding scholarships, which were awarded to students at the ceremony by James and Cristall: the Coleman Family Scholarships, the Krell Family Scholarships, the Evelynne Loomer z"l Scholarships, the Bernard Lotzkar Scholarships and the Zalkow Family Scholarships.
* * *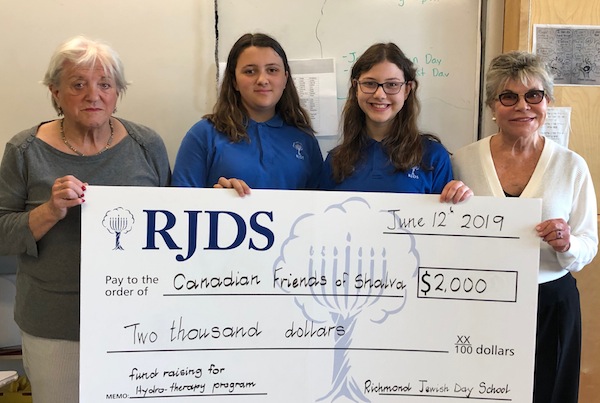 Over the course of the 2018/2019 school year, the Student Council Committee of Richmond Jewish Day School took it upon themselves to raise money for the Shalva Centre Hydrotherapy Program in Israel.
With the support of families, the school raised $1,000, which was generously matched by Lola Pawer. Pawer and Leslie Diamond, who is a board member of the Shalva Centre, came to RJDS to teach students about the work Shalva provides for children with disabilities.
The students presented a cheque to Diamond in the amount of $2,000. For anyone wanting to learn more about Shalva or make a donation, visit shalva.org.
* * *
Brett and Caro Rudolph have fun at their wedding in Syracuse, Sicily. Brett is the son of Les and Anita Rudolph of Vancouver (previously from South Africa) and Caro is the daughter of André and Svetli Wanne of Vienna. The wedding was officiated by Rabbi Paul Chaim Eisenberg of Vienna and was thoroughly enjoyed by family and friends. Brett and Caro live in Israel.
* * *
On May 25, 2019, Samantha Pawer was conferred the degree of bachelor of science honours in integrated sciences with distinction from the University of British Columbia. Samantha is an alumna of Richmond Jewish Day School and Hugh Boyd Secondary School. Proud are parents Jeff Pawer and Beverly Pawer and big brother Brayden Pawer.
* * *
Moshe Baitelman decided to become a doctor when he took his first biology class in high school. On May 26, 2019, the Vancouverite graduated as valedictorian at Touro's Lander College of Arts and Sciences in Flatbush, Brooklyn, N.Y. He will begin medical school in the fall.
Baitelman chose Touro because it offered a strong Jewish environment as well as academic rigour. He majored in honours biology and minored in computer science. Along the way, he built strong relationships with his professors. "They all pushed me to be my best," he said.
Living in Brooklyn, Baitelman found support for his career goals via the Gedaliah Society, a local network of Chabad men and women in the healthcare profession who offered advice and shared their own experiences in preparing for medical school. He also served as executive editor of Touro's science journal and president of the Touro Science Society.
"Moshe has distinguished himself as a gifted, multitalented student with outstanding leadership skills. We are confident that he will become a respected physician, who will create a Kiddush Hashem in all his patient and professional interactions," said Dr. Robert Goldschmidt, vice-president and executive dean of the Lander College.
Prior to Touro, Baitelman attended Vancouver Hebrew Academy for elementary and then the Pacific Torah Institute. Both schools imparted a strong Torah education with Jewish morals and values, and a first-class education. Baitelman's education in Vancouver was the solid foundation for a life of strong Jewish identity and commitment to Jewish observance and learning, as well as enabling him to pursue further career education.
Baitelman credits his parents for his drive; they instilled a strong work ethic and have continued to encourage him. He offers similar advice to students getting ready to start college: "Be proactive. It will be the difference between just passing through and actually gaining from college. Find activities that will be conducive to your professional and educational growth – use your network of professors, advisors and other students."