Soup is not just food. It's an experience, a sustenance, a simple yet magnificent meal, if done right, which is generally easy. Probably every culture on earth has a signature variation and, in the Jewish tradition, there is nothing more iconic than chicken soup.
When Sharon Hapton, a Jewish woman in Calgary, had the idea eight years ago to make a great vat of soup and carry it to a shelter for women escaping domestic abuse, she defaulted to that dependable chicken soup recipe. As reported in the Independent in 2014 (jewishindependent.ca/soup-ladled-with-love), that act elicited a deeply moving reaction. The chef at the shelter broke into tears when she saw the offering. There were Jewish women in the shelter and the chef knew the emotional significance and comfort the simple soup would bring.
The nonprofit social enterprise – a movement, really – that emerged from that first gesture is called Soup Sisters and it is a network of more than 40,000 people who have created one million servings of soup since the program began in March 2009. Each month, more than 10,000 servings are delivered to women, children and youth in shelters across Canada and in a couple of nascent cities in the United States. Hapton has been recognized by Chatelaine, CityTV and the YWCA for her vision.
In the interest of gender equality, there is also now Broth Brothers. And, a new iteration of the program, called Souper Kids, encourages young people from age 8 to 17 to participate in helping families and individuals who need it most.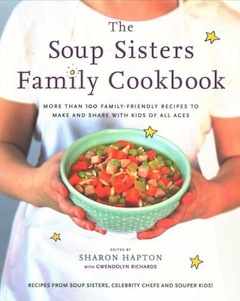 The Soup Sisters Family Cookbook is the third in a series of publications the group has compiled, and it is aimed directly at this next generation. Edited by Hampton, with Gwendolyn Richards, and subtitled "More than 100 Family-friendly Recipes to Make and Share with Kids of All Ages," it is a great addition to the shelf. Most recipes have only a few ingredients and are ideal for young people first venturing into the kitchen (with supervision from an adult of even limited cooking capabilities).
The volume includes contributions from celebrities, including Ruth Reichl, David Hawksworth, Nigella Lawson, Michael Smith and Elizabeth Baird, as well as from children from across Canada.
In addition to several variations on chicken soup (the B.C.-based singer and songwriter Jann Arden offers up a Kitchen Sink Chicken Soup), there are classics like Grandma's Russian Borscht and Easy Creamy Tomato Soup. Kid-invented recipes include Every Bunny Loves Carrot Soup, Posh-tasting Red Pepper and Coconut Soup and Attack of the Killer Tomatoes. Dragon Soup was contributed by a Grade 2 Class in West Kelowna, B.C. Many or most recipes can be made kosher, Cheeseburger Soup notwithstanding.
Jerusalem/London food superstar Yotam Ottolenghi offers Chickpea, Tomato and Bread Soup. Vancouver chef and cookbook author Vikram Vij contributed Indian Comfort Food Soup, sometimes called "Indian Mac-and-cheese," not because it contains macaroni or cheese, the introduction explains, "but because it's value-for-money comfort food, and a favourite with kids." Earls Restaurants contributed their Tortilla Soup recipe.
I made to the Roman "Egg Drop" Soup with ingredients around the house on a cold, rainy autumn afternoon. There is almost nothing to it, but it turns out surprisingly revitalizing and a little bit fancy. It's really nothing but eight cups of chicken stock (kosher cooks could substitute vegetable stock), four cups of packed spinach leaves (I didn't want to leave the house, so I used frozen – it would benefit from fresh), 1 1/4 teaspoons of salt, four eggs, and one third of a cup freshly grated Padano cheese (I used the Parmesan I had on hand and it added more salt than ideal).
Once the broth is simmering and the spinach is added, the eggs, cheese and quarter of a teaspoon of the salt are whisked together in a bowl, then slowly whisked into the soup in a traditional egg drop motion more commonly associated with Chinese cooking.
The book includes a preface about making your own stock, as well as basics on slicing, chopping, peeling and prepping – good for kitchen newbies as well as a refresher for oldsters who still slash ourselves too frequently in the kitchen.
The Soup Sisters Family Cookbook is meant for families to come together and cook as a group, which is, of course, what Soup Sisters (and Broth Brothers) is all about. Founded on the simple belief in the power of soup "as a nurturing and nourishing gesture that could make a tangible difference," Soup Sisters holds year-round programs where participants, who have paid a registration fee, join a soup-making event in a professional kitchen under the guidance of a chef. The social process produces 150 to 200 servings of soup that are then delivered to local shelters.
"Events are social evenings with lively conversation, chopping, laughter and warm kitchen camaraderie that culminate in a simple, sit-down supper of soup, salad, bread and wine for all participants," says the website.
Vancouver has two Soup Sisters chapters. One is in partnership with the Pacific Institute of Culinary Arts and supports Kate Booth House, a Salvation Army-associated agency that has provided a safe refuge for more than 4,000 women and children from 83 nationalities fleeing domestic abuse. It offers up to 30 days of housing in a supportive atmosphere that includes support services. This chapter also supports Imouto Housing for Young Women, which provides supportive housing in the Downtown Eastside for girls and young women who are homeless or in unsafe housing and who face risks including violence and abuse, exploitation, substance use, racism and other dangers.
Another chapter is in partnership with the Northwest Culinary Academy of Vancouver and supports Sereenas House for Women, a residential support program in the Downtown Eastside that allows women to live independently of violence, abuse and substance use and to access services and become involved in their community.
There are also Soup Sisters chapters in Burnaby, Surrey, the Tri-Cities, Victoria, Penticton and two in Kelowna, among other locations in Canada and the United States.
This recipe will become a cold-weather regular in my kitchen:
WHITE BEAN, CABBAGE AND SAUSAGE SOUP
Contributed to The Soup Sisters Family Cookbook by Laura Keogh and Ceri Marsh, cookbook authors and bloggers at sweetpotatochronicles.com.
2 tbsp olive oil
3 Italian sausages, cut into bite-size pieces
one onion, finely chopped
3 cloves garlic, minced
half a Savoy or green cabbage, cored and thinly shredded (4 to 5 cups)
4 cups chicken stock
one can (15 ounces) cannellini beans, drained and rinsed
1 tbsp fresh thyme leaves
2 bay leaves
salt and pepper to taste
1/2 cup fresh grated Parmesan cheese [easily omitted in kosher kitchens]
1. In a large pot, heat the oil over medium heat. Add the sausages and allow them to brown, pushing them around so they get colour all over. Remove the sausages from the pot and set aside on a clean plate.
2. Add the onion and garlic to the pot and cook, stirring often, until the onion starts to soften, around four minutes. Add the cabbage and stir it around for a couple of minutes.
3. Add the stock, beans, thyme and bay leaves. Return the sausages to the pot and allow everything to come to a simmer over medium heat. Reduce the heat to medium-low and simmer, uncovered, until the vegetables are tender, about 20 minutes. Fish out and discard the bay leaves. Season with salt and pepper to taste.
4. Ladle the soup into warm bowls and serve with a generous sprinkling of Parmesan cheese. [Or not.]