Shay Keil with daughter Tali, a student at King David High School. (photo from Shay Keil)
A Vancouver-area wealth manager and philanthropist is celebrating a trifecta of milestones.
Shay Keil (pronounced "Shy Kyle") has just been named one of Canada's 150 top wealth advisors by the Globe and Mail's Report on Business magazine. The accolade comes just as Keil marks 30 years in the finance industry. To top it off, he set out to mark the 30-year milestone by raising and donating $30,000 to B.C. Children's Hospital – instead, he recently handed over a cheque for $51,000.
In addition to his work anniversary, the fundraiser was inspired by the son of Keil's former assistant, who was in Children's Hospital for an extended period last summer.
"He was diagnosed with a very severe form of epilepsy and he suffered from dozens of seizures in the month of July," Keil said. "He is recovering well and the treatment program at Children's Hospital seems to have resolved all of his seizure problems and he's been seizure-free August, September, October. It's quite a testament to the amazing work they did."
Keil initially wasn't certain his $30,000 goal was realistic.
"I was worried I wouldn't even raise $30,000 but lots of people have rallied," he said. "It was really amazing, so I was very proud."
That achievement was still fresh when Report on Business rolled off the presses, placing Keil among the foremost Canadians in his field.
"I don't often toot my own horn," he said, "but, frankly, having 30 years, raising $51,000 and then being voted in by the Globe and Mail to be in the top list of wealth advisors is an enormously proud moment in my career. It's validating all the hard work I've done all these years at delivering top-quality financial guidance to my clients and building a large client base of people who trust me."
Keil's work focuses on tax, income and charitable strategies. A confirmed "numbers guy," he thrives on helping clients realize their goals, he said.
"I'm giving people comfort and peace of mind in dealing with their financial future," he said.
Keil was born in Tel Aviv and moved to Vancouver as a child. He attended Vancouver Talmud Torah and graduated from Eric Hamber Secondary School. His entire three-decade career has been with Scotiabank, where he started as a bank teller and moved up through the ranks to become a wealth advisor with ScotiaMcLeod.
"Honoured, overwhelmed, proud," are the words he uses to describe his feelings at the confluence of accolades.
"I'm very committed to giving back to my community and to educating young people on how to understand their financial pictures and objectives," he said.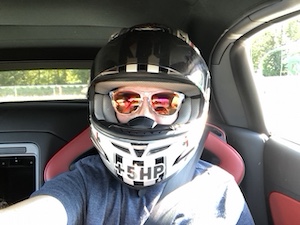 Keil has been involved in a panoply of Jewish community institutions as a volunteer and financial supporter. He is a past president of Richmond Jewish Day School and is currently on the board of directors of the Jewish Federation of Greater Vancouver, as well as co-chair of major donor gifts for Federation's annual campaign. His other significant commitments include Jewish Family Services, Chabad of Richmond, Beth Tikvah and Beth Israel synagogues, the Jewish Community Centre of Greater Vancouver, King David High School and the Louis Brier Home and Hospital.
When not working or volunteering, Keil spends time with his family – wife Mickey, son Trevin (a third-year university student) and daughter Tali (Grade 11 at King David). He also loves camping and golf and has a thrill-seeking side, which he feeds driving racecars.
"I'm having so much fun I'm going to continue doing what I'm doing," he said. "I'm having the time of my life."