Artist Mia Weinberg works on "Close to Nature's Heart" at Delbrook Community Centre, which will see its official opening June 24. (photo © Mia Weinberg)
In spring 2014, an open call was circulated inviting artists to submit proposals for artworks to be included in the new Delbrook Community Centre in North Vancouver. In response, 64 artists from across Canada and the United States submitted expressions of interest. Among the few chosen was Mia Weinberg's "Close to Nature's Heart." The official opening takes place at the community centre June 24, but visitors can see it at the centre anytime.
Weinberg's "Close to Nature's Heart" transforms the floor surface of the centre's main lobby level and adjoining exterior plaza into a giant canvas. A unique cement skimming process was used to embed the image of a magnified leaf skeleton, complete with stem and veins, across the polished cement floors. The artwork invites visitors to "come in and play," as many of the leaf veins display the names of local streets. For newcomers to the facility, the street names provide a visual prompt to navigate through the space.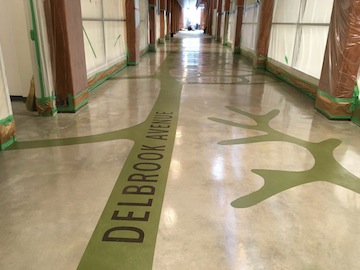 As an artist specializing in site-specific public art projects, Weinberg is driven by the belief that art has the potential to make us more present and engaged in our world. Born in London, England, she moved to Vancouver in 1987 and graduated from Emily Carr University in 1994. Since that time, her work has been exhibited across Canada and internationally. Her art practice explores the interplay between the natural environment and the places where we live, our personal memories and our collective civic and cultural stories.
"In my public art projects," writes Weinberg in her artist's statement, "I often juxtapose imagery of local plants and maps of the surrounding area to celebrate connections between them, and to uniquely ground each piece in the place where it will be installed."
About "Close to Nature's Heart," she explains, "The big leaf on the floor is a fanciful approximation of reality, not a realistic street map – a visual invitation to engage the imagination. Children, their parents and visitors of all ages will see the individual components of their neighbourhood – the streets where they live – reimagined as vitally connected to each other and part of a living, thriving organism that draws its strength from each individual part and in turn nourishes the whole. It is my hope that the artwork will spark an ongoing sense of play among kids as they seek out their own streets and their friends' streets. On a more practical level, the veins will provide visitors with a subtle and beautiful visual wayfinding that will guide them into and out of the building and to the reception desk from the elevators."
For more about Weinberg's public artwork, visit miaweinberg.com/engraving. For information on the other two works selected by Delbrook Community Centre, visit nvrc.ca.