Lou Segal being interviewed by his daughter, Ramona Josephson, 2019. (photo from Ramona Josephson)
A few years ago, the Jewish Museum and Archives of British Columbia contacted my dad, Lou Segal, to interview him, as part of their mission to record the history of South African Jews living in Vancouver. It planted a seed in my mind. Why don't I interview my dad, and record his voice for my family? So, with tape recorder in hand, we began. My dad (Lou) loves to tell a story and soon I had literally hours of tape.
It wasn't my intention to write a book. But how would future generations know Lou's story, and the lessons he has to share? And so the book Who's Lou? A Loving Tribute to Lou Segal was born.
This is a story of a deeply spiritual man who governs his life with love and integrity; a self-made man who wanted to help others and, in so doing, became a pharmacist and entrepreneur; a man who is a role model and mentor to his four kids, 11 grandkids and five great-grandkids; a man who remains in constant gratitude for all his blessings; a 94-year-old man still in love with my 92-year-old mom!
Born in 1925 Yanishki, Lithuania, home to some 900 Jews, he set sail as a young boy on the Adolf Woermann with his mother and younger brother to join his father in South Africa. His father had left earlier to create a better life for them, after being attacked selling wares from his horse and cart. After a turbulent journey, they arrived in Cape Town, but there was no one to meet them. His father had mistaken the date.
"I remember my mother holding our hands, wailing in Yiddish: 'Where's my husband?'" said Lou. "We were told we'd have to sail back to Berlin if no one came. Just as the ship's horn blasted, an angel came on board. She said she was my mother's sister and we were able to leave the ship. She belonged to a Jewish agency that provided assistance for Lithuanian immigrants." If not for her, how different this story would have been.
Lou's childhood was difficult. "My first days of school were traumatic. I arrived late in the school year, wearing my tzitzit. I could only speak Yiddish and, even though I was 7, I was put into the equivalent of preschool. I was so embarrassed. Antisemitism was rife and I was ridiculed and beaten up often. I had no one to turn to."
The family originally lived in a poor neighbourhood and many of Lou's friends were black kids and they played soccer together. He learned to speak Zulu and, later, this would save his life.
As the years went by, his father's business prospered, and the family moved to nicer homes. Their last home in Pretoria is today the residence of the consulate of Madagascar.
When Lou was 16, he first laid eyes on my mom, Friedah, at Muizenberg, a popular beach resort and meeting place for young Jewish people. Lou's eyes always tear up when he talks about my mom." To this day," he said, "I am still so in love with your mother. The minute I saw her, she mesmerized me. But it wasn't mutual. Mom would joke that, as the years went by, I was always looking at her, but she was looking the other way."
One of Lou's brothers, Charles Segal, recently received the Guinness World Record for most recorded pianist. Lou can't claim the same, but he finally won my mom's heart after she saw him playing the piano as a guest entertainer at a party one night. The next day, she called him … and the rest is history. They were married some years later in Cape Town, after Lou graduated as a pharmacist. They had four children, Basil, Ramona (me), Darryl and Janine.
But tragedy nearly struck when Lou had a fire in his pharmacy. His delivery boy lit a cigarette in the dispensary and a bottle of benzene erupted into flames. Lou tried to stomp out the fire with his foot. His pants went up in flames and his skin was burnt to the bone. A customer rushed him to the hospital. He needed skin grafts on both legs. A teaching professor came into his hospital room one day and told his students in Afrikaans, thinking my dad couldn't understand, that he would likely never walk again.
"My heart dropped," Lou recalled. "I asked Mom to bring my tefillin to the hospital, and I put it on every morning and prayed to G-d. Miraculously, over time, the grafts started taking. After six months, I was discharged, and was gradually able to go back to my usual activities. To this day, I lay tefillin every single day. I believe it is one of the most important of the 613 mitzvot in the Torah."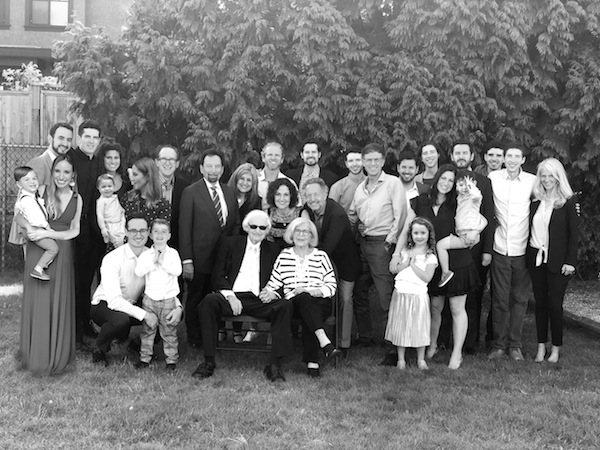 Lou was a pharmacist but became a successful and respected entrepreneur. He was a branding whiz, was coined the 'Man with Ideas' and was so well known that the newspaper created a caricature of him.
"I always wanted to make a difference in people's lives. I had a deep knowledge of pharmacognosy and could formulate products from scratch using plants and natural ingredients. As time went by, I realized I could manufacture most products and so I started to create my own brand lines." His products became household names.
In 1948, apartheid was introduced in South Africa and black people were forced to carry passbooks to restrict their freedom of movement. In 1960, they took to the streets in protest; stores were burglarized and cars overturned. The police opened fire and the bloodshed that followed is called the Sharpeville massacre.
"Demonstrations in Cape Town passed my drugstore," said Lou. "Several blacks entered and were about to jump over my counter to attack me when a black man shouted in Zulu that I was his 'doctor' and they must stop. Over the years, I had tended to many black people who had come to my drugstore bleeding from fights. They'd promise to pay me later but I knew they never would. I had grown up with them and just wanted to help. I believe this man saved my life."
Our family considered leaving the country but, after Nelson Mandela's arrest, there was a false sense of security and life went on.
By that time, we, like so many white South Africans, were enjoying a wonderful lifestyle in Cape Town. We went to shul as a family every Friday night, played tennis or lounged on the beach on weekends. Lou kept fit, swimming lengths in our pool, going to the gym, playing tennis. He was a Toastmaster and he and my mom had a large network of friends. They loved to party and took ballroom dancing lessons in our home.
But there was always an underlying level of tension and the turning point came in 1976, after the Soweto Uprising. Black schoolchildren took to the streets in the thousands, protesting the government's insistence that Afrikaans be the official language in schools. It became bloody.
My older brother, Basil, and I felt there was no future for us in South Africa and we both independently immigrated to Vancouver. I recall, when Basil phoned to say he had arrived in Vancouver, Mom asked: "Vancouver? Where's that?" Basil replied: "Look at the map. It's as far north and as far west as you can go!"
My parents learned that they could bring our younger siblings on their passport if they immigrated before either of them turned 21.
"I was just 54 years old and at the prime of my career," said Lou. "I had a business partner, and we were under negotiations to merge with two other companies to be listed on the Johannesburg stock exchange. I owned several large property holdings, both residential and commercial. There were strict regulations as to how much money you could take out the country. If you violated the law you could lose everything. But we had this deadline to move to Vancouver and be together again with our four kids, and that is what we decided to do. Family first!"
Our home in Cape Town later became the residence of the consulate of Lithuania.
Lou came as a retired man but he never retired. He still goes into the office, where he works with my younger brother, Darryl, manufacturing the HerbalGlo line of hair and skin products. Darryl wants to retire, but he can't, because Lou still goes to the office.
Lou is a man who never raised his voice, but his life lessons and strong moral values are heard loud and clear by all who know him.
Who's Lou? is filled with loving tributes from family and four rabbis who have officiated over the years at Congregation Beth Tikvah. We are so grateful to Barbi Braude for the hours she put into the concept and design of the book, which was launched in honour of Lou on Sept. 7 at a Kiddush luncheon at the synagogue. It is available at the synagogue library, the Jewish Museum and Archives of British Columbia and the Isaac Waldman Jewish Public Library.
Ramona Josephson is one of Lou Segal's four children and is married to Ken Karasick. Her two children, Jaclyn and Marc, have brought Lou and Friedah four great-grandchildren. She is a happily retired dietitian and nutritionist and author of HeartSmart Nutrition: Shopping on the Run.