Luc Roderique as Usnavi and Sharon Crandall as Abuela Claudia in Arts Club's In the Heights. (photo by David Cooper)
Even before the musical starts, the set draws you in. Then the music, the lighting, the actors, the choreography. It's not that any one of these aspects is better than the other in Arts Club's In the Heights, now playing at the Stanley Industrial Alliance Stage. This is merely their order of appearance.
Ted Roberts has created three storefronts and an apartment with a backdrop of the George Washington Bridge. The sun comes up – thanks to Marsha Sibthorpe – as a graffiti artist plies his trade. He's listening to music, but it takes awhile to realize that there's a live band "living" above the bodega – directed by Ken Cormier, the music is such a part of the scene that you don't really notice it until you find yourself moving to it, or the actors start to move to it. Enter Lisa Stevens' choreography. It, too, is subtle, occurring in bits and bursts with a few professionally trained dancers who raise the quality across the board.
While other critics have found the music and lyrics by Lin-Manuel Miranda and book by Quiara Alegría Hudes (who, according to the program, is of Puerto Rican and Jewish descent) wanting, I don't need to be intellectually challenged when I go the theatre, and I don't generally expect musicals to portray gritty realism, so I thoroughly enjoyed In the Heights. It was a refreshingly different cultural setting from other musicals and plays I've seen in Vancouver, and that made it easier for me to lose myself in it. While I'll admit to drifting a bit near the end of the first half, the predictability of the story was a comfort, rather than an obstacle to my enjoyment.
There are two main plotlines. One centres around the bodega owner, Usnavi. He is a reluctant entrepreneur, having taken over the business when his parents died. He dreams of returning to the Dominican Republic, but feels duty-bound to keep the bodega going, and he's also got to think about his sidekick cousin, the wise-cracking Sonny, who helps him out at the store. Not only that but (of course?) he's torn about leaving, as he is madly in love – but too shy initially to approach – Vanessa, who works at next door's soon-to-be-closing hair salon.
The other plotline focuses on Nina. Returning home to Washington Heights from Stanford University, she is the pride of the neighborhood, yet she has fallen short. Having to work two jobs has caused her grades to fall and she's lost her scholarship. Her parents' car-service business is barely keeping afloat, so there's no money to be had there. In addition to the tensions that arise when Nina tells her parents the truth about her school situation, there is the not-so-small matter of her being in love with Benny, who, while trusted by her parents, for whom he has worked for years, is not Hispanic.
There is also a heat wave, a blackout and a death, and poverty, gentrification and other social issues are hinted at, however, none of these underlying elements rises to the foreground. In the Heights is light, fun fare and I, for one, won't complain about that. The actors all do a great job at spitting out their lyrics clearly, staying on key and dancing in step; the musicians hit all the right notes. I left the Stanley in a better mood than I arrived, and that, to me, means it was a musical worth seeing.
In the Heights is on stage until June 7. For tickets and information, visit artsclub.com.
From the JI pages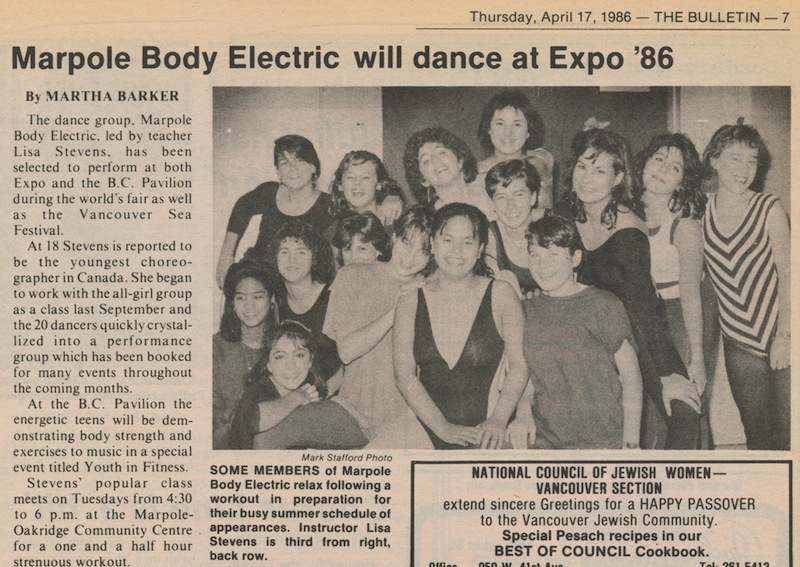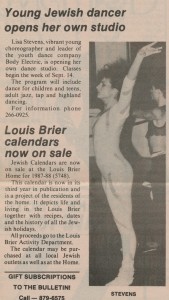 Lisa Stevens, the choreographer and assistant director of In the Heights, grew up in Vancouver, and readers of the Jewish Independent / Jewish Western Bulletin have followed some of the highlights of her career, even her pre-career.
She was part of the Grade 1 classes being fêted at the Shalom Yeladim celebration led by Rabbi Wilfred Solomon and Dr. Sheldon Cherry that welcomed the young students enrolled at Beth Israel School and Talmud Torah in 1973, and she shared her bat mitzvah on May 30, 1980, at Beth Israel with Lisa Goldman. She was winning dance competitions by 1977 and teaching by 1986, when she was reported to be "the youngest choreographer in Canada," at age 18.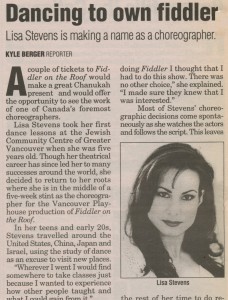 Stevens opened her own dance studio in 1987 and her students were winning awards by 1992. In 1993, two of them "beat out 3,000 dancers to win the national finals (duo category) of the Sega Video Dance Contest."
Off to London, England, in 1996, the JWB also caught up with her once she'd moved to New York. Stevens returns regularly to Vancouver to work on productions here and, no doubt, to visit family and friends. On more than one occasion, she's taken time to chat with the paper and for that, we are appreciative.