The annual general meeting of the Jewish Federation of Greater Vancouver took place on June 21. Welcomed were five new directors: Gil Kimel, Dean Lederman, Lana Pulver (chair of the annual campaign), Michelle Pollock (chair of the Israel and global engagement committee), David Porte and Daniel Steiner. They join Bruce Cohen, Alex Cristall, Catherine Epstein (vice-chair), Jessica Forman (chair of the HR committee), Sue Hector, Hodie Kahn, Shay Keil, Rick Kohn, Candace Kwinter, Shawna Merkur, Kyra Morris, Lianna Philipp, Lisa Pullan, Stan Shaw and Diane Switzer.
Kwinter is the new board chair and, as such, her central challenge mirrors that of the community: how to navigate recovery and reopening in a time of great uncertainty.
"Over the past year, I have held a dual role as vice-chair of the board and chair of the Israel and global engagement committee, which has immersed me in our work," said Kwinter in her remarks in the June 25 Federation Shabbat message. "And, through my position on our Community Recovery Task Force, I've gotten to know the organizations in our community and see how our community planning, convening, facilitating and fundraising functions create a valuable synergy. The health and strength of our local community is paramount, and it will continue to be a focus throughout my term.
"Israel also holds a very special place in my heart, and I am actively involved with our partner, the Jewish Agency for Israel's board of governors, where I serve on three committees: antisemitism; unity of the Jewish people; and aliyah. In 2018, I was privileged to be part of a group of community leaders who traveled to Far East Russia to see the impact of our overseas work. As travel restrictions begin to ease, I hope we will have the opportunity to visit our partnership region in the Upper Galilee Panhandle and resume our Israel experience programs for young adults.
"At the same time," she continued, "I remain connected to the work we do across the continent as part of JFNA [Jewish Federations of North America]. I have attended several General Assemblies over the years, and now is the perfect time for you to experience this epic gathering of Jewish leaders, because you can participate without the time and expense of traveling.
"Looking ahead, I know we have challenges to face, but this is also an exciting time in many ways. COVID has accelerated change and has prompted us all to look at new ways of strengthening our community. Rather than looking ahead to the 'new normal,' we need to work together to create the 'next normal.' That will be our collective journey over the next two years, and I am looking forward to the future we can build together."
At the AGM, four community leaders were honoured. Jonathon Leipsic, who chaired the Federation annual campaign from 2018 through 2020, received the Harry Woogman Award, for his consistent and conscientious leadership and his long-standing and diligent campaign involvement. Yael Segal and Becky Glotmanreceived the Lou Zimmerman Award for their integral role in the revitalization of the Ben Gurion Society, a recognition society for young donors who give $1,000 or more to the Federation annual campaign. And Enav Zusman received the Young Leadership Award.
The 2020/21 annual report can be found at jewishvancouver.com/news-and-publications/annual-reports. In 2020, Federation raised $12.2 million from 2,600 donors: $8.8 million in the 2020 annual campaign; $2 million for community recovery; and $1.4 million in special project funding.
COVID-19 was a crisis that affected – and continues to affect – every aspect of the community. Because of donors' generosity, Federation this year was able to direct more funding to its partners than ever before.
(British Columbia's record-breaking heatwave has had devastating effects across the province. The tragic fire in Lytton was not the first that we've seen and likely will not be the last. With growing concerns for another wildfire season, Jewish Federation of Greater Vancouver has set up an emergency B.C. Wildfire Relief Fund to assist those affected by wildfires in our province. To donate, visit jewishvancouver.com/bcfire.)
* * *
On May 20, Junior Achievement British Columbia (JABC) inducted new members into its Business Laureates of British Columbia Hall of Fame, including Gordon Diamond. There was also the posthumous induction of 10 Pioneer Laureates, including Morris Wosk, z"l. Diamond and Wosk were featured in the June 25 Jewish Independent article "JA's newest laureates." The article accidentally overlooked another posthumous honouree, however: Dr. Walter Charles Koerner, z"l. Here is what the JABC highlighted of Koerner's life.
Koerner was born in 1898 in what is now the Czech Republic. He developed his expertise in the forestry industry there, through his family's lumber business.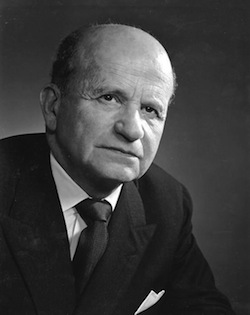 Koerner and his brothers immigrated to Canada in 1939 and founded the Alaska Pine and Cellulose Co., of which he was president. In 1957, the company became Rayonier Canada Ltd. and Koerner became president and later chairman of the board until his retirement in 1973.
Shortly after his arrival in Canada, Koerner made the University of British Columbia (UBC) a focal point of his philanthropy. He believed that a strong university was critical to building an engaged and successful society. He served as a member of the board of governors of UBC, as well as the chair. Not only that, he was the founding chair of UBC Hospital.
Koerner was also committed to preserving Indigenous art forms and supporting the re-emergence of Pacific Northwest Indigenous art. His multiple initiatives included supporting Indigenous carvers, repatriating Indigenous works from abroad and negotiating with then-prime minister Pierre Elliott Trudeau for financial support for the construction of the Museum of Anthropology, to which he donated his extensive collection. In recognition of his efforts in supporting Indigenous culture, the Haida Nation celebrated Koerner as an honorary chief of their nation.
Koerner was a notable philanthropist, who donated millions of dollars to educational institutions and other public organizations and endeavours. Among his many honours, he was a Companion of the Order of Canada, and held an honorary doctor of laws from UBC.
Koerner passed away in 1995.
* * *
Vancouver's Lilian Broca is among the artists whose works comprise the From Canada exhibition at La Maison de la Mosaïque Contemporaine in Paray-Le-Monial, France.
Every year, La Maison de la Mosaïque Contemporaine organizes and hosts an international mosaic exhibition. The 2021 edition, the 24th, is uniquely devoted to a single country, Canada, through the works of 12 artists whose origins reflect the vast expanse of the territory. This is the first time in Europe that a mosaic exhibition has been dedicated to a North American country, and it is supported by the Canadian embassy in Paris, as well as several other organizations, government agencies and communities.
Joining Broca are artists Maria Abagis, also from British Columbia; Margo Anton, Chris Sumka and Erin Pankratz, all from Alberta; Sophie Drouin, Valerie McGarry, Heather Vollans and Julie Sperling, from Ontario; Suzanne Spahi and Ginette Lussier of Quebec; and Terry Nicholls of Newfoundland.
The exhibit was arranged by Sophie Drouin and Chantal Demonchaux. It opened this month and runs to Sept. 19. For more information, visit maisondelamosaique.org.