A basketball game may not be able to bring about world peace, but at least one game has acted as a bridge to increasing mutual understanding and empathy.
The graphic novel The Basketball Game (Firefly Books, 2022) is based on the National Film Board of Canada animated short of the same name. Written by Hart Snider and illustrated by Sean Covernton, it is based on Snider's memories of his first year at Jewish summer camp. It proved to be a unique experience.
It was July 1983. The camp was Camp BB Riback in Pine Lake, Alta. Snider was 9 years old and "totally homesick," finding refuge in the comic books he had brought with him. That is, until he meets Galit. (The book is dedicated to his "partner, collaborator, inspiration and best friend, Galit," his daughter and his parents.)
For young Hart, Camp BB made him feel at home. "Even both my parents went to this camp," he writes. "It was a tradition in the community. It was a place to just be ourselves … and that was important because back then, growing up Jewish in Alberta wasn't always so easy."
Back then, in Eckville, Alta., the winter before Snider's first summer at camp, teacher Jim Keegstra, "also the town's mayor, was fired by the local school board.
"Believing the curriculum was 'incomplete,' Keegstra had been teaching Holocaust denial and antisemitic conspiracy theories in his classroom – that Jewish people had an international plot to control the world and were to blame for everything that's wrong."
But one Eckville parent, Susan Maddox, "noticed her 14-year-old son had some strange new opinions." She looked through his notebooks, then filed a complaint with the school board.
Meanwhile, more than a thousand people attended a rally at the Edmonton Jewish Community Centre to figure out how to respond to the situation. One of the ideas proposed – by then Camp BB director Bill Meloff, z''l – was to invite some of Keegstra's former students to the camp for a "day of fun and fellowship," which included the title's basketball game.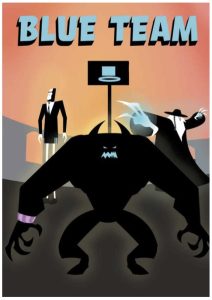 In a brilliantly drawn sequence, the team players are depicted as their negative stereotypes, how they see one another. Blue Team – a horned demon, a world-controlling banker and an evil wizard – versus Red Team – a skinhead, a Nazi and a member of the KKK. The game is intense. Then, an opposing player compliments Hart's shot. "Thanks, man," says Hart. The game continues, kids versus kids, no more monsters.
"Looking back, it's amazing that it happened at all," writes Snider. "That Keegstra's students were invited to the camp, and they actually came."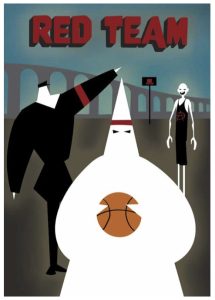 That's the thing. Someone had to extend the invitation, and someone had to accept. An illustrated reproduction of an actual newspaper clipping from 1983 notes that attendance at the camp was voluntary and that a preliminary survey indicated that about 10% of Eckville Junior-Senior High School's 186 students "would be willing to attend."
Here we are, almost 40 years later and, as Snider notes in his introduction: "Racism, conspiracy theories and antisemitism are spread every day on social media and other platforms. The hate that Keegstra taught in his classroom is now found in memes, videos and forums. Over and over again, we are challenged with the question, how do we deal with fear and prejudice?
"I hope we can continue to find common ground and have empathy for each other, but, most importantly, I hope that parents and kids keep talking to each other."
The book, intended for readers 12 years old and up, includes more on the Keegstra trial, discussion questions and a glossary.
Snider participates in the 2023 Cherie Smith JCC Jewish Book Festival, which takes place Feb. 11-16.