Ety Siton, left, director of the Kfar Saba branch of ERAN, also oversees the Toronto volunteers. She is pictured with Sigal Almog, co-founder of Toronto's ERAN project. (photo from ERAN)
Finding enough volunteers in Israel for the night shift of the country's emotional crisis hotline, ERAN, proved difficult. So, its chief executive director, David Koren, came up with the idea of looking for Israeli volunteers living in North America to help cover this time period.
ERAN is a confidential service, offered over the phone or the internet, which provides free, anonymous emotional support to people in Israel of all ages, in Hebrew, Russian, Arabic and English.
Sigal Almog and Galya Sarner, both former Israelis living in Toronto, were at a conference in Washington, D.C., in 2017 when they heard of Koren's mission. They sent out a call for volunteers through their network, and further recruited two social workers, Anat Gonen and Sabina Mezhibovsky, to co-found and open a chapter of ERAN in Toronto last year.
"Right now, in Toronto, we have 16 volunteers," Gonen told the Independent, adding, "We have around 85 volunteers in the four North American branches. I think they are answering, each month, around 800 calls. So, that is 800 calls that, before we had those volunteers in North America, were unanswered, because nobody was there at night."
"Just think about the message behind it," said Sarner. "It's unbelievable, probably saving the lives of so many in need who couldn't get help, because not enough volunteers were there to give them the minimum support they were asking for."
All four Toronto co-founders knew of the ERAN helpline prior to becoming involved with it in Canada, though none had used it themselves.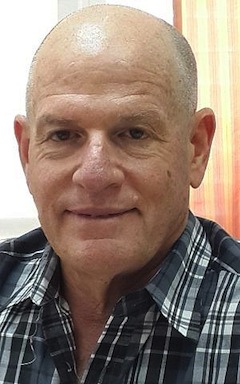 "ERAN is part of daily life in Israel," said Sarner. "It's a very distinguished project and, when we heard from Koren that he was looking to expand his global networking and to work with the North American community, we didn't think twice. We knew we'd do whatever it took to launch the branch of ERAN in Toronto."
Almog, who was also at the 2017 conference, recognized that this was a great opportunity to connect with and help people in Israel from Toronto. Nearly 80 former Israelis came to the initial information session in the city and, after screening them all, the branch accepted around 20 volunteers, who went on to get special training from ERAN and then started taking calls from Israel.
Volunteers do not need to have any particular degree, but they do need to possess specific skills.
"You need to be able to have some kind of empathy and self-awareness to know how to listen, [and to] understand and have a conversation in Hebrew, Russian, Arabic or English," said Gonen. "One of the things we also found to be a struggle is that some of the people, especially those who've been here many, many years, can't write in Hebrew. This is also a requirement, as they need to write a report in Hebrew. But, mostly what we need are people who are able to listen, to try not to give advice, and to be able to commit to the process," to take a number of shifts per month.
"Whenever a volunteer answers the phone, they are told to say, 'Eran, Shalom' … keeping it very neutral, as, for some people on the line, it's not a great evening…. It actually can be a pretty bad one," said Sarner.
When a person in an emotional crisis dials 1201 from anywhere in Israel, they will be connected to a trained volunteer, who will try to direct them to those who can best help them; for example, a soldier with another soldier, or a Holocaust survivor with someone knowledgeable about the issues survivors face.
North American volunteers are taking shifts between 5 and 9 p.m., and 9 p.m. and 1 a.m., EST. Each volunteer signs into the ERAN system from their own computer and takes calls in their home.
"They have to be at home, because they have to be in a quiet room, a closed room, so nobody can hear the conversation they're having and nobody interferes with what they say," said Gonen.
Though the volunteers are in Toronto, they are trained to keep that fact out of the conversation. This way, explained Gonen, the caller is more likely to feel comfortable with them, thinking they are in Israel and able to identify with their struggle.
Running the Toronto chapter has been challenging, as the branch does not receive financial support from ERAN Israel or from the Toronto Jewish community. But, they have received some support from private donors and the Schwartz/Reisman Centre (in Vaughan, Ont.) provides space for ERAN volunteer training.
"We don't have any kind of money that comes from ERAN Israel and everything we do here we pay for from our own pockets," said Gonen. "The training … Sabina and I are volunteering to do every month. And, when we meet, all four of us will bring snacks for the meeting or things like that, because we want to make sure people feel appreciated for doing this. So, we're looking for donations to help us run the branch."
"We're looking to expand support from our sponsors, because we did receive very touching sponsorships, mainly in the beginning, during the time of the initial training," said Sarner. "But, in terms of the monthly meeting, it takes place at Schwartz/Reisman JCC. We're very lucky to have the support of the JCC, but we definitely need to expand and find more sponsors and donors."
The feeling shared by the co-founders and volunteers is that of gratitude to be able to have a direct impact on the lives of Israelis in Israel.
"We give a lot to ERAN," said Almog. "We work many volunteer hours, but I feel like each one of the volunteers gets so much out of it. It's brought a lot of meaning to our lives here, as Israelis who live outside of Israel.
"The volunteers just told us last week, someone who went to Florida and didn't participate in the last training, that she really missed ERAN. It has become very meaningful in the lives of each one of us."
"Anything you do in life," Sarner added, "you have to do with love – with love and respect – and the respect we have among the four of us, it means so much to me. In Toronto, from the volunteers to the sponsors and the support of the community at large, it makes it even more meaningful to me. It has touched my heart and soul to be part of such an important initiative."
ERAN is always looking for more North American volunteers and would like to open a chapter in Vancouver. For more information, visit app.etapestry.com/onlineforms/SchwartzReismanCentre/ERAN.html.
Rebeca Kuropatwa is a Winnipeg freelance writer.